Ever since the European debt crisis became the issue that the markets trade alongside, bank stocks have risen and fallen together. Correlation in the banking sector, much like the overall stock market, is at record levels, as investors paint all financial firms with the same broad brush. But, the truth is that not all banks are created the same. There are some that can rise above the challenges presented in Europe and can thrive in such an environment. And we would like to highlight just such a bank today.
PNC Financial (NYSE:PNC) is a large regional bank that caters to the eastern United States. PNC is currently the 12th largest bank holding company in the U.S. by assets. As a regional bank, it has none of the European exposure that is currently plaguing many of its peers, yet it is trading as if it was exposed to Europe.
While it is true that PNC has outperformed the broader financial sector, it has underperformed the S&P 500. We see little reason for this other than the sentiment surrounding the financial industry. PNC's strong operating characteristics, and financial profile are not reflected in its stock price, and we delve into the 4 factors that should drive PNC going forward below.
PNC is a plain vanilla bank, with none of the risk of the Wall Street megabanks. The company's balance sheet proves it. PNC ended the quarter with $269 billion in assets and a Tier 1 Common Capital ratio of 10.5%. PNC also retains a 21.7% interest in BlackRock (NYSE:BLK) and given the strong performance of BlackRock, we think this stake will increase in value in the years to come.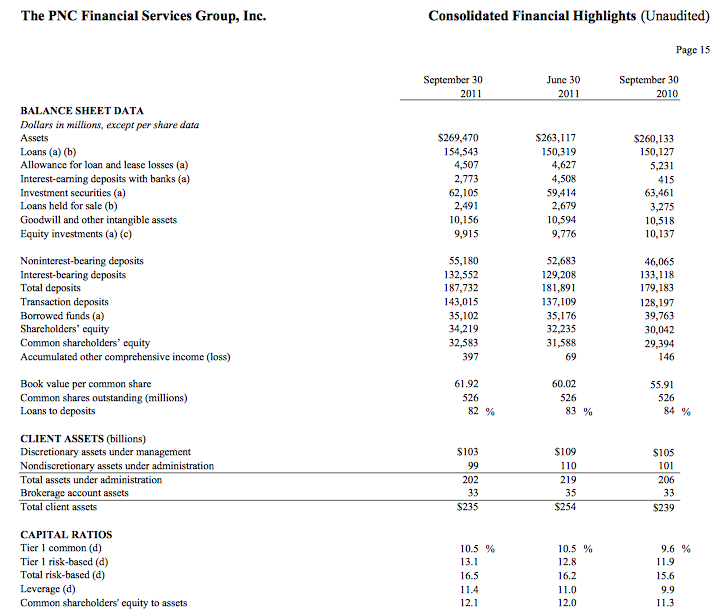 (Click to enlarge)
PNC is not only undervalued relative to its growth trajectory, it is also undervalued relative on a book value basis. We think that at 0.84 times book value, PNC is an attractive stock, for 2 reasons. First, a bank such as PNC should not be trading below book value, for there is far less risk than at a larger financial firm. Secondly, the fact that even after selling off, PNC still trades at a premium to its peers is encouraging. It shows that investors have more faith in management's ability to execute. We think that faith is well-placed. PNC yields over 2.6%, and that payout will grow over time as the company keeps growing. PNC's stock buyback program allows it to repurchase nearly 5% of its shares, and in an age where banks are skittish about returning capital to shareholders, PNC's commitment to do so makes it stand out. PNC is poised for great success in the years to come, and analysts agree. Credit Suisse sees the stock at $68, S&P sees it at $65. Barclays sees it at $75, and Jefferies sees it at $62. The Reuters average price target is $63.53, implying a gain of 22% over current levels. PNC is a bank that is a world apart from its larger peers. But its stock is one that should not be apart from your portfolio.
Disclosure: I have no positions in any stocks mentioned, and no plans to initiate any positions within the next 72 hours.