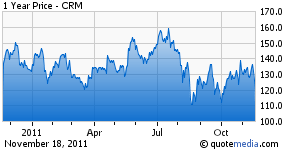 Going into Salesforce.com (NYSE:CRM) earnings I didn't really understand what was going through the heads of most sell-side analysts. We have a crisis in Europe, bank stocks falling apart again, China slowing down, all kinds of ridiculously embarrassing sell side blow ups like Netflix (NASDAQ:NFLX), Youku (NYSE:YOKU), Renren (NYSE:RENN), Green Mountain (NASDAQ:GMCR), Rambus (NASDAQ:RMBS), MF Global (OTC:MFGLQ), OpenTable (NASDAQ:OPEN), and Sino Forest (OTC:SNOFF) over the past several months still fresh in investors' minds, and yet its full steam ahead.
"Iceberg captain ... should we slow down?"
In the three days before earnings, we got three very bullish notes out Citi, Piper, and Jeffries. The analysts were excited about the service cloud, chatter, customer surveys, and signs of large deal activity. All this translated into buy ratings and price target increases for a company trading at 100x non-gaap earnings. And not just any non-gaap earnings, the non-gaap earnings of maybe the most prolific stock based compensation printing press the equity markets have ever seen. This made no sense to me. Why bother getting more bullish when all you have to say is that CRM has a cool product that people like and are using more. Do I need 10 research reports to understand that CRM is now a beast in CRM? What I expect out of these analysts is an explanation of why they think this company will become immensely profitable enough, and I mean IMMENSELY, to justify the risk of buying shares at this valuation. Of course, that doesn't seem to be in the job description these days.
Truth be told, I actually really thought about writing a CRM piece ahead of earnings. Once I started reading all the NFLX and GMCR comparisons being made online I was inclined to chime in, but I decided to pass even though I didn't really agree with what I was reading from the short side. To me CRM is no OpenTable, NFLX or GMCR. The company is not facing some sort of major business model challenge in the months ahead, and I don't think its position in its industry is under immediate threat. On the contrary, the model is working and the company is growing its customer base. However, that's no longer what I look at when I analyze this stock. My problem with CRM is the model is not designed to make much money or to be more precise the type of money that would make it a rewarding investment at these levels. Beinoff continues to offer investors very little while he offers his customers and employees a lot. Why would I invest my money in the stock of a company whose CEO really doesn't seem to care too much about me? It's a very imbalanced relationship, and one that is not long-term sustainable. Yet when he appeared on CNBC yesterday, for a total of 9 minutes, Jim Cramer couldn't ask him one single question about when the stock issuances and marketing spending would slow. Or even better, what cost structure does he think is manageable for Salesforce to target over the next five years. (is it not time for some answers or is a job at CRM now the holy grail in corporate America) Instead, he asked him about the sequential slowdown in deferred revenue(which btw I think is just absolutely humiliating news for anyone who upgraded this in the days ahead as this was the one thing you needed to be certain of as a cockeyed bull screaming buy two days before earnings) which Beinoff skirted with an amazing just focus on our guidance and everything will be fine response. Really, just blindly trust the greatest promoter/salesman CEO in history, that's what we are supposed to do? Beinoff is such an amazing promoter that I can assure you that he believes everything he says, and when the time to cut guidance arrives he will be even more shocked then the sell-side and thus entirely unaccountable, but that won't stop his stock sales. Trust you Marc, isn't that what Reed Hastings was saying six months ago?
But I guess Marc Beinoff's word is enough for the analysts. Even after this report, Deutsche Bank maintained a Buy rating and raised its target to $205 from $200. Yep, you basically have about 100% upside from here according to DB if you buy CRM. That means in their world this company is fairly valued at 170x NON-GAAP earnings. As a reminder, Cisco (NASDAQ:CSCO) once traded at 150x GAAP earnings and it still lost 80% of its market value despite growing earnings at close to 20% per annum for a decade.
What about that Iceberg?
Who cares captain, if we hit one we are all dead.
Disclosure: I have no positions in any stocks mentioned, and no plans to initiate any positions within the next 72 hours.