In the Eurozone over next week fresh evidences that the economy may fall in recession in Q4 '11 and further weaken in Q1 '12 are expected from the PMI indices for November. Having fallen to 47.1 and to 46.4 respectively in October, both the PMI manufacturing and the PMI services may further decline in November: consensus estimates (we use these estimates from dailyfx) are for the first to decline to 46.5 and the second to 46.
The decline of the indices should signal that the weakness is broad balanced. The PMI composite should decline to 46: according to the long-term correlation between the index and the eurozone GDP growth (our calculation), the index will fall at a level in line with a 0.5% quarter/quarter contraction in Q1 '12.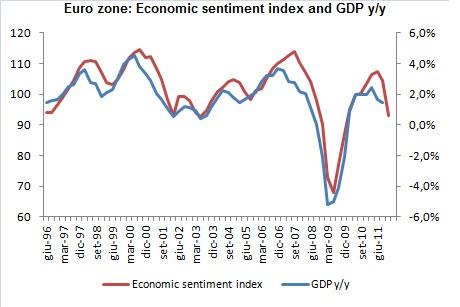 Germany may not escape a slowdown of eurozone economy
Over the last week a negative indication for the outlook of the German economy came from the ZEW business confidence index. Over the next week this negative indication is likely to be confirmed from the IFO business confidence – the most relevant leading indicator for the German economy. Having peaked at the historical high of 115.4 in February, the index may extend the downward trend in November, falling to 105.5. Should our estimate prove correct, the IFO will continue to anticipate an expansion of the industrial sector in Q4: however from the 10% year/year growth over the summer the industrial sector rate of growth may fall to 3.5%. Only a decline below 99 will be the sign of a contraction of the industrial sector on a yearly basis.
However, the data will be a clear sign that the German economy will be negatively affected by the peripherals debt crisis.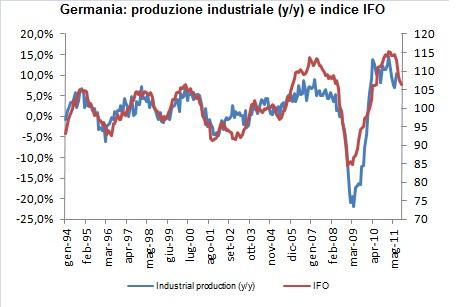 Election in Spain
On the political front the focus will be on the results of the Spanish election on Sunday the 20th. The Popular party led by Marino Rajoy is likely to win the election, succeeding after 7 years the Socialist Government led by Jose Zapatero. The new Spanish Government is likely to continue in the austerity measures already implemented by Zapatero as it is expected to gain a strong majority in the Parliament with 198 seats out of 350. The continuation of an austerity program is needed as the 10-year Government bond yield approached the 7% in the auction held over the week.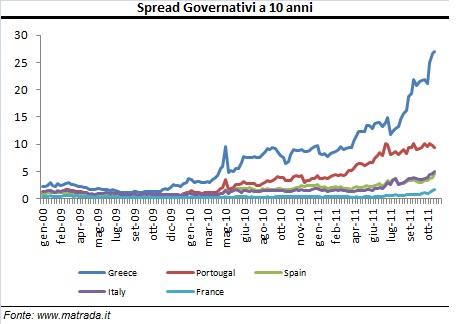 Conclusion: The data due for release over the next week should confirm that a recession may have already started in the eurozone. Only the purchases from the ECB may lower the government yields in the short term as the final implementation of the European Financial Stability Facility (EFSF) is still not imminent. However, with the ECB unlikely to intervene in a decisive way, yields are likely to remain elevated for many months, weighting on both business and consumer confidence and as a consequence on economic growth and financial markets.