A different strategy is required to value a mining company as a mine is a finite resource. When the deposits are depleted that mine is finished.
This is in contrast to a "traditional" company where you can model the cash flows over an infinite time horizon, e.g. Apple (NASDAQ:AAPL) doesn't run out of iPads (ignoring short-term supply disruptions) and can innovate new products if demand weakens. Evaluating a gold mining company can be considered an "art" because its value is highly dependent on the price of gold, which itself produces no cash flows, making it difficult to assign a fair value to it. In this article I explain how we can assign a floor to a mining company's stock and why it is difficult to assign an exact value.
Before we do the company valuation let's check to see if the product itself is worth investing in. Gold generally performs well during times of stress in the market (check), when currencies are being debased (check) and when interest rates are low (check) as there is an opportunity cost for investing in the shiny, yellow metal. However, during times of extreme volatility/stress, gold can fall as people liquidate their investments and go to cash e.g. in 2008 and more recently John Paulson slashed his gold holdings by 36% in the last quarter to meet redemptions (as reported by Bloomberg).
Comparing the gold mining companies to the price of gold they appear undervalued. Many are down to flat YTD, while gold has increased ~20%. The ratio of the price of gold mining stocks (XAU) to the price of gold indicates that mining stocks are currently undervalued compared to gold (the higher the ratio the more the mining stocks are undervalued). Of course one could also argue that gold is overvalued. However, I believe, gold mining stocks are far too cheap. Historically, ratios above five have indicated that the mining stocks are undervalued. As is illustrated in the chart below the ratio is now above 8. In theory mining companies should outperform gold as they are leveraged to the price of gold. For example, if a mine has a total cost of $800/oz and gold is at $1,000/oz, a 20% increase in the price of gold will double the mine's profit margin from 25% to 50%.
Click to enlarge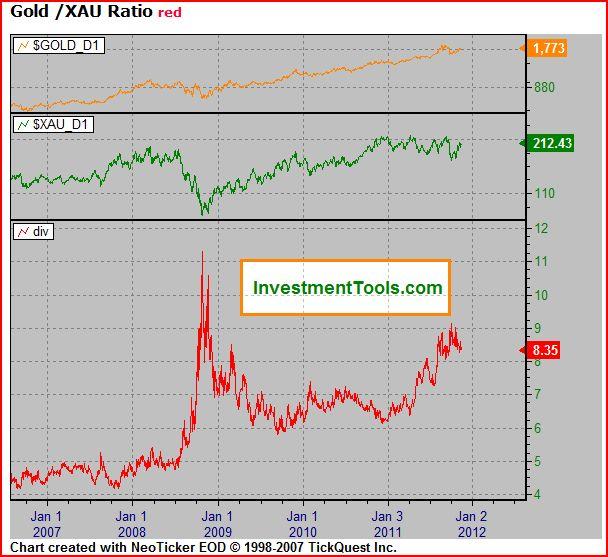 One method to evaluate the value of a mining company is to perform a Net Present Value (NPV) analysis by discounting future cash flows by an appropriate discount rate. The discount rate should take into account the political, social, geological and financial risks associated with each mine. Once you have the NPV of the mining company you add any non-operating assets on the balance sheet and subtract the debt to come to a fair value of the mining company. Dividing by the outstanding shares gives you a fair price for the stock.
As if that is not complicated enough, there is considerable evidence that the market is willing to pay more than the sum of the NPV's for the company's mines. This is because management has the option to change future production and the timing of new projects based (mainly) on the price of gold. This option can be priced using the Black-Scholes Model and is added to the NPV. By adding the optionality of mining shares to the NPV we can account for the premium mining stocks shares trade at versus their net asset value.
It's important to note that the outcome of this modeling is only as good as your assumptions. Two analysts can look at the company's latest filings and come up with completely different results and it is difficult to say which result is more accurate. For this reason it is easy to see why most investors look at comparative ratios, i.e. comparing price/earnings, price, book value, margins of different companies. This can work well, but sometimes the whole sector can be mis-priced as either it is in a bubble or a puddle (or whatever the technical term for the opposite of a bubble is). For this reason I think it is good to develop at least a basic model and to be aware of the Gold/XAU ratio.
Below are the results of a basic model for Barrack Gold (NYSE:ABX). Because of all the assumptions and variables that are required to build a full model of a gold mining company, this model aims simply to place a floor on the price of the stock (i.e. if for whatever reason no future projects or expansions are successful what would the stock be worth). In the near future I will do a similar analysis for several of Barrack's main competitors, firms that are included in the ABX index. They are: Newmont Mining (NYSE:NEM), Goldcrop (NYSE:GG), Kinross (NYSE:KGC), AngloGold (NYSE:AU) and Newcrest (OTCPK:NCMGY). This simple model is very conservative and assumes no growth in future earnings and an option value of zero. As a result, the output will be considerably less than fair value of the company's stock, i.e. invest immediately if the share price is at or lower than this level.
Barrack Gold
Barrick gold has operations in North America, South America, Africa and Australia. It also produces copper and holds interests in O&G properties located in Canada through its subsidiary Barrick Energy (this essentially acts as a partial hedge against higher oil prices).
The company recently bought Equinox Minerals for $7.5B resulting in investor apprehension and a stock drop. The split between gold and copper production is approximately 80:20. It has one of the lowest total cash costs per ounce for gold miners at $453/oz and total production costs of $622/oz (source: Q3 2011 Financial Report). Gold cash margins expanded to 55%, to $1,290/oz from $834/oz in Q3 2010 (this is a direct result of the inherent leverage the mining company has to gold, discussed above). And this has yet to be reflected in the stock's price. Copper total cash costs are estimated to be $1.60-1.70 with total production costs to be between $1.90 and $2.20 per pound for 2011. Although the dividend yield is a relatively unexciting ~1%, management has a record of paying a progressive dividend and it has increased by a 22% Compound Annual Growth Rate (CAGR) over the past five years.
Reserves
ABX has 140 million oz of Probable and Proven (P&P) gold reserves, an additional 1,066 million oz of P&P silver and 18 billion pounds of P&P copper. Note: Again, I am being conservative by only looking at the P&P reserves, which are the bankable mining reserves.
| | | | |
| --- | --- | --- | --- |
| | Reserves (P&P) | Production (2011)* | Yrs of Reserves** |
| Gold (thousand ounces) | 140,000 | 7,820 | 18 |
| Copper (million pounds) | 18,000 | 410 | 44 |
| Silver (thousand ounces) | 1,066,000 | 6,000 | 178 |
*Year-to-date production annualized
**Years of reserves at current production levels
The model makes the following assumptions:
No new reserves are discovered and production ceases once the reserves are depleted, 18 years for gold and 44 years for copper
Production and costs remain constant at 2011 levels
Gold price remains constant at $1,550/oz (average realized selling price for ABX in 2011)
Copper price remains constant at $3.45/pound (company currently has hedges so that they will realize a minimum selling price of $3.45/pound)
Optionality is worth zero
Using these assumptions, the model produces a minimum share price of $30. Today the share price is around $50. This doesn't mean that the shares are overpriced. Most people would probably argue that they are under-priced. It is closer to a worst-case scenario of what the stock price could be if all future developments failed miserably.
Conclusion
This simple model defines a floor for the price of a gold mining company. In the case of Barrick Gold (ABX), $30/share represents the floor. A model incorporating growth and optionality would give a considerably higher price even assuming gold and copper do not increase in value. Analyzing the other gold mining companies that make up the XAU index will illustrate which gold mining stocks have the lowest downside risk. I will present these results in the near future. Following this analysis, I will decide if it makes sense to invest in one or two individual companies or simply purchase the index.
Disclosure: I have no positions in any stocks mentioned, and no plans to initiate any positions within the next 72 hours.