The rural economy showed a strong rebound in November and is now at its highest level since 2007. The index has remained above growth neutral for nearly two years, driven by the strong farm economy. Farmland values continue to rise as farmers reinvest their cash flows from a record income harvest in 2011.
The Rural Mainstreet Index advanced to 58.4 from 52.9 to remain positive for the third straight month and well above the 53.3 it posted 12 months ago. The economic confidence jumped to 57.5 from October's neutral 50.0. .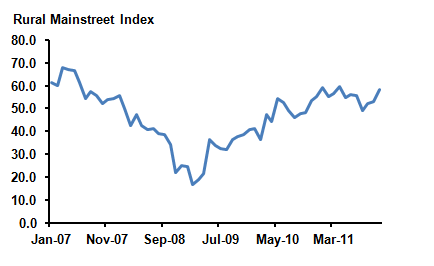 Creighton University economist Ernie Goss said, "After softening for several months, the Rural Mainstreet economy appears to be once again growing at a very healthy pace. The farm economy is clearly outpacing the nonfarm economy."
Agriculture
The farmland price index rose to 75.4 in November from 66.9 in October and is at its highest level since April 2011. This marks the 22nd straight month the index has been above growth neutral. The farm equipment sales index increased to 68.4 from October's 63.1.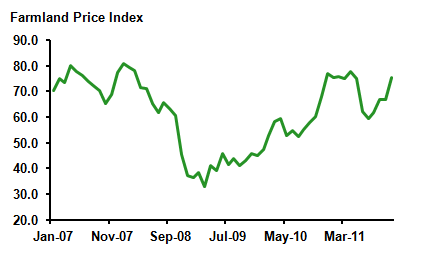 "After losing a bit of its economic steam, farmers and investors are once again driving up the price of farmland at a rapid pace. Likewise, farmers are continuing to purchase farm equipment at a swift pace," said Goss.
Bankers were asked to identify the biggest threat the rural economy for 212. Roughly half (49%) of the respondents indicated that low agricultural commodity prices remain the biggest threat. 18% were worried about farmland values and 16% identified changes in federal alternative energy policies.
Banking
The loan volume index decreased to 44.2 from 57.3 a month prior. The check deposit index increased to 81.7 from 71.1 in October and the certificate of deposit and savings instruments dipped to a weak 41.7 from 44.9 last month.
Bankers also noted that the primary factor limiting their lending was the lack of potential demand due to the strong farm economy. Respondents also noted that regulatory concerns continue to limit their lending ability.
October's job index decreased to 53.4 compared to 56.4 in October. "Year over year job growth for Rural Mainstreet communities is almost twice that of metropolitan areas of the region. Even with the recent strength, employment for Rural Mainstreet communities is down approximately 2.8 percent from pre-recession levels," said Goss.
Survey
This survey represents an early snapshot of the economy of rural, agriculturally and energy-dependent portions of the nation. The RMI is a unique index covering 10 regional states, focusing on approximately 200 rural communities with an average population of 1,300. It gives the most current real-time analysis of the rural economy.
Disclosure: I have no positions in any stocks mentioned, and no plans to initiate any positions within the next 72 hours.