Since the recent MF Global (OTC:MFGLQ) disaster, shares of Jefferies (JEF) have suffered as much as any stock in its sector, as fears concerning the practices of such firms have grown to near all-time highs.
Year to date, shares of Jefferies are down nearly 62% and about 32% when the MF Global situation really started to hit the fan.
JEF YTD Chart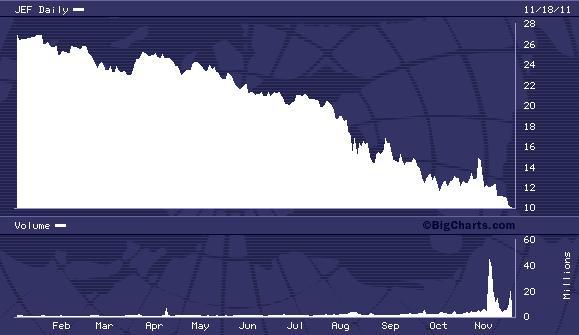 The question is, have the concerns surrounding Jefferies been overblown? At this point I would have to say it is quite possible.
Let's take a look at some important metrics:
Valuation Measures:
| | |
| --- | --- |
| Trailing P/E (ttm, intraday): | 6.78 |
| Forward P/E (fye Nov 30, 2012)1: | 6.88 |
| Price/Sales (ttm): | 0.80 |
| Price/Book (mrq): | 0.70 |
WIth both a forward and trailing P/E under 7, the company trails the industry average P/E of 11 by a whopping 36%. Price to sales/book don't look so bad either.
Income Statement:
| | |
| --- | --- |
| Revenue (ttm): | 2.80B |
| Revenue Per Share (ttm): | 13.60 |
| Gross Profit (ttm): | 2.13B |
| Diluted EPS (ttm): | 1.47 |
| Qtrly Earnings Growth (yoy): | 52.60% |
$2.8B in revenues, revenue per share, and $2.13B gross profit all look relatively healthy. The nearly 53% YOY quarterly earnings growth certainly doesn't raise any red flags.
Balance Sheet:
| | |
| --- | --- |
| Total Cash (mrq): | 37.80B |
| Total Cash Per Share (mrq): | 171.48 |
| Total Debt (mrq): | 20.25B |
| Book Value Per Share (mrq): | 14.40 |
With roughly $38B in cash and just over $20B in debt and a tangible book value per share of $14.40, it makes you wonder why the stock has been trading under $10/share recently.
The issues (other than the hammering that the financial sector has received in recent months):
Jefferies' exposure to Europe has been brought into question to go along with concerns about whether the firm was too heavily leveraged, in light of the MF Global debacle (it has been rumored that Jefferies has taken on some former MF clients recently). The company felt it necessary to take somewhat unprecedented and proactive measures (though some would argue that the company was being defensive and reactive) and decided to make public some very detailed information, in hope of alleviating some lingering concerns.
First it disclosed that they had less than $9M in exposure to MF Global Holdings in marked-to-market positions. Then, it issued a statement on sovereign debt of Portugal, Italy, Ireland, Greece and Spain (PIIGS). This was followed by two supplemental statements here and here. Then, it pulled out the big guns by disclosing all positions in sovereign debt to the PIIGS nations. Finally, it announced that it reduced its gross PIIGS holdings by 49.5%.
It should be noted that there have been several large insider purchases in recent weeks and months, as management and beneficial owners have tried to restore investor confidence in its stock, which it clearly sees as grossly undervalued. In fact, over the last 12 months, insider buys have outnumbered sells to the tune of 57-3.
None of the above has yet to fully reassure investors that Jefferies positioned well for the future as the stock continues to trade down. Just yesterday, it was revealed that the brokerage's 2014 bonds fell as much as 7%, down to $0.85 on the dollar, pushing the yield up nearly 4 percentage points.
In response to the above Jefferies CEO, Richard Handler, issued the following statement in an e-mail:
It is not surprising that our bonds are under pressure after the assault on our company over the past two weeks. Some bond investors sell first and ask questions later. We expect the market to return to normal pricing once we move beyond the ripple effect of the inaccuracies others have recently disseminated and once investors digest all the information.
I tend to agree with Handler that most of the current concerns will evaporate with time and Jefferies' performance will squelch any irrational fears about the company's future. I recently took a long position at $9.84 and plan to be a buyer again on any substantial dips below $9.90.
Disclosure: I am long JEF.