Mediagrif Interactive Technologies (MECVF.PK and MDF.TO) delivers e-commerce solutions to businesses since 1996. Its web platforms enable clients to find, purchase and sell products, exchange information, gain access to business opportunities and manage supply chain collaboration with greater speed and efficiency. The Company provides e-commerce solutions in the fields of electronic components, computer equipment and telecommunications, medical equipment, automotive aftermarket, wine & spirits, diamonds and jewelry, retail markets and government opportunities.
E-commerce solutions
Marketplaces:

Allow buyers and sellers to easily find, purchase and sell products and services.
Publishing & Procurement:

Help contractors and vendors access information on business opportunities, from the government and private sectors.
Business solutions:

Provide professionals with automated and integrated business solutions to streamline the supply chain.
Employees: 336
Business Locations:
-Canada: Montreal, Ottawa

-US: Albany, Atlanta, San Diego, Tampa

-China: Shenzhen
Revenues (2011):$47.1 M
2010 rankings:
Top 25 Canadian Software Companies (#19)*
Top 250 Canadian IT & Communications Companies (#82)*
* Source: 2010 annual edition of the Branham 300
Mediagrif posted strong financial results for its second quarter of fiscal 2012
Highlights of the first quarter ended September 30, 2011:
Revenues increased 11%, or $1.3 million to $12.7 million;
EBITDA improved 17% reaching $4.5 million, operating profit up 15% amounting to $3.7 million;
Net earnings of $3.7 million ($0.27 per share), compared to $1.9 million ($0.14 per share) in the second quarter of fiscal 2011;
Cash level raised to $33.4 million as at September 30, 2011, compared to $29.7 million as at June 30, 2011;
Board of Directors declared a cash dividend of $0.08 per share, payable on January 16, 2012 to shareholders of record at the close of business on January 3rd, 2012.
On November 14, 2011, the Company acquired substantially all of the assets of LesPAC Inc., a subsidiary of Yellow Media Group Inc. for cash consideration of $ 72.5 million, subject to certain working capital adjustments. LesPAC.com is Quebec's leading classifieds web site. The acquisition is financed by $ 25 million in cash from the Company, a term loan of $ 40 million and a revolving credit facility of up to $ 20 million, both extending over five years.
CONSOLIDATED RESULTS
(in thousands of Canadian dollars, except for numbers related to shares)

(unaudited)

Three months ended Sept. 30th

Six months ended Sept. 30th

2011

2010

2011

2010

Revenues

EBITDA

Operating profit

Net earings

12,706

4,476

3,732

3,747

11,420

3,818

3,234

1,901

25,343

8,468

6,957

5,905

22,665

7,482

6,215

4,172

Earnings per share

- Basic

- Diluted

0,27

0,27

0,14

0,14

0,43

0,43

0,30

0,30

Weighted average number of share outstanding (in thousands)

- Basic

- Diluted

13,705

13,740

13,873

13,889

13,694

13,732

13,886

13,905
SECOND QUARTER RESULTS OF FISCAL 2012, COMPARED WITH SECOND QUARTER OF FISCAL 2011
The earnings analysis takes into consideration the impact of the acquisition of InterTrade Systems Inc. ("InterTrade") completed in December 2010. For the second quarter of fiscal 2012, revenues increased by $1.3 million, compared to the second quarter of fiscal 2011, reaching $12.7 million. This increase is mainly due to the revenues of InterTrade which amounted to $1.4 million during the second quarter of 2012.
EBITDA reached $4.5 million or 35.2% of revenues for the second quarter of fiscal 2012 compared to $3.8 million or 33.4% of revenues for the corresponding period of 2010. Net earnings reached $3.7 million for the second quarter of fiscal 2012, compared to $1.9 million for the second quarter of fiscal 2011. During the second quarter of fiscal 2012, a foreign exchange gain of $0.8 million was recorded compared to a $0.2 million loss in the second quarter of fiscal 2011.
OUTLOOK
Given strong year-to-date performance and the acquisition of LesPAC, which generated $12.7 million in revenues for the twelve-month period ended December 31, 2010, According to management, Mediagrif's outlook for the balance of 2012 is positive. The Company expects its consolidated revenues for fiscal 2012 to increase by approximately 20% on an annualized basis and EBITDA to be in the range of $17.5 million to $19.5 million, without taking into account costs relating to the acquisition. These projections are based on certain assumptions, including that there would be no significant change in the current value of the Canadian dollar compared to the U.S. dollar, no significant increase or decrease in revenues and operating expenses and stable market conditions.
Recent acquisition
Mediagrif announced acquisition of LesPAC. LesPAC.com is Quebec's number one classified web site. It reaches 1.8 million unique visitors per month, attracting national and local advertisers. With a strong community of 780,000 members, LesPAC.com ranks amongst the most visited web sites in Quebec, all categories included.
"We are thrilled to have the LesPAC team join the Mediagrif family" said Claude Roy, President and Chief Executive Officer of Mediagrif. "This acquisition of LesPAC represents a unique opportunity for Mediagrif to partner with one of Quebec's most visited website. This transaction will bring new opportunities given LesPAC's strong brand and established on-line marketplace for consumers. In addition, we are pleased to partner with Yellow Media Inc. to deliver additional services to our users".
The acquisition is financed through Mediagrif's $25 million cash on hand and committed term debt financing of $40 million. In addition, Mediagrif has put in place a revolving credit facility of $20 million. "The transaction is expected to be immediately accretive to Mediagrif's net earnings.
MDF advantages of acquisition of LesPAC
North American Location
Ethical and Diversified Business Sectors
Strong Business Models
High Profitability
Recurring / Transactional Revenues
SaaS (Software-as-a-Service)
Sustainable competitive advantage
Web Based Solutions
FY12 Acquisition Targets
Companies between $5 - $25 M in annual revenues
Aligned to take advantage of their resources (Technical, Financial, HR)
Organic growth
White Label E-Procurement Solution
Government of Canada preferred solutionCanadian/U.S public & private sector adoption
Government of Quebec E-Procurement solution opportunity (Bid Submitted. Awaiting Decision)
o SaaS E-Commerce Solution

o Currently utilized by Major North American client
Organic Growth Initiatives
White label solution opportunities in other vertical markets
Build on InterTrade EDI Market
High growth in SMB Web EDI solutions markets
Vuru's analysis of Mediagrif

It has an excellent Cash Return on Invested Capital over the past 5 years.
Mediagrif has efficiently invested its financial resources in buildings, projects, and equipment, resulting in strong returns. Look for consistency in CROIC. Are there spikes caused by one-time events? If it's consistent, are these levels of returns sustainable for Mediagrif? Annual Reports can be useful in identifying the cause of one-time events and future sustainability. Mediagrif has created $22.96 of cash for every $100 invested.
Low Return on Equity over the past 5 years
This could be due to Mediagrif operating in a highly competitive industry, or having a weak business in general. Mediagrif has only generated $4.73 of Earnings for every $100 of Shareholders' Equity.
Excellent Business Performance over the past 10 years. Mediagrif has been able to maintain profitability in good times and bad. This could mean Mediagrif has an extremely strong business or has the ability to scale down costs when needed. This should be a fairly resilient business, but double check for future sustainability by looking at its Risk Factors in the Annual Report.

Mediagrif has created positive free cash flow for the last 9 years.

Very Strong Balance Sheet. Mediagrif has more Cash than its Total Liabilities, resulting in $0.80 Net Cash per share. In other words, if you buy Mediagrif today, the price you're paying for shares is actually $13.20 because $0.80 of Cash is included in the current share price. This much Cash is very healthy. It can help

Mediagrif sustain itself in the face of any economic turmoil and makes a stock buyback more of a possibility.

Consistent Reinvestment of Profits over the past 10 years. Mediagrif has consistently retained profits. This may put Mediagrif in a strong position to invest for the future, by buying new machinery, investing in R&D or a number of other options. By effectively using these earnings,

Mediagrif can greatly improve their long-term economic picture.

Potential Competitive Advantage over the past 10 years. Mediagrif potentially has a competitive advantage. This could be strong branding, the ability to keep costs low, or some other characteristic that is hard to replicate. Look at its future prospects to determine sustainability and whether the economic moat will strengthen.

Mediagrif has created $11.15 of cash for every $100 invested.

Strong Pricing Power over the past 10 years.

Mediagrif has maintained substantial gross margins, suggesting they've been able to set prices without consideration of the cost of goods sold. This potentially leaves flexibility in inflationary environments to raise prices on consumers and maintain profitability. $80.44 of every $100 worth of sales have been Gross Profit, on average over the past 10 years.

High Capital Intensity over the past 10 years.

Mediagrif spends large amounts of capital buying new equipment or investing in new facilities to stay competitive. Over the long term, those costs may have to be fuelled by debt. Look at the growth of Shareholders' Equity to see if this strategy is having a positive or negative impact. 94.38% of Profits are being spent on Capital Expenditures, like Property, Plant, & Equipment, required to run the business.

Strong History of Stock Buybacks over the past 10 years.

Mediagrif has a strong history of delivering increased value for shareholders in the form of stock buybacks. These have helped improve financial metrics and increase each shareholders' relative ownership stake in the company, due to fewer shares outstanding and holding the same number of shares.
Mediagrif stock performance since 2000.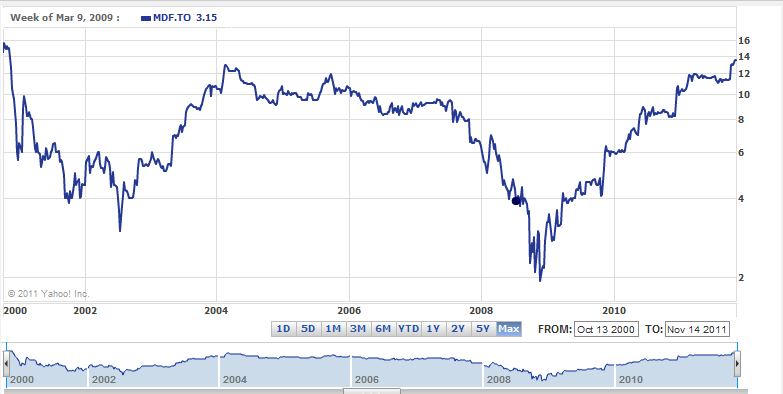 Source : Yahoo Finance
First Call Earnings Valuation Report
Sell

0

Under Perform

0

Hold

1

Buy

3

Analysts

Strong Buy

1
Fundamentals
Market Cap

185.1M

Beta

0.15

Revenue (FYR)

$47.1M

EPS

$0.74

Shares Out.

13.7M

Book Value

$4.66

Dividend Yield

2.33%

P/E

18.2x

Div/Share

$0.32

Price/Sales (FYR)

3.7

Ex-Div Date

9/29/11

P/Cash Flow (NYSE:TTM)

16.5x

Pay Date

10/17/11

Operating Margin

29.70%

Data delayed at least 15 minutes.
Source Thomson Reuters
| | | | | |
| --- | --- | --- | --- | --- |
| Growth Est | Mediagrif | Industry | Sector | S&P 500 |
| Current Qtr. | 21.40% | 45.10% | -11.90% | 24.60% |
| Next Qtr. | 28.60% | 36.20% | 14.60% | 23.40% |
| This Year | 11.50% | 33.90% | -9.10% | 11.60% |
| Next Year | 20.60% | 21.60% | 35.30% | 12.90% |
| Past 5 Years (per annum) | 16.30% | N/A | N/A | N/A |
| Next 5 Years (per annum) | 22.00% | 22.33% | 20.36% | 11.04% |
| Price/Earnings (avg. for comparison categories) | 18.96 | 22.41 | 9.31 | 15.69 |
| PEG Ratio (avg. for comparison categories) | 0.86 | 0.73 | 0.31 | 0.30 |
Source : Yahoo Finance
It has a shares buyback program for 5% of the float ending March 2012. In the past year, insiders bought net $3M of shares.
Competition
The e-business market is intensely competitive, and they have many competitors with substantial financial, marketing, personnel and technological resources. New competitors may also appear as new technologies, products and services are developed. Competition could affect their pricing strategies, and lower their revenues and net income. It could also affect their ability to retain existing customers and attract new ones.
Competition Types
Multi-industry networks: Alibaba, eBay
Industry-specific networks: Highly fragmented
Software: Ariba, Activant, Rinax
Mediagrif portfolio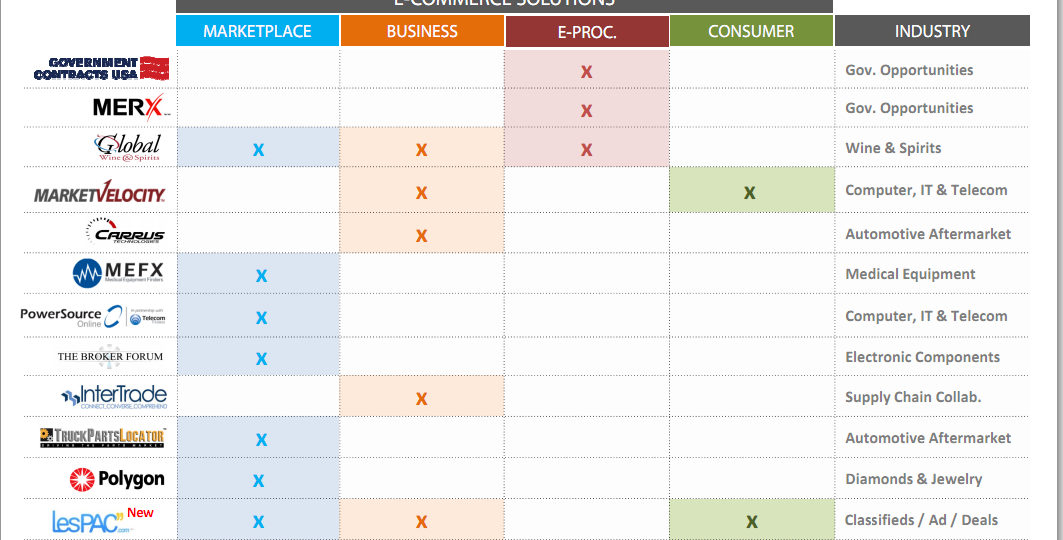 Growing recurrent revenues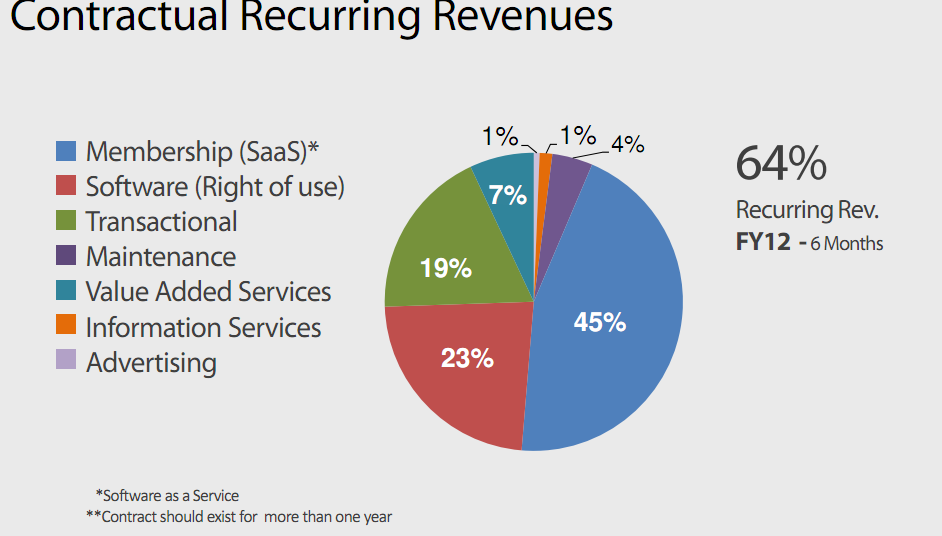 5 years debt projection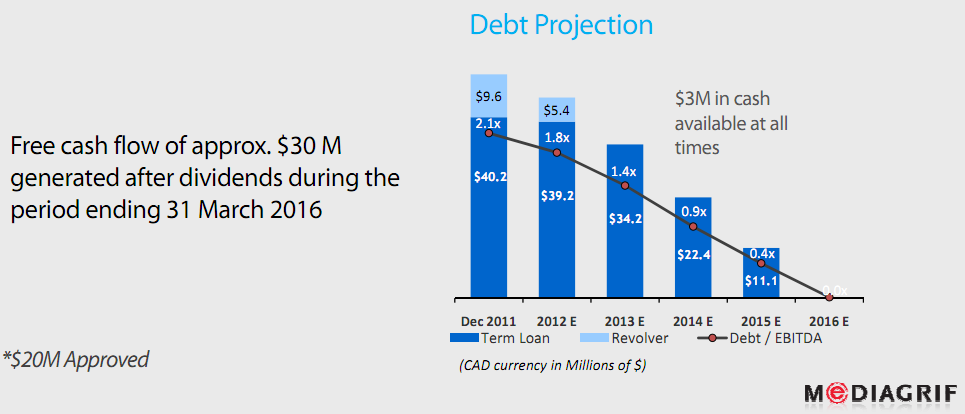 After the recent acquisition Mediagrif has $40M in term debt and less than $10M in revolver debt. Cash is approximately at $9M and the ratio debt/equity is 2.1X at the gate. It plans to reimburse total debt over 5 years.
Conclusions
Mediagrif offers a great play in the e-commerce sector. It offers also a good mix between organic growth and acquisitions.
The P/E ratio is lower than its industry. It has an impressive turnaround in its profitability in the past 3 years. The valuation is still attractive event though the stock has increased 7x since 2009.
The potential of LesPAC acquisition is still not completely valued in the stock.
In general, recent profitability is good, except ROE. It generates consistent cash flows and growing recurrent revenues.
It has a low correlation with the Canadian stock market index, since the beta is 0.15.
Disclosure: I am long OTC:MECVF.