As of the beginning of this year approximately 10k "baby boomers" turned 65 every day. This is the start of one of the biggest demographic trends of the next 20 years. The number of Americans age 65 and older is expected to grow by almost 40% between 2010 and 2020 (compared to a 9% growth rate for the general population). That's over 70 million baby boomers that will soon be requiring increasingly more healthcare services. Betting on big structural shifts is one of my favorite, time tested ways to make money. Whether it's the increasing middle class in Latin America, aging baby boomers or basic infrastructure in China, investing with these macro-economic tailwinds puts you at a huge advantage.
Ventas (NYSE:VTR) invests in hospitals, skilled nursing facilities, senior housing facilities and medical office buildings across all of America and Canada. This is a huge healthcare REIT that is on an acquisition spree. In 2011, VTR completed $11 billion of acquisitions, including competitors Atria and NHP which brings Ventas' total to 1,300 properties in 47 states and 2 Canadian provinces.
The acquisitions have been accretive to earnings and management is focused on not getting too far over its skis (so to speak). One of the big issues affecting the healthcare REIT sector is recently announced cuts to nursing home payments by Medicare – but VTR is actively managing its exposure to Medicare by focusing on growing its revenues from 'private-pay' sources. On the company's recent earnings call, CEO Debra Cafaro addressed this and how the company's recent acquisitions have helped mitigate this:
Together, these acquisitions improved our private-pay NOI percentage, significantly diversified our business, increased our percentage of NOI from high-quality private-pay senior housing, and we're accretive to earnings. And importantly, all of these occurred with a very, very strong balance sheet.
With the "vast majority" of NOI coming from "private-pay" assets such as seniors housing and medical office buildings, VTR is well insulated from further legislative impacts to Medicare spending.
VTR also recently won a jury verdict for a 2007 lawsuit in which VTR claimed competitor HCP (which is also a good REIT) obstructed VTR's purchase of assets from Sunrise REIT. The jury awarded VTR $101 million. Although HCP has indicated it will pay, it has yet to actually do so, so VTR will have to pursue punitive damages.
The current dividend yield of 3.42% isn't huge but the appeal of this stock is its stability. This is a company that will continue to generate cash and grow dividends for decades to come – regardless of the economy, war, inflation, trade with China, etc. Baby boomers will get old and need to pay for medical care and Ventas will be there to provide.
click to enlarge image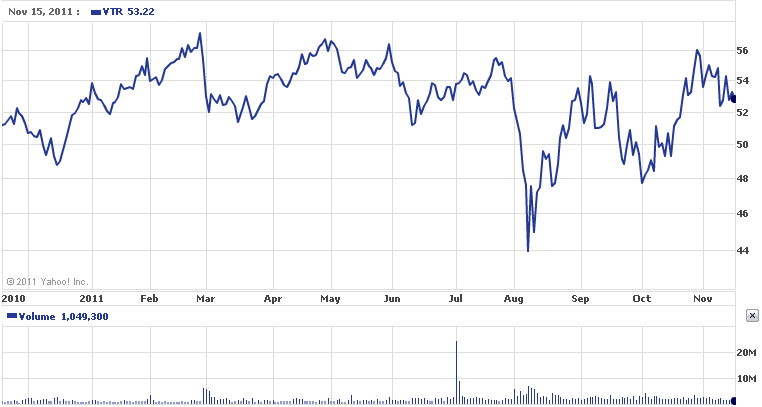 Disclosure: I have no positions in any stocks mentioned, but may initiate a long position in VTR over the next 72 hours.