Shares of Bio-Reference Laboratories (NASDAQ:BRLI) have been under immense pressure recently, in part due to a hyper-critical and scathing two-part article (see here and here) released by another publication that was shorting the name, which subsequently led to placement of the stock's rating under review by Jefferies (JEF).
At the time, Jefferies was careful not to lend much credence to any of the allegations and accusations brought against Bio-Reference, noting that evidence of wrongdoing and misconduct has yet to be proven:
We expect BRLI shares to see increased pressure after a second short report, published on Thursday afternoon, criticized the company's business practices and the background of certain employees.
On November 14th, Jefferies went on to drop its coverage of the company altogether, along with its most recent $21.00 price target, giving the following explanation:
In light of increased business uncertainties, as per our Research Note dated 11/10/11 and titled "Report Puts BRLI Under High-Powered Microscope", in which we referenced an article by TheStreetSweeper, an online research organization, we do not believe we are in a position to provide a recommendation on Bio-Reference Laboratories BRLI. As a result, we are dropping coverage of the company effective immediately.
To date, no other notable analyst firms have voiced such dire concerns. As of Thursday's close, shares of Bio-Reference are down 42% and are nearly 51% off their 52 week high of $25.99.
BRLI YTD chart (click to enlarge):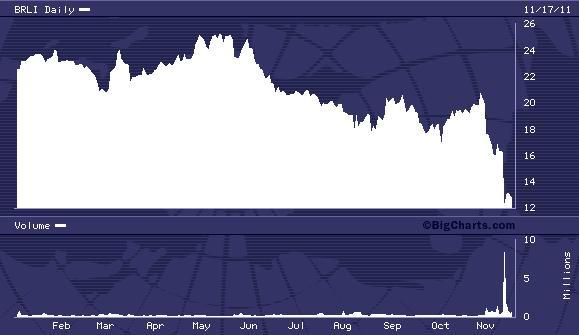 Institutional ownership of BRLI has recently decreased by roughly 732,000 shares, lowering the percentage of the total 27.5M shares outstanding that are held by institutions by nearly 3%, leaving about 1.88M shares in non-institutional hands. As of October 31st, the total reported short interest in the company was 6,063,587, or about 3.2x the retail float, suggesting that there is strong potential for the stock to move sharply one way or the other should any substantive material news be released in the near future, considering the average daily volume is a meager 700,000.
The company currently has a book value per share of $6.42, a diluted EPS of $1.23 and a forward P/E of about 9. It also has about $19M in cash with about $46M in longer-term debt. Its leveraged free cash flow is roughly $6M. Bio-Reference was also recently named the 8th fastest growing company in the state of New Jersey and its latest quarterly report revealed YOY quarterly growth of 26%.
The recent short attack on the company and dropping of coverage by Jefferies was curiously met with relative silence by management. It did, however, announce the authorization of a stock repurchase program, authorizing the buyback of up to 1M shares, which should commence in the near future. A 3.5% reduction in outstanding shares would undoubtedly put some pressure on the large short position.
Dr. Marc Grodman, President and CEO, defended his company in the share buy-back press release:
The company has been under attack from short sellers – who have promoted claims based largely on inaccuracies, half truths and complete fabrications through their own scurrilous blog site – and the latest market activity on the stock is a reflection of that. The company consistently has posted 20% gains in profits and revenue growth year to year and will successfully weather this attack through continued strong results. We have recently announced an extension of our Financing arrangements with PNC Bank through 2016 and we are confident in the future of the Company.
Many have suggested that, in addition to the buyback program, some large insider open market purchases at current levels would go a long way in helping to restore investor confidence in the company.
Herb Greenberg of CNBC weighed in on-air last week suggesting that when a company refers to short-sellers while addressing investors' concerns about rapidly decreasing shareholder value, it should raise some red flags. I tend to believe that it is well within a company's right to reference short-sellers when defending itself against those that are, in part, responsible for its stock's sharp decline in value.
On Friday, Dr. Grodman was a key panelist along with several politicians at a bi-partisan policy forum in Washington DC where, among other items, he spoke of a solid tumor testing program that Bio-Reference plans to co-launch early next year with Massachusetts General Hospital:
This program will be a big leap forward in solid tumor diagnostics leading to dramatically improved disease management. We are fortunate to have one of the leading cancer care facilities in the world in Massachusetts General with which to partner.
While the recent bearish and arguably sensationalistic two-part blog may draw the attention of regulators and possibly result in further scrutinizing of the company's inner-workings, on the surface and despite its checkered-seeming past, present day Bio-Reference looks like a legitimate and relatively successful company with a promising future that currently appears to be undervalued due to artificial pressure put on it by those with a vested interest in seeing the stock price suffer. Time, along with future balance sheets, will tell who is right in the end.
Disclosure: I am long JEF and I may initiate a long position in BRLI within the next 72 hours.