Sometimes, when people look to mega-cap stocks that pay out growing streams of dividends, they assume that a stable source of income and reduced market volatility are the primary benefits of holding this sort of company. While this is certainly true, these traits are also quite conducive to producing outsized total market returns as well. I was recently looking at Colgate-Palmolive's (NYSE:CL) performance since 2000, and was surprised to see how much wealth creation came as a result of owning shares of a toothpaste and dish soap company.
For almost half of the year in 2000, you could have bought shares of Colgate-Palmolive at a price between $40 and $45. And keep in mind, this was the year when the stock market bubble burst—Colgate-Palmolive ended up earning $1.70 per share in 2000, so paying $45 per share gave you a buy-in price to earnings ratio of 26.47, which is usually not conducive to market-beating returns. After all, this implies that CL investors received an initial earnings yield of 3-4% on their investment, which is not usually the mark of a value investor.
But yet, the underlying strength of Colgate's portfolio—Ajax, Fab, Murphy's Oil, Irish Spring, Palmolive dish soap, and Colgate toothpaste—enabled the company to grow earnings from $1.70 per share in 2000 to an estimated $5.05 in 2011, for an almost three-fold increase over the course of eleven years. Likewise, Colgate-Palmolive has been able to grow its dividend from $0.63 in 2000 to $2.27 per share in 2011, a 360% increase over the decade while the payout ratio today remains under 45% due to the company's earnings growth.
Let's look at how this would play out for retirement investors. Let's say an investor, looking for a secure stream of growing dividends to help him through retirement, decided to purchase 750 shares of Colgate-Palmolive in 2000, for an initial investment of $33,750. Although he was paying 26.5x earnings, he was content to receive the $0.63 per share annual dividend, which came in the form of four checks annually totaling $472.50 to help contribute to living expenses.
Here's a chart to show how that dividend income would grow over the course of a decade: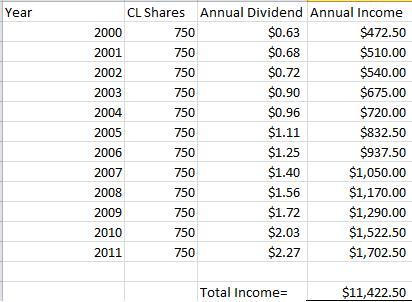 Even though our retirement investor bought overpriced shares, and even though he wasn't reinvesting the dividends, he was still able to collect an annual stream of earnings that grew from $472.50 in 2000 to $1,702.50 in 2011. For every share of Colgate-Palmolive stock that our investor owned through a tax-advantaged account such as a Roth IRA, the dividends would accrue to the investor completely tax-free.
As time drags on, this advantage becomes increasingly relevant. Over this eleven year stretch, our retirement investor was able to collect $11,422.50 in Colgate-Palmolive dividends, which is about a third of his initial investment! This is an important consideration to keep in mind since our investor didn't even reinvest his dividends, which would have significantly turbocharged the returns.
At the present moment, Colgate-Palmolive trades for about $89 per share. The 750 shares would be worth $66,750 at current market prices, plus the investor collected $11,422.50 in dividends along the way, making the total amount $78,172.50 relative to a $33,750 investment. That's amazing to think about—a retirement investor who sought out an overvalued consumer staple company with strong brand names and a global presence in 2000 was nevertheless able to earn a stream of dividends that increased from $472 to $1702 annually while at the same time enjoying a 232% return on investment over little more than a decade. Colgate-Palmolive appears slightly overvalued today—selling at 18-19x earnings, but it is still cheaper than it was this time eleven years ago, and the company has managed to reward shareholders quite well.
Disclosure: I have no positions in any stocks mentioned, and no plans to initiate any positions within the next 72 hours.