Actionable Items:
Note: Day-end CEF pricing is now available for CEFs by fund type here.
CEF Weekly Review: On average, the 13 closed-end fund (CEF) types registered a share price decrease of 1.5% for the week ending 11/18/11. The high-low spread (percentage price change difference between the highest and lowest fund types) registered this week was +3.6% versus +2.6% the previous week. On an aggregate unweighted basis, the weekly average price change for the 500 plus CEFs in the GrowthIncome database was down 1.2%.
The PowerShares CEF Income Composite (NYSEARCA:PCEF), an ETF that invests in taxable income CEFs, declined 2.3% for the week. PCEF is down 8.3% YTD based on share price and up 0.7% when its current annualized yield is included. S&P 500 dropped 3.8% this week and expanded its YTD loss to 3.3%.
Trading Volume: The average daily volume for the S&P 500 (Pending:GSPC) was flat this week at 3.9 billion shares last week which included Veteran's Day. Volume has been drying up in light of stock market volatility. (See "Uptick, Downtick" below.)
(Click here for YTD CEF Performance. See "Research" Menu; "CEF Weekly Information" tab.)
The Eqcome CEF Fear Index was flat on the downside. The average CEF unweighted price decreased 1.2% while the average related NAV declined the same. The VIX advanced 6.6% for the week and remained over 30 settling in at 32.01.
All S&P sectors experienced money outflows this week. Basic Materials experienced the largest decline dropping 6.1%. Even traditional safe sectors such as Utilities and Health Care, while losing the least, experienced negative outflows of 2.1% and 3.5%, respectively.
CEF Weekly Fund Type Performance: This week's average share price performance exhibited investors' nervousness with fixed-income advancing and equity-oriented CEFs being punished. National and state munis took their usual place at the head of the class during times of equity turmoil. This is despite the fact that many of the munis go ex-dividend mid-month.
click to enlarge image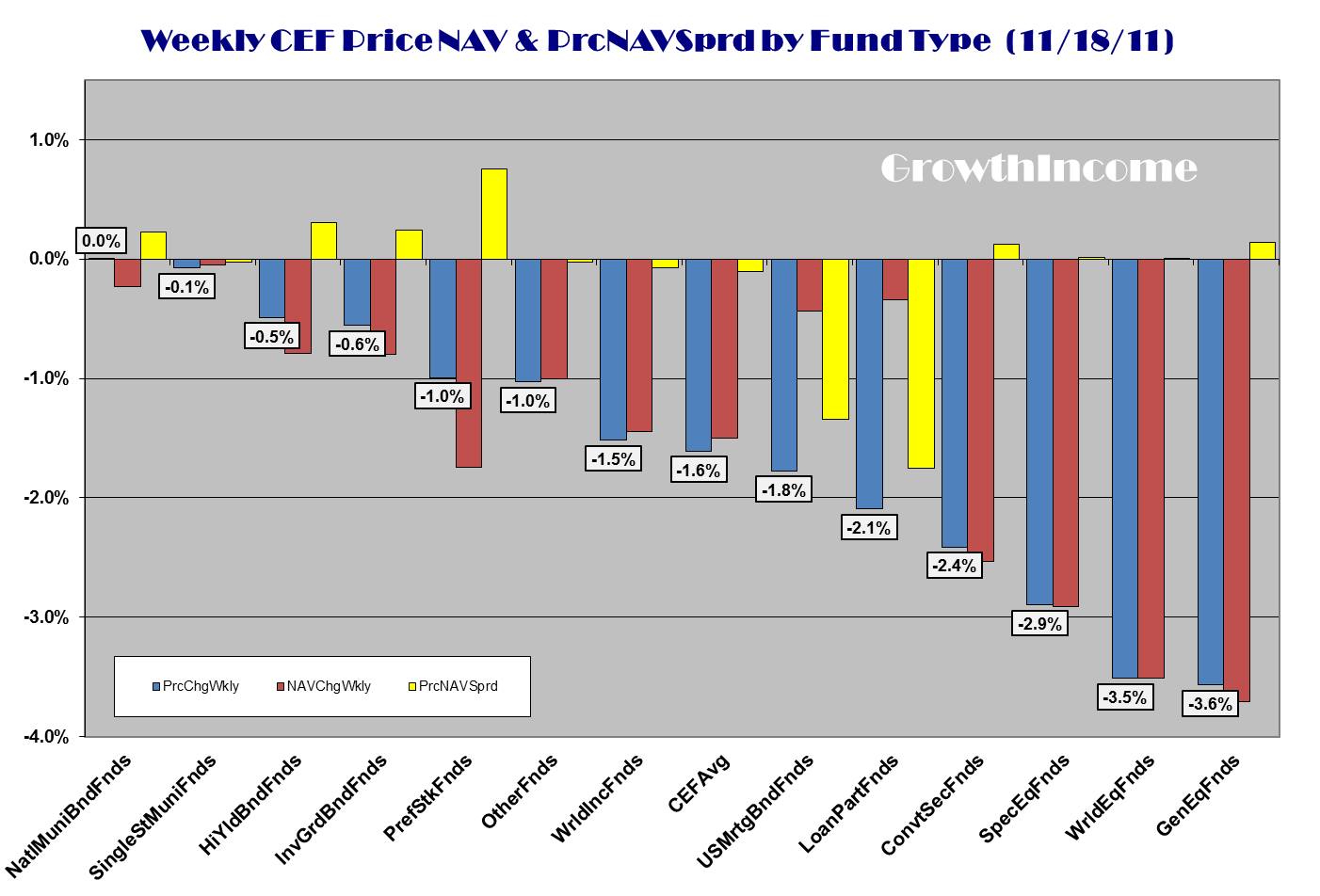 Investors seemed to overreact to the both the USMrtgBndFnds and LoanPartFnds with average share prices dropping greater than related NAVs. In the case of the former, mortgage backed securities received a boost with valuations increasing as investors discerned that re-finance prepayments weren't as great as they initially feared.
On the other end of the spectrum, PrefStkFnds share price dropped less than the underlying NAV.
Weekly CEF Winners and Losers: One of the CEFs with the greatest positive PrcNAVSprd for the week was last week's largest negative spread: Flaherty & Crumrine Preferred Income Opportunity Fund (PFO). PFO's price increased 2.7% while its NAV decreased 1.0% generating a positive PrcNAVSprd* of 3.7%. The price increase was in the face of the stock going ex-dividend on Friday on a quarterly distribution of $.076 per share.
A CEF with the greatest negative PrcNAVSprd for the week was Cornerstone Strategic Value Fund (CLM). CLM's price declined 17.3% while its NAV decreased 3.0% generating a negative PrcNAVSprd of 14.2%. The CEF was the subject of a rights offering than went ex-date was on Thursday. (See "CEF Focus Stock(s) for the Week" below)
Economic & Earnings Outlook: (Click here for next week's economic calendar; click here for earnings' announcements and estimates.)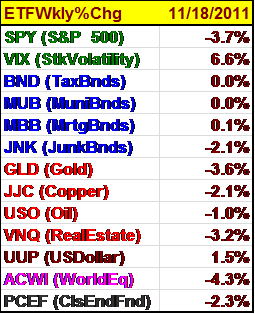 ETFs: For a more detailed EFT performance by sectors, click here—see "Research" Menu; "ETF Weekly Information" tab.)
Insider Trading: The number of insider trades increased this week but most were of small size or "wash" transactions exercised by Merrill Lynch in a number of the CEFs.
There were a number of directors (7) buying Harris & Harris Group (NASDAQ:TINY) at a clip of 1,500 shares. Five of the seven have five figure share ownership. Michael J. Castellano, a director of several of the BlackRock CEFs purchased what appeared to be new positions in five of the funds.
(Click here for a hyperlink to the Joe Eqcome's CEF Weekly Insider Report—see "Research" Menu; "CEF Weekly Information" tab.)
CEF Distribution Announcements This Week: The following is a link to a table of CEF distribution announcements this week as well as the previous week's with yet expired ex-dividend dates. The list is not intended to be inclusive. Additionally, mid-month is a time that many CEFs go ex-dividend. (Click here for Joe Eqcome's Weekly CEF Distribution Announcements—see "Research" Menu; "CEF Weekly Information" tab.)
Significant CEF Corporate Events: The Malaysia (NYSE:MAY) announces an extension of their tender offer to purchase up to 377,214, representing close to 5%, of its issued and outstanding shares. The expiration date to buy back shares of common stock at a price of 98% of its NAV determined at the day following the expiration date was extended from November 14th to November 28th. The offer originally commenced on October 17th. Additionally, the advisory, Morgan Stanley Asset Management, settled with the SEC for inadequately supervising its sub-advisory to the Fund.
The tender offer from Morgan Stanley Asia-Pacific Fund (AFP) expired at 11:59pm on November 14, 2011. The preliminary results of the offer to buy back 1,084,594 shares at 98% of NAV determined at the close on November 15, 2011 shows that approximately 10,922,933 shares were tendered, including shares tendered pursuant to notices of guaranteed delivery. Based on the pro-rata clause of the tender offer, an estimated 9.93% of shares properly tendered will be bought back from shareholders.
CEF Focus Stock(s) for the Week: So much for the efficient market hypothesis.
Cornerstone Strategic Value Fund (CLM) has managed with "smoke and mirrors" to generate what amounts to a perpetual motion machine in terms of stock valuation. It is able to trade at an extreme premium and an ephemeral mid-teen yield through a series of very clever ploys and adroit trading while not running afoul of the related regulations. These are very smart people—particularly their law firm.
Based upon a back of the envelop analysis, traders can make money on this stock at the expense of the investors. The whole "scheme", in the British sense of the word, is based upon the stock trading at a hefty premium to NAV per share.
Based upon our analysis, since the stock is trading at a premium, the share price of the rights offering is at a premium to NAV, i.e., the higher of 90% of stock price or 102% of NAV, so it's additive to NAV.
Based upon a 33.5% pre-rights stock premium of $9.68 versus a $7.25 NAV per share (CEFConnect.com) for day-end November 16th, the post NAV would be $7.62 per share. So, at a zero premium (par), the stock would be trading at $7.62 per share, or a price decline of 21.3% from its November 16th price.
However, through return-of-capital distributions and dexterous trading by interested parties, if the stock were to again trade at a 33.5% premium, its share price would be over $10.00 per share, up 14% from its current level.
Yet, a quick look at its holdings read like components of the S&P 500 with four ETFs that are trading at a discount. One has to strain to understand why this is trading at a premium against a discount for its peer group. Breaking the premium would collapse this "scheme".
This is the second time in as many years that CLM has gone back to the "well" and issued a non-tradable rights offering. Seems they have found a "sweet spot" for facilitating this perpetual motion valuation.
Interestingly, if the rights offering were transferable, there is a question as to whether this would qualify as a Ponzi scheme, as it would be taking in dollars from "new investors" to pay out principal to old investors to maintain valuation. By being a non-transferable rights offering, the old investors are just paying themselves. P.T. Barnum would have been proud.
Last Week's Focus Stock(s): Our focus stock for the week is ING Infrastructure Industrials & Material Fund (IDE). Our underlying thesis regarding this stock is that "infrastructure" will continue to be a "buzz word" for investors over the next decade.
In a study produced by CIBC, global infrastructure spending will reach $35 trillion over the next 20 years. The same study reported that North America will spend annually $205 billion, Europe $205 billion, Asia $400 billion and Africa $10 billion. In fact, Asian economies have pledged more than $680 billion to economic stimulus since the onset of the financial crisis.
The stock was off over 4.5% last week compared to S&P 500 off 3.8%. Some of the issue with its performance may be its WrldEqFnds classification. The global iShares MSCI ACWI Index (NASDAQ:ACWI) was off 4.3% for the week.
While classified as WrldEqFnds, approximately 40% of its investments are in the U.S. which is now focused on infrastructure spending programs to help stimulate the moribund economy. The portfolio is diversified across transportation, energy, and communications.
The stock currently sells at an annualized quarterly 10.5% distribution yield of which only 33% is supported by net investment income while the balance is supported by short-term capital gains and occasional dollops of return-of-capital. It is trading at a 6.0% discount while trading at par during August and September.
---
[*] All things being equal, price and NAV should move in tandem. A price movement greater than the NAV generates a positive PrcNAVSprd and may be interpreted as negative on a near-term basis and indicate that the stock is overvalued relative to its NAV which in theory is the stock's intrinsic value. The opposite would be true for a negative PrcNAVSprd.
Disclosure: I am long IDE, PCEF. I own a diversified portfolio of CEFs and ETFs and is long stocks in the CEFBig10™ and CEFMuni10™.) The first is a balanced equity-income portfolio (CEFBig10™) and the second a tax-exempt income portfolio (CEFMuni10™).