Trans Canada Corp (NYSE:TRP) has been in the news lately. I have been following the company for months and decided last week to start a position. Trans Canada Corp is a Canadian company with business units in natural gas, oil pipelines, energy and electrical power. They have been in the news due to a proposed pipeline called Keystone XL.
Rather than rant about the politics of the situation I'll focus on my decision. This is after all an investors forum so I will leave the political editorial up to the experts. There is good information on the proposed pipeline on the Trans Canada Website and a poignant summary of the politics in a recent Forbes editorial as well as the Wall Street Journal.
I decided to scale into Trans Canada so I can respond to expected pricing variability. I plan to buy shares if they slide and build my position over the next few months. One of the keys to this strategy is the fact that they do not depend on the extension of the pipeline to maintain current profitability. It would have been a significant addition to their portfolio, and it might happen sooner versus later depending on politics and who is in charge after next November, but with a 4% yield I can afford to wait. With their pricing at $40.30 they are off their high of $45 and above their 52 week low of $33. They earn $1.97 (without Keystone XL) and have a PE of 20.44. With revenues of 8.62B and a gross profit of 4.98B they have the scale l'm interested in for a pipeline and utilities segment.
My original thesis did include the added profitability from the Keystone XL project. On last quarter's conference call they went into great detail about the plan and how their planning was centered around building the safest pipeline in the world. They were cautiously upbeat and I thought it was a good time to get in (ahead of the approval). The project was so logical and the alternatives such poor choices that I did not believe there was any chance the project would not get approved. I was wrong and learned to never assume that politics won't overpower good policy.
Politics did not change my opinion of the company or their earnings potential. Due to the uncertainty of the political situation I added some hedge tactics to the Trans Canada purchase. To spread out my risk I started a purchase program using cash secured puts for Conoco Phillips (NYSE:COP) which stands to benefit as a mid continent refiner and Canadian Natural Resources:CNQ who just reported a fantastic quarter and are a leading Canadian oil and natural gas driller. On their last conference call the CEO for Canadian Natural Resources directly referenced the Trans Canada pipeline project and noted that they would sell their oil to the USA using the new pipeline or other markets like Asia probably at a higher price by piping it to BC and shipping to Asia.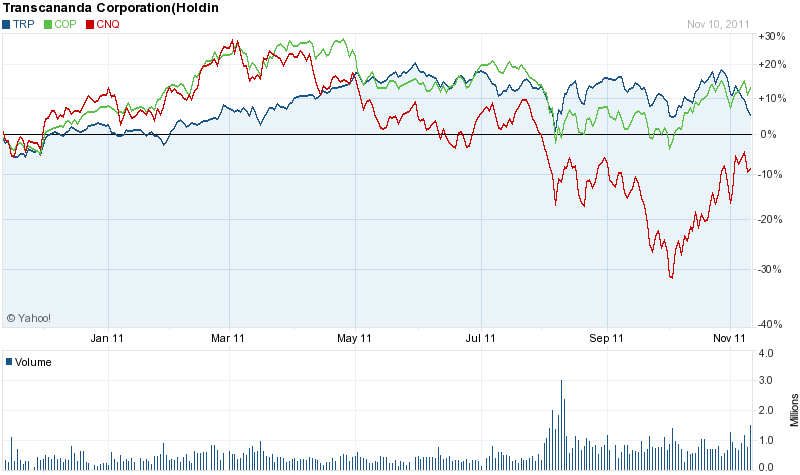 My trade was fundamentally changed due to politics but I benefited by adding a hedge tactic.
Strategic plan:
Scale into Trans Canada up to a price of $42 and using Fibonacci retracement lines for guidance. There are no options available to trade. I have set support at $38 and resistance at $44.00
Buy Conoco Phillips using cash secured puts. I plan on maintaining a 25% ratio to Trans Canada on a share basis. For every 400 shares ofTrans Canada I will hedge with positions in Conoco Phillips. Conoco Phillips yields 3.8% and has a PE of 9.25. Options are available and I will set my strike prices at or near the money.
Buy Canadian Natural Resources.
I will buy Canadian Natural Resources on a 25% ratio to Trans Canada. They trade lightly in the options market so I will purchase shares in the open market. Canadian Natural Resources yields 1% and trades at $ 35.24. Their shares are compressed and I believe the company is well positioned looking forward. They dedicated time and resources during 2011 to add to infrastructure and as production increases look to grow EPS and revenue.
The threat to this strategy is that the world stops using oil. I'll take that bet and invest in a quality utility, pipeline operator, refiner and driller. By hedging my Trans Canada position by including two quality companies I plan to benefit no matter what the politics of the day are and I earn dividends as I wait.
Disclosure: I am long TRP, CNQ.