Recent data published by the International Monetary Fund and the U.S. Federal Reserve related to the aggregate reserve position of both US and worldwide financial institutions may point to hidden money making opportunities for investors.
According to the IMF, the following represents the total annual value of Banking Reserves World Wide in Billions of SDRs. The 2011 data is through March. The value used in this report for the SDR is (1 SDR = $1.58)
World-Wide Banking Reserves in Billions of SDRs:
2005 – 3386.9
2006 – 3893.7
2007 - 4722.2
2008 – 5290.2
2009 – 6053.9
2010 – 7058.9
2011 – 7186.5
Therefore, the current value of world-wide banking reserves is (7186.5 X $1.58), or $11354.67. Yes, that is $11.3 trillion dollars.
This represents a 35% increase in reserves since 2008 when the world economic crisis began and a 112% increase since 2005.
One might be inclined to believe that since the banks are flush with reserves, there should be enough money to overcome the huge debt burdens being carried on the balance sheets of sovereign nations. However, after carefully reading the IMF report, a different picture emerges which leads to more questions than answers.
The following statement is made in the opening notes of the report:
As reported in Table I.2, information about the currency composition of foreign exchange reserves is available for about 55 percent of total reserves—about 87 percent of advanced economies' reserves and just below 40 percent of emerging and developing economies' reserves. "Unallocated" reserves, for which no information on the currency composition is available, represent an increasing share of global reserves since 2000 and also represent just below 50 percent of net foreign exchange reserve accumulation in 2010.
This leads one to question how the IMF can be certain as to the true amount of the actual reserves if it is unable to ascertain its monetary composition. I suppose a banker's word is as good as gold. Let's narrow our focus to the U.S. Federal Reserve's accounting of aggregate reserves. Examing Fed data it is evident that not much lending is going on other that what has been leant out under TALF.
The Fed has come under a great deal of scrutiny over the past few years as the public has demanded more transparency. Congressional lawmakers and quite possibly the FBI are currently looking into many of the TALF transactions that now appear to make up much of the lending activity at the Fed. I will not detail the specifics of this part of the balance sheet as Rolling Stone Magazine has adequately exposed the loop-holes in the Fed's TALF lending program in its April Issue in an article by Matt Taibbi entitled: The Real Housewives of Wall Street: Why is the Federal Reserve forking over $220 million in bailout money to the wives of two Morgan Stanley bigwigs?.
Instead, I will focus on the IMF and Fed data that may be of use to the average investor as opposed to the astute wives of bankers.
According to the Board of Governors of the Federal Reserve System:
Reserve requirements are the amount of funds that a depository institution must hold in reserve against specified deposit liabilities. Within limits specified by law, the Board of Governors has sole authority over changes in reserve requirements. Depository institutions must hold reserves in the form of vault cash or deposits with Federal Reserve Banks.

The dollar amount of a depository institution's reserve requirement is determined by applying the reserve ratios specified in the Federal Reserve Board's Regulation D to an institution's reservable liabilities (see table of reserve requirements). Reservable liabilities consist of net transaction accounts, nonpersonal time deposits, and eurocurrency liabilities. Since December 27, 1990, nonpersonal time deposits and eurocurrency liabilities have had a reserve ratio of zero.
Reserve Requirements

Liability Type

Requirement

% of liabilities

Effective date

Net transaction accounts 1

$0 to $11.5 million2

0

12-29-11

More than $11.5 million to $71.0 million3

3

12-29-11

More than $71.0 million

10

12-29-11

Nonpersonal time deposits

0

12-27-90

Eurocurrency liabilities

0

12-27-90
Note - Interestingly enough, it appears a bank that conducts business in Euros can operate without a reserve requirement. What is unknown is whether this would apply to U.S. banks or Foreign Banks with U.S. based branches. One might assume this is because the bank has posted reserves to it home jurisdiction.
The U.S. component of the IMF data set given above is based on the following information reported the by Federal Reserve. Note that the IMF data set ended in March, so March is highlighted below for a point of reference.
From U.S. Federal Reserve release of H.3. .

(millions)

Date

Total

Required

Excess

2010

Oct

1040098

66577

973521

Nov

1038829

66834

971995

Dec

1077351

70213

1007138

2011

Jan

1106539

69465

1037074

Feb

1262706

71410

1191296

Mar

1436134

73456

1362678

Apr

1526475

74354

1452121

May

1587572

74871

1512702

June

1666349

77541

1588808

July

1696479

78292

1618187

Aug

1666963

83446

1583517

Sep. 7

1658435

89880

1568554

Sep. 21

1640435

92129

1548306

Oct. 5

1634081

92441

1541640

Oct. 19

1662858

90965

1571894

Nov. 2

1612243

96377

1515866
The data shows that reserves are up nearly 36% from November of 2010. The number that investors might wish to pay attention to is 1515866 under the "excess" column. This represents the total amount of reserves beyond what is required by the Fed to be on deposit at the Fed. Therefore $1.5 trillion dollars worth of banking firepower is available to deploy into the capital markets. Add that to the much ballyhooed number of $1.5 - $2 Trillion dollars sitting offshore in the coffers of U.S. corporations and one can see that the United States of America holds a fair percentage of the world's $11.3 trillion dollar reserves as noted in the IMF data. This assumes that the corporate money is on deposit as cash either at foreign banking institutions or accessible through easily convertible financial instruments. This money basically represents unleveraged funds, unless the corporate cash was borrowed and not earned. If just half of this money were to be fully leveraged through the banking system, it is obvious that there is more than enough firepower to quell any Greek uprising so to speak, and kickstart the world's economy should the bankers, corporations, and politicians ever get on the same page.
What we don't know is how much cash foreign corporations have sitting on their balance sheets, and many European corporations that hold a philosophy of full employment through good times and bad most likely have considerable reserve cash. That would also hold true for Japan. It was just announced that the tsunami created mini-recession is now over. Not bad for a fast recovery.
And when this finally happens, watch out, the U.S. stock market is likely to go into a parabolic run, say up into the Dow 17,000 to 25,000 range. The Dow traded for 1000 and less for over 80 years right up into the late 1970s. When the savings and loan debacle hit in 1981, the Dow plunged from 1024 to around 750 over a year and a half, losing 25% of its value. Over the next four years it soared to 2700, with one major retracement to the 1100 level in 1984 and move downward in 1987 to the 1700 level. By 1990 it broke through 3000 and basically never looked back taking the Dow through the longest bull market in the history of the index.
The first chart shows the Dow from 1980-2000, the second chart is from 1960-1980 which may look somewhat familiar to today's traders.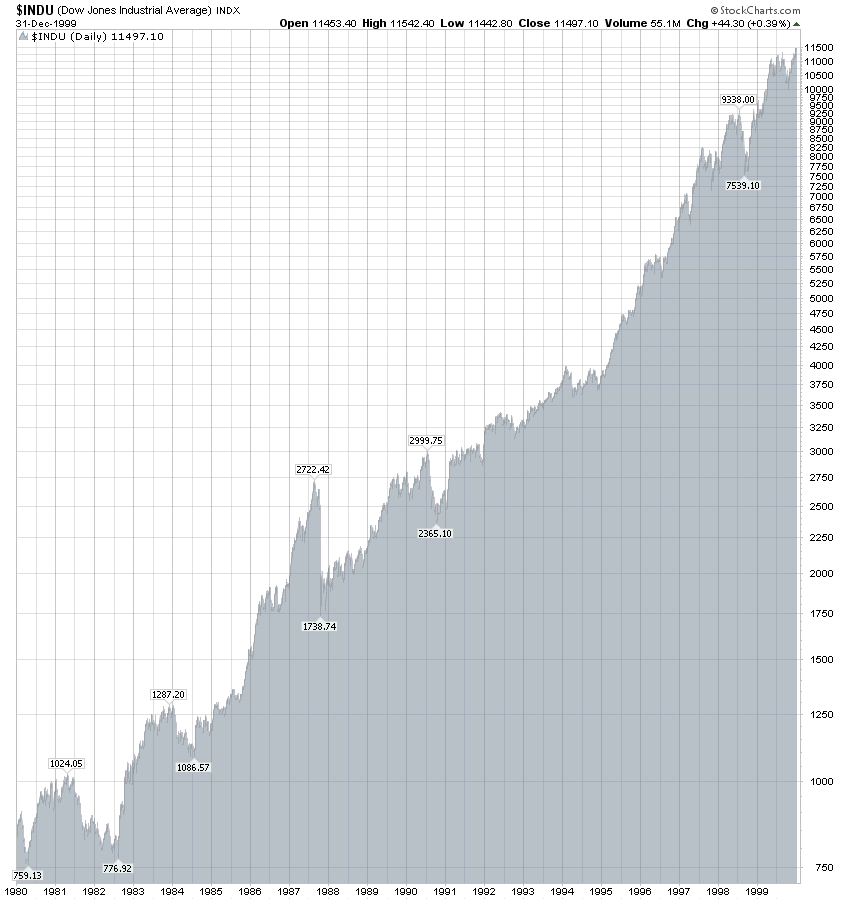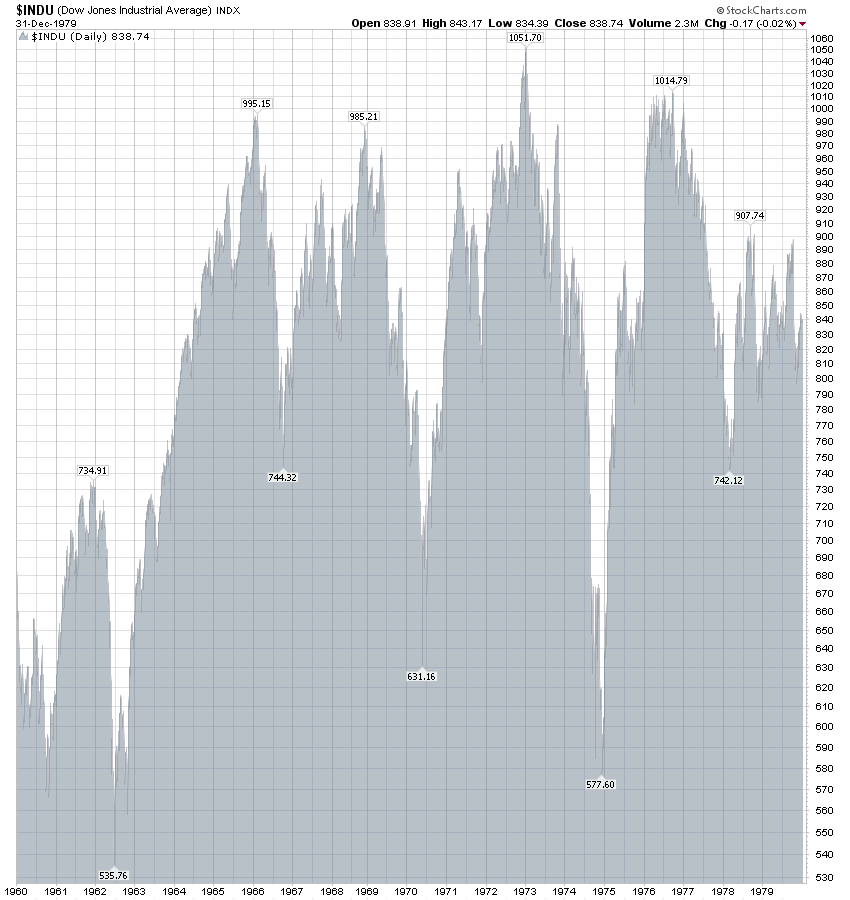 Click to enlarge
So what is holding it back? For one, the current crisis is larger than the savings and loan crisis, which mostly affected U.S. financial institutions as compared to the international scale of the 2007 housing bubble implosion.
In my estimation, the European crisis has now been reduced to one massive haggling session going on amongst bankers to determine who should be left holding the bag on excess "wealth" that has now become excess "debt". When wealth is destroyed on the massive scale that it was destroyed by the housing bubble it is often of "notional value". It is arbitrary and meaningless to the capitalist on one hand who is quite satisfied with the billions he socked away in fees on the way up, yet devastating to those that forked over their life savings in the way of fees only to now own a worthless asset. This is why the banks care not about their portfolios stuffed with undervalued real estate. Their profit was secured during the run-up, and for the ones that overextended, the bailouts took care of the rest. They can sit tight on their reserves and wait out the market while the burden of austerity is split evenly to the working man across nations.
You and I will pay for the excesses with our tax dollars as one huge transfer of wealth to the bankers.
The IMF's World Economic Outlook Report for 2011 alludes to the upcoming tax-burdens citizens around the world will face and puts a banker friendly face on it.
In the Executive Summary of the report, Olivier Blanchard, the IMF's Financial Counsellor states the following as regards a series of measures that must be taken by the global financial community and sovereign governments in order to solve the current economic crisis:
The second leg is financial measures. Fiscal uncertainty will not go away overnight. And even under the most optimistic assumptions, growth in advanced economies will remain low for some time. During that time, banks have to be made stronger, not only to increase bank lending and baseline growth, but also—and more important—to reduce risks of vicious feedback loops. For a number of banks, especially in Europe, this is likely to require additional capital buffers, either from private or from public sources.
So what is the silver lining in all or this? The Bankers will get their pound of flesh whether we like it or not. And eventually, even the bankers will get itchy for some action, and once it is determined who gets to fail in Europe, trillions of dollars will be unleashed into the Markets.
But once they are satisfied they are firmly back in the driver's seat one can rest assure that the markets will charge full steam ahead.
The signal for the next explosion upwards will come from two fronts: Ben Bernanke and the U.S. Federal Reserve when it finally makes an upward adjustment to interest rates and when the EU establishes new fiscal policy guidelines for participation in the union which may take a couple of years to achieve, more or less the same time schedule Bernanke claims to be on regarding a movement in interest rates.
Though raising U.S. interest rates may seem counterintuitive, in this case it is not, because the U.S. Government has about worn out the welcome mat with China and other nations regarding borrowing, and the Fed will eventually be forced to raise rates on that front alone. Plus, the Fed will use the interest rate raise as an incentive and signal to bankers to begin deploying their excess reserves somewhere other than sitting in the Fed's coffers.
Now is the time for U.S. Investors to begin positioning themselves for what potentially could be the bull market of the century. Buying the cheapest Dow component stocks is one way to conservatively participate in the next leg up. Alcoa (NYSE:AA), Bank of America (NYSE:BAC), Pfizer (NYSE:PFE), GE, and Microsoft (NASDAQ:MSFT) are Dow components that look attractive for accumulation on any market dips, or by dollar cost averaging in and registering the shares in the companies' dividend reinvestment plans. They are all relatively cheap compared to other stocks in their sectors, and they represent a broad cross-section of the market. Pfizer is great play on the aging baby boomer population, and Microsoft definitely has one good potential run in it that cannot be ignored.
Keep in mind that this is a long term play, and I do not expect for such a major market move to occur in the near future. This is an investment idea for men and women of patience.
Disclosure: I have no positions in any stocks mentioned, and no plans to initiate any positions within the next 72 hours.