When looking at any potential investment, the strength of management is one of the most important considerations that should influence an investment decision. Management that is committed to enhancing shareholder value is a characteristic that all good long-term investments share. Conversely, a company with management that is primarily concerned with enriching itself and/or cronies is something that should be avoided in all cases. I could point to a litany of examples, however I will highlight China Agritech (CAGC) whose management I exposed a year ago in several Seeking Alpha articles here, here and here. Since my warnings regarding China Agritech's corrupt management, the stock has been delisted from the NASDAQ and its value has fallen 94%. Today I will present Part 1 of 3 of a series on another $100M market cap company which I believe possesses corrupt management and which I forecast 90%+ losses, Legend Oil & Gas (OTCPK:LOGL).
Thankfully, due of the permanency of the internet because of tools like GoogleCache and online SEC filings, the history of Legend Oil & Gas and its two management officers, President Marshall Diamond-Goldberg and CFO James Vandeberg, are fully verifiable stories, the facts of which can be confirmed via proper due diligence and research. In Part 1 of this report, I will present information regarding CFO and Vice-President James Vanderberg.
James Vandeberg, LOGL's CFO, has a significant amount of public company experience under his belt, a resume of his corporate associations can be found here. Further examination of many of these associations indicates that these companies could be described as "Pump and Dump" schemes. Let's dig deeper into some of James Vanderberg's past and present company associations.
Linux Gold Corp. – CFO and Director – 2002 - August 16, 2004
James Vandeberg served as CFO and director of Linux Gold Corp. (OTCPK:LNXGF) from 2002 until mid-2004. The last financial report which was certified by him was July 16, 2004 and the 2005 20-F filing indicates he was replaced by Monique Van Oord on August 16, 2004. Linux Gold Corp is a Vancouver, Canada based gold company. Although ostensibly a gold exploration company, during its entire 8-year life as a public entity, Linux has not made a significant gold discovery nor has it produced an ounce of gold. It has, however, engaged in numerous paid stock promotion campaigns including at least two, here and here while James Vandeberg was associated with the company. Note the disclaimer in the Bull and Bear report:
Teryl Resources Corp. (the original name of Linux) has paid a fee to The Bull & Bear Financial Report for the advertorial and for the promotional services provided by The Bull & Bear Financial Report.
CEOcast is another paid-promoter, as one can see in the disclosure from a later promotional campaign for Linux where the company paid CEOcast "seven thousand five hundred dollars per month and three hundred fifty thousand shares for a six-month program". Paid stock promoters are a strong, in fact I would suggest almost fool-proof, indication of microcap fraud as highlighted by the SEC here.
The stock chart of Linux strongly indicates a pump and dump scheme. The stock went "supernova" in a pattern of high-volume trading, soon followed by a precipitous collapse in price. During Vandeberg's tenure as CFO, Linux Gold hit a high of over $0.45 in January 2004, but by July, it had collapsed to under $0.15 representing a 2/3 loss for investors in a few short months. Linux Gold still trades on the OTCBB and currently has a stock price ranging between $0.03-$0.04, a 90%+ loss since its peak.
click to enlarge images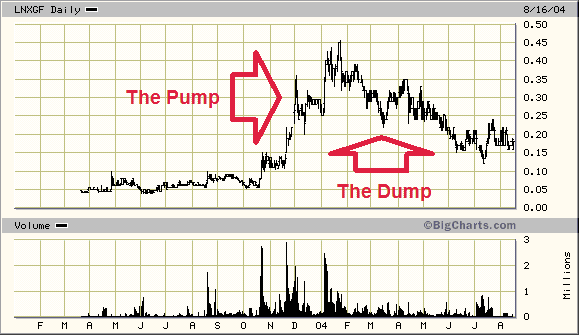 Click to enlarge
REG Technologies – CFO and Director – 2004 - Present
Another of James Vandeberg's companies, REG Technologies (REGRF.OB), fits a similar bill. James Vandeberg has served as the CFO and a director of REG Technologies since 2004. REG also shares the same CEO as Linux Gold, John Robertson. According to the company, REG Technologies is in the business of developing and commercializing a novel type of rotary engine. Further examination of REG Technologies' historical operating results indicates that in reality it is in the business of stock promotion.
A review of REG Technologies' SEC filings indicates that during the entire 7 years that James Vandeberg has been an officer of this company, it has not generated any revenue. It is currently "a developmental stage" company, but has been so for over 7 years and shows no signs of changing this status in the future. Although it has never generated revenue, REG Technologies has incurred significant expenses promoting its stock. Examples of paid stock promotion are documented here, here, here, here and here. REG tries to pass these off as being featured in various television spots, but in reality being featured on any of these programs is simply a matter of paying the program producer. According to BTV, one of the TV touts for REG, "Being featured on BTV - Business Television an easy, affordable way to put your company in front of a targeted investor audience" i.e. pay BTV money and they will tout your company to retail investors.
One of my personal favorites is the release here where REG claims that "a well-known firm has completed an up-to-date research report for the Company". What they neglect to mention in the press release, and what one can confirm upon reading the disclosures of the report here is that the so-called respected firm "Bridge IR Group, Inc. has been compensated twenty six thousand dollars by Regi US Inc to publish this report."
Another entertaining release is found here where REG announces " an independent research firm Emerging Issuer Growth Report, and its writer Ana Pastorfide (AP), has prepared a research report for REGI U.S., Inc. and Reg Technologies" but then later discloses "AP has been compensated by a third party, Qualico Capital Corp. which is Reg Technologies, Inc's IR firm." The amount paid to AP by REG is not disclosed. Considering that they were paid to produce the report, AP hardly seems like an independent research firm and fits the bill of a paid stock tout.
REG also paid the same promoters as Linux, The Bull and Bear Report found here, to produce a report touting the stock. According to The Bull and Bear Report disclosure "the company featured in this report has paid The Bull & Bear Financial Report a fee for their investor awareness program. REG paid yet another stock promoter, The Special Situations Analyst, to produce a positive report on the company which can be found here; again, note the disclosure:
The company covered has arranged to pay $30,000 for expenses of producing and distributing this report. Principals and employees of the newsletter, as well as related firms and individuals, have substantial investment positions in the company, and may from time to time engage in transactions with no further notice.
A look at the chart of REG Technologies reveals a similar and classic pattern of supernova spikes (the pump), followed soon after by stock collapses (the dump). The story here didn't end better for shareholders than at Linux; REG Technologies collapsed from a high of $1.10 in January 2005 to $0.27 less than 4 months later in April, a loss of 75%. It has been pumped and then dumped at various points subsequently and now sits at $0.14, a loss of 87%.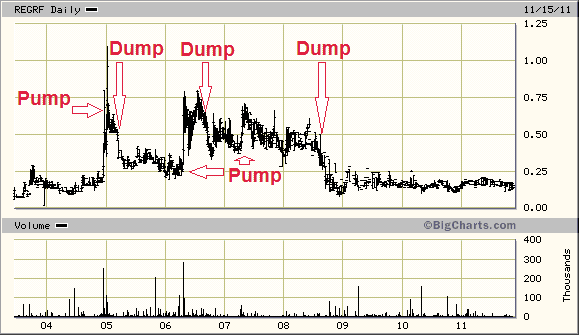 Click to enlarge
Legend Oil & Gas – Chief Financial Officer, Vice President, and Director – 2010 - Present
Legend Oil & Gas appears to fit the description of Vandeberg's other companies: minimal business activities with extensive stock promotion. Examples of LOGL's various stock promotion activities can be found here, here and here. The names of the promoters these days may be different - James Rapholz, Don McShane and Eric Dany - but the substance of these promotional reports is the same as with Vandeberg's other companies: Big budgets for paid stock touting of a company with almost no assets and negligible revenues.
Can people really expect that things at LOGL will end any differently for investors than at Vandeberg's other ventures? How does the old adage go "Fool me once, shame on you. Fool me twice, shame on me. Fool me three times and I need to stop investing." In Part 2 of this report I will examine the questionable history and suspicious past dealings of LOGL's other executive, Marshall Diamond-Goldberg. Stay tuned…
Disclosure: I am short OTCPK:LOGL. I receive no compensation to write about any specific stock, sector or theme.