The biotech group, as represented by the NYSE ARCA Biotech Index (BTK) fell 4.4% for the week, and is down by a third since its highs just six months ago. The following is our analysis of the big news and price moves in the biotech group last week.
Dendreon Corp. (NASDAQ:DNDN): DNDN develops targeted therapeutics to treat cancer using active immunotherapies, monoclonal antibodies and small molecules. Among investor circles, it is probably best known as the maker of Provenge® for Prostate Cancer. After a crippling over 80% loss recently triggered by back-to-back disaster quarter reports for Q2 and Q3, the stock finally got an uptick last week, up on four of the five trading days for a cumulative 15.0% gain on heavier than normal volume.
In fact, the stock was temporarily halted on Wednesday as regulators scrambled to find out what caused the price to jump abruptly at mid-day. While there was no significant news from the company that could explain the pop last week, a number of developments last week could have lent support and halted the recent downdraft, perhaps forming at least a temporary bottom until the company releases more Provenge data.
First, the company presented at the Lazard Healthcare Conference last Tuesday in which it announced that in 2013, the company would initiate a new trial in early stage prostate cancer for men who are hormonally sensitive, and using a "true" placebo. Seeking Alpha Contributor Theodore Cohen wrote an excellent article that explains how this trial could have a much higher OS (overall survival) advantage than what was observed in the Provenge trials.
Second, Goldman put out a note that a leader of the Large Urology Group Practice Associations (LUGPAs) that represents 20% of all US urologists believes that there could be a logarithmic increase in uptake of Provenge® in 2012. Third, the rebound may simply be technical as the dumping by institutions may have been exhausted, and some bottom-picking value-seeking institutions may have started to load up on DNDN. Indeed, insiders, as we reported earlier in our weekly review of insider trades by sector, have already started bottom-picking DNDN at these levels, and there are unconfirmed reports that a number of institutions have also started loading up on DNDN at these levels.
We reviewed DNDN shortly after it reported disastrous Q3 results on November 2nd, and continue to believe that DNDN, while being disappointing, is not a short at these levels due to the risk of an upside surprise. Furthermore, for those with a strong appetite for risk, the stock's technical action over the past week along with the fundamental backdrop discussed above seem to indicate that the stock may have hit at least an intermediate-term bottom for now.
Poinard Pharmaceuticals (NASDAQ:PARD): PARD develops platinum-based therapies for the treatment of various cancerous tumors. Its lead product candidate, Picoplatin, is being developed for the treatment of small cell lung, colorectal, prostate and ovarian cancers. It was the strongest gainer last week, up 125.1%, and all of it on Friday, after the company announced a licensing agreement with an undisclosed party for rights to PARD's focal adhesion kinase (FAK) technology. The FAK technology is believed to inhibit metastases by decreasing the mobility of certain cancer cells.
Under the agreement, PARD, trading at under $8 million market-cap prior to the news, is to receive an upfront cash payment of $0.25 million, milestone payments and other considerations, as well as royalty payments on net sales of any products covered by the license. We would steer clear of this runner, as even though the news is positive, the initial euphoria over such early stage news is bound to die down, and the stock could very quickly head back down.
Antares Pharma Inc. (AIS): AIS is a developer of trans-dermal and intra-dermal therapeutic delivery systems, including needle-free and mini-needle injector systems and gel technologies. Its shares broke-out of a tight trading range last week on huge volume, and were up 12.5% for the week, up every trading day for the last four trading days of the week. The reason for the pop was the release on Wednesday morning of additional positive Libigel® phase 3 data from partner Biosante Pharmaceuticals (BPAX) for the treatment of female sexual dysfunction (FSD), specifically for hypoactive sexual desire disorder (HSDD) in post-menopausal women, for which there is currently no approved FDA product.
Libigel uses Antares Pharma's FDA approved Advanced Transdermal Delivery (ATD) system to deliver testosterone in the bloodstream of post-menopausal women to within the normal ranges for younger, pre-menopausal women. Besides BPAX, Antares also has partnerships with Watson Pharmaceuticals (WPI) which is currently under FDA review for overactive bladder, and it also has development partnerships with Teva Pharmaceutical (NASDAQ:TEVA) for various injectable products.
Geron Corp. (NASDAQ:GERN): Geron is a former pioneer in the embryonic stem cell arena. Its shares plunged 34.2% last week, down every day of the week since the company made a surprise announcement on Monday after the market close that it was discontinuing further development of its stem cell programs to focus exclusively on its oncology programs. The decision was made not because the stem cell program lacked promise, but to conserve its available cash resources on the product candidates that have the strongest likelihood for reaching near-term value inflection points. The embryonic stem cell program faced a lot of opposition due to the ongoing moral and ethical concerns over destroying embryos for medical research, and the company was having difficulty finding potential partners. Geron shares are currently in free fall, and we would wait on the sidelines until more data is available on its two product candidates for cancer that are in mid-stage trials.
The exit of Geron from the embryonic stem cell research arena leaves Advanced Cell Technology (ACTC) and BioTime Inc. (NYSEMKT:BTX) as the only other stem cell companies that we are aware of conducting research using human embryos. Both ACTC and BTX were flat for the week, unaffected by the news from Geron.
Besides Geron, another stem cell player, Aastrom Biosciences (ASTM) also plunged during the week, down every trading day for a cumulative loss of 18.9% for the week. ASTM develops autologous cell therapies (i.e., tissue transplantation from the same person) for the treatment of severe and chronic cardiovascular diseases. Its shares have been trading down ever since it reported what appear to be positive 12-month results from its phase 2 trial in patients with critical limb ischemia on Monday at mid-day.
Other Big Movers: Other prominent big movers in the biotech group last week include:
Oncothyreon Inc. (ONTY): ONTY develops synthetic vaccines and targeted small molecules for cancer immunotherapy and management. Its primary product candidate, Stimuvax is in phase 3 clinical trials for the treatment of non-small cell lung cancer (NSCLC). Its shares were higher by 15.3% during the week, after it presented data early Monday morning from the phase 1 portion of its phase 1/2 trial of PX-866 in combination with chemotherapy agent docetaxel.
Catalyst Pharmaceutical Partners Inc. (NASDAQ:CPRX): CPRX focuses on the development and commercialization of prescription drugs indicated for the treatment of cocaine, methamphetamine and other addictive disorders, and epilepsy. Its shares were up 14.1% during the week, most of it on Friday after a Seeking Alpha article that discussed potential takeover possibilities for CPRX by a larger biotech or other pharmaceutical company.
Cardium Therapeutics (NYSEMKT:CXM): CXM operates via its portfolio companies, Tissue Repair Company and Cardium Biologics, and its in-house MedPodium healthy lifestyle product platform. Its lead product candidates include Excellagen topical gel for wound care management, and Generx DNA-based angiogenic biologic for patients with coronary artery disease. Its shares were down 17.5% for the week on no news.
Human Genome Sciences (HGSI): HGSIdevelops gene-based protein and antibody drugs to treat cancer and immunological and infectious diseases. Its principal products in development include BENLYSTA for systemic lupus erythematosus; and raxibacumab for inhalation anthrax. Its shares were down 15.3% for the week on no news.
KV Pharmaceutical (KVA): KVA develops generic and branded pharmaceuticals and supplements using drug delivery systems and formulation technologies. Its shares were down 11.8% for the week on no news.
Table
click to enlarge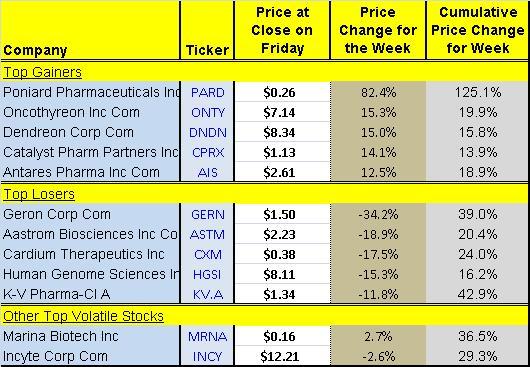 Please note that the cumulative price change referred to in the last column of the Table above is used here as a measure of volatility to determine big movers in the group. It equals the sum of the absolute value of the change in daily prices. So for example, if a security had price moves of 2%, -3%, 4%, -6% and 1% during the five days of the week, the cumulative price change during the week would be the sum of the absolute values of the daily price changes, which in this case would be 16%.
Disclosure: I have no positions in any stocks mentioned, and no plans to initiate any positions within the next 72 hours.
Disclaimer: Material presented here is for informational purposes only. Nothing in this article should be taken as a solicitation to purchase or sell securities. Before buying or selling any stock you should do your own research and reach your own conclusion. Further, these are our 'opinions' and we may be wrong. We may have positions in securities mentioned in this article. You should take this into consideration before acting on any advice given in this article. If this makes you uncomfortable, then do not listen to our thoughts and opinions. The contents of this article do not take into consideration your individual investment objectives so consult with your own financial adviser before making an investment decision. Investing includes certain risks including loss of principal.