The alternative energy group, as represented by the Market Vectors® Global Alternative Energy ETF (GEX) has been almost cut in half since it hit highs in March/April this year. The following is our analysis of the big news and price moves in the alternative group last week.
Pacific Ethanol Inc. (NASDAQ:PEIX) and Biofuel Energy Corp. (NASDAQ:BIOF): PEIX is engaged in the production, transportation, storage and sale of ethanol and wet distillers' grain in the western U.S. The stock was up from 87c at the end of the prior week to close at $1.27 last week, but even that 43.7% up move masked a highly volatile week during which the stock hit an intra-day high of $1.85 on Wednesday before having a strong reversal that day. We wrote about our bullish position on PEIX on October 27th and November 2nd, starting when the stock traded in the 35 to 40c range. The stock at its peak was up five-fold from where we recommended it.
While the intermediate-term fundamentals for the company and the ethanol industry continue to be positive, in the short-term the stock has definitely run ahead of itself, and the strong technical reversal day on Wednesday last week and subsequent weakness at the end of week seems to support our thesis that the bias in the short-term would be to the downside. PEIX's peer BIOF was also up strongly for the week, up 70.4%, on no company-specific news, but in sympathy with the huge move in PEIX and also on improving fundamentals in the ethanol group. Like in the case of PEIX, we believe that the move in BIOF may be close to over, and the risk is greater to the downside at these levels.
JA Solar Holdings (NASDAQ:JASO), LDK Solar (NYSE:LDK), Renesola Ltd. (NYSE:SOL), Suntech Power Holdings (NYSE:STP), Trina Solar Ltd. (NYSE:TSL): All five are Chinese manufacturers of solar energy products, with JASO manufacturing mono-crystalline and multi-crystalline solar cells; LDK manufacturing multi-crystalline solar wafer; SOL manufacturing mono-crystalline and multi-crystalline wafers; STP manufacturing photo-voltaic cells and modules; and TSL being a vertically-integrated manufacturer of mono-crystalline ingots, wafers and cells to the assembly of high quality solar modules. All four were down huge, between 10% and 20%, last week, and have been weak in recent months along with the rest of the solar group. The solar group as represented by the Guggenheim Solar ETF (NYSEARCA:TAN) down by over-thirds in the last six months, and down 90% since mid-2008.
Of the five, only LDK had news last week, announcing on Monday after the market closed that it had lowered Q3 and FY11 revenue, shipment and gross margin guidance. All five are expected to report their September quarter results next week, and while the long-term outlook for solar continues to be promising, in the short-term all five are expected to report deteriorating earnings due to overcapacity in the industry, the eurozone sovereign debt nightmare, and the fears of a global double-dip recession. We would steer clear of this group for now, but keep an eye on any signs of production capacity exiting the market as smaller and weaker players (with weak balance sheets) are forced to shut down, as well as keeping an eye on demand drivers that can pull the sector out of its slump sooner.
Energy Conversion Device (NASDAQ:ENER): ENER is engaged in the design, manufacturing, sale and installation of thin-film solar laminates that convert sunlight to renewable energy for commercial and industrial rooftop applications, as well as for residential applications. The stock has been in a death spiral since mid-2008 when it traded above $80, and is down more than 99% from those levels. The 16.7% rise last week was on no company specific positive news although the company did report a huge miss in its Q3 results on Monday.
Evergreen Energy Inc. (EEE): EEE is a developer of K-fuel technology, designed to improve coal quality and comply with air emission standards for coal producers. In addition, it also offers the GreenCert software suite to help power generators address new regulatory pressures regarding environmental emissions. EEE is another alternative energy that has been in a death spiral, this one from $5 in February 2011 to 35c at the close last week, and going back further it traded as high as almost $20 in early 2009 and above $160 in 2006. Last week, it dropped 32.5% to close at 35.1c at the end of the week, with most of the sell-off coming on Friday after the company announced a registered direct offering and sale of warrants.
A123 Systems Inc. (AONE): AONE manufactures rechargeable lithium-ion batteries and battery systems for transportation, utility and consumer markets. Its shares fell 19.7% last week on reports on Saturday the prior week that a General Motors (NYSE:GM) Chevrolet Volt caught fire, that has triggered a regulatory probe on the safety of lithium-iron car batteries.
Table
click to enlarge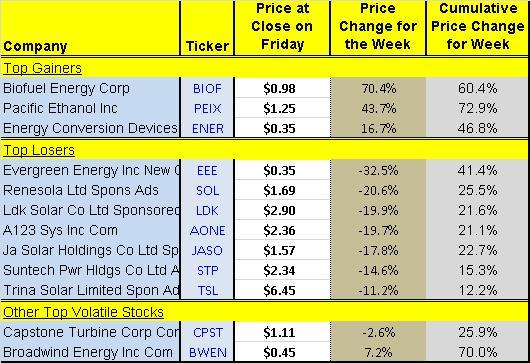 Click to enlarge
Please note that the cumulative price change referred to in the last column of the Table above is used here as a measure of volatility to determine big movers in the group. It equals the sum of the absolute value of the change in daily prices. So, for example, if a security had price moves of 2%, -3%, 4%, -6% and 1% during the five days of the week, the cumulative price change during the week would be the sum of the absolute values of the daily price changes, which in this case would be 16%.
Disclosure: I have no positions in any stocks mentioned, and no plans to initiate any positions within the next 72 hours.
Disclaimer: Material presented here is for informational purposes only. Nothing in this article should be taken as a solicitation to purchase or sell securities. Before buying or selling any stock you should do your own research and reach your own conclusion. Further, these are our 'opinions' and we may be wrong. We may have positions in securities mentioned in this article. You should take this into consideration before acting on any advice given in this article. If this makes you uncomfortable, then do not listen to our thoughts and opinions. The contents of this article do not take into consideration your individual investment objectives so consult with your own financial adviser before making an investment decision. Investing includes certain risks including loss of principal.