In Part 1 of my 3-part report on Legend Oil and Gas (OTCPK:LOGL), I examined how CFO and director James Vandeberg's professional history contains multiple examples of paid stock promotion followed by 90% declines in the value of stocks under his management. However, Vandeberg is not the only executive at Legend Oil with a dubious past. Legend's other executive officer - they have only 2 - President and director Marshall Diamond-Goldberg's professional history also contains additional examples of association with paid stock-shills and management and/or board membership of companies that experienced catastrophic declines in share price. Let's examine the history of 2 such companies.
Jayhawk Energy - President – September 2, 2009 – May 2, 2011; Board Member – August 2008 - May 2, 2011
Marshall Diamond-Goldberg served as a key executive and board member at another listed company, Jayhawk Energy (JYHW). The investment pitch for Jayhawk Energy sounds remarkably similar to that of LOGL itself. Jayhawk bills itself as:
A managed risk, oil and gas exploration, development and production company...The Company's current focus is on the exploration, drilling, and development of our key asset currently consists of 17,000 gross acres of mineral title on a light crude producing property in Candak, North Dakota, part of the Williston Basin. JayHawk is moving forward with a new and substantial development drilling program at Candak. Our secondary property is located on 45,000 gross acres of mineral title with producing and non-producing coal-bed methane gas reserves and a 18 mile pipeline tied to sales located in the Bourbon and Crawford County, Kansas.
According to their SEC filings, LOGL is also active in these regions, producing a small amount of oil (9 bbls/day), from a Piqua, Kansas property, and ostensibly working on developing acreage in North Dakota as well. The success of a few companies in the Bakken shale regions of North Dakota has spawned many imitators and makes for a saleable investment thesis to be told by the stock promoters employed to pump Jayhawk and Legend's respective stocks.
In the case of Jayhawk, stock promoter Jarrett Wollstein was employed by an alleged third-party group called Focus Capital Group for promotional material which can be found here. Note the disclaimer: "The distribution costs of this report to new subscribers, thirty-three thousand dollars, were funded by Focus Capital Group in an effort to create investor awareness of Jayhawk Energy, Inc." with Jarrett Wollstein also receiving additional funds "Jarrett Wollstein, the reviewer [or analyst], has been paid two thousand dollars in compensation for preparing and publishing this report." Another February 2010 promotional mailer campaign on Jayhawk documented here ran a $400k bill.
The promotional pieces themselves deliver a very similar pitch to the various promotional pieces that have been prepared regarding LOGL here and here. They all promise great riches thanks to imminent triple digit returns and blue sky potential, despite the fact that neither Jayhawk nor Legend have ever produced a significant amount of oil or spent much on actual exploration and drilling. Neither company has ever had enough cash on the books to even actually even drill a single horizontal well, the type of which is needed to extract any significant amounts of shale oil. Wells like this typically require $6+ million per well and Legend admits as much in their own 10-Qs. Although neither of the companies ever drilled, nor have had any immediate plans to drill any horizontal wells, the message delivered by the promoters is a high-pressure advertising pitch encouraging the reader to "buy now" or else risk missing out on the action.
A further description of promotional activities and other suspect corporate activity at Jayhawk is available in this great article by Melissa Davis of The Street Sweeper. Although Jayhawk management distanced itself from the paid stock promotions in public statements, management conveniently executed well-timed insider sales from January 14-20th, 2010 while the stock was just peaking prior to a 50% crash 1-week subsequent. A look at the chart of Jayhawk Energy, reveals classic signs of a Pump and Dump and the company's stock fell from the high of $2.16 in January 2010 to trade at less than $0.10 today, a loss of over 95%.
click to enlarge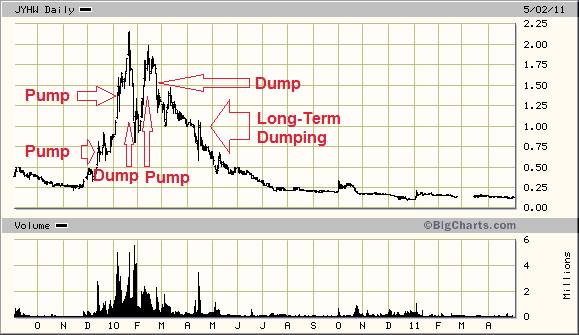 Click to enlarge
For LOGL President Marshall Diamond-Goldberg to be associated with one such company should probably be enough to discourage any potential investors, but Jayhawk is not the only questionable corporate association for Mr. Diamond-Goldberg. He also served as corporate secretary and director on the board of another company which has been the subject of a Pump and Dump campaign, as well an SEC-ordered trading halt, Uniontown Energy.
Uniontown Energy – Corporate Secretary and Board Member – October 12, 2010 – November 12, 2010
Marshall Diamond-Goldberg's official tenure here was relatively short, but is a key example and illustration of one of the necessary and key stages in the conception of a Pump and Dump scheme. In order to run such a scheme, which at least on the surface needs to appear to be a legitimate resource exploration company, a company needs to have some land position to explore and develop. On October 12 of 2010, Marshall Diamond-Goldberg joined Uniontown Energy (UTOG), which was then a shell company known as Intelbahn, as a Technical Advisor, Secretary and member of the board of directors.
He then resigned from all officer and director positions with the company on November 12, 2010, presumably to avoid any perceived conflict of interest with the purchase transaction contemplated in a November 15, 2010 letter of intent between Uniontown/Intelbahn and Jayhawk Energy. The transaction proposed was the sale of Jayhawk's Kansas properties to Uniontown/Intelbahn for $125,000. These are the same properties that paid-shill Jarrett Wollstein was hailing as Jayhawk's most exciting prospects.
One can see just how much potential Jayhawk's management felt they actually contained based on the proposed price of sale to Uniontown. The transaction envisioned taking place was essentially the sale of near valueless mineral exploration rights from one company to become the basis for another public company. Although Marshall Diamond-Goldberg no longer holds a public office with Uniontown, his role in its original conception is certainly suspect based on its position as a vehicle for a Pump and Dump scheme soon after.
Uniontown Energy fits the same basic description shared by both Jayhawk and Legend, a minor conventional oil play with unconventional properties which supposedly contain enormous blue-sky potential. In reality, like both Jayhawk and Legend, the company never had the cash to attempt any serious exploration of the properties. They were, however, useful to the stock promoters which pointed to the unconventional play properties as the key to fabulous wealth potential for shareholders. An example of such a promotional piece on Uniontown can be found here.
A lot of money was spent on the Uniontown promotion, as can be noted in the disclaimer:
AmericanEnergyReport.com has been retained by an unrelated third party to perform promotional and advertising services intended to increase investor awareness of Uniontown Energy Inc.. To date, AmericanEnergyReport.com has received two million five hundred thousand US dollars from an unrelated third party for performing these services.
Uniontown shareholders were dealt an unanticipated blow on June 1 of this year when the SEC halted trading in the company's stock (.pdf)
because of questions regarding the accuracy of assertions by the company, and by others, including in press releases to investors concerning, among other things: the acquisition and exploration of oil properties.
Although not as frequently as it should, sometimes the SEC actually will step up and halt a stock when they believe that promotional campaigns have gotten out of hand.
Looking at the chart of Uniontown Energy again shows classic signs of a pump and dump, although this one was prematurely aborted by the SEC halt. When trading of the stock resumed on the Pink Sheets 2 weeks after the initial trading halt, the stock suffered a massive intraday decline of over 60%. The stock now sits at $0.25, an over 90% loss since its 2011 high of $2.60.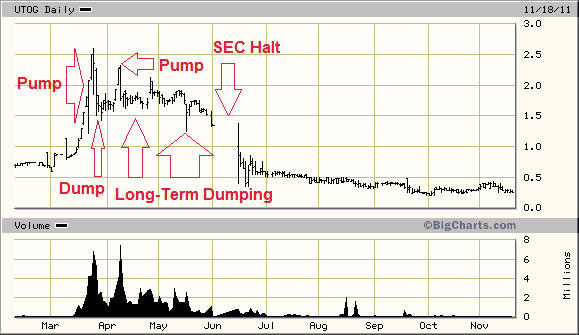 Click to enlarge
Legend Oil and Gas – President and Board Member – June 2010 – Present
Legend Oil and Gas seems to share a number of characteristics with Marshall Diamond-Goldberg's other questionable corporate associations, most important of which to shareholders should be: minimal business activities with extensive paid stock promotion. Diamond-Goldberg also seems to believe that now, in the midst of this promotional environment is a good time for him to be selling almost half a million shares of LOGL stock, as evidenced by recent 144 filings filed on behalf of Marlin Consulting, an entity wholly-owned by Diamond-Goldberg. His timing in this case bears resemblance to the executive stock sales which took place at Jayhawk Energy prior to the collapse in stock price which later occurred.
In Part 3 of this report I will examine Legend Oil and Gas itself and why I believe the company's true value is no more than 10% of the current market capitalization. I will illustrate how insiders Marshall Diamond-Goldberg and James Vandeberg have used dubious corporate transactions to essentially manufacture millions of dollars of wealth on paper for themselves.
Additional supporting evidence will be introduced that LOGL is being used as a vehicle for a Pump and Dump scheme, which is likely to result in eventual 90%+ losses for shareholders. Finally, I will present a case that if past examples serve as any guide, there is a good chance that the corporate abuses surrounding LOGL's stock are already significant enough to warrant an SEC trading halt.
Disclosure: I am short LOGL.OB. I receive no compensation to write about any specific stock, sector or theme.