Chicago Bridge & Iron (NYSE:CBI) is a solid value play that is still being undervalued in this market. While the stock has had an incredible 30%+ run over the past 52 weeks, I believe fair value is in the low 50s, leaving 30-40% more upside for patient investors.
CBI has been in business for 122 years and the name is quite misleading. CBI is based in the Netherlands, not Chicago, and over 80% of its revenue comes from non-US markets. Most new backlog this quarter has been coming from Australia, Japan and the Middle East, so CBI has been somewhat insulated from the European and American debt crises.
CBI is broken up into three business segments:
The technology business, Lummus Tech, licenses proprietary technologies that are crucial in processing Liquefied Natural Gas ("LNG"), petrochemicals, and converting crude into gasoline. This business is high margin and accounted for 8% of 2010 FY revenue.
The tank construction business, CB&I Steel Plate Structures, engineers, fabricates, and constructs storage tanks and containment vessels for the oil & gas, water & wastewater, mining, and nuclear industries. This is truly a global business with new contracts being awarded all over the world. Steel plate structures accounted for 40% of 2010 revenue. This group was also just awarded two projects in Australia worth a combined $2.8 billion.
CB&I Lummus accounts for the largest share of revenue, at 52%. Lummus includes LNG regasification and liquefication terminals, oil & gas production facilities, refinery projects and petrochemical complexes.
The company leverages all three of its business segments into three main areas: refining, natural gas, and petrochemicals.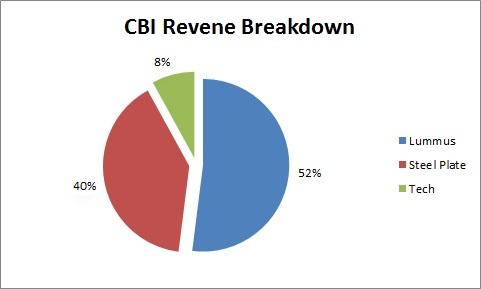 Blowout 3Q and Positive Guidance
On the heels of a major award, the 2.3 billion dollar Chevon (NYSE:CVX) LNG project in Australia, CBI announced that third quarter awards totaled 3.8 billion and the backlog exceeded 9 billion, both all-time records.
Management also just reaffirmed 2012 award guidance of 5.5-7 billion at a NY investor day in early November.
Valuation Metrics
Impeccable balance sheet – only $80 million in debt. Projected 2011 cash and short term investments comprises nearly $10 per share of value.
Trading below historical averages with a P/B of 3.3, EV/EBITDA of 8.5, and forward PE of 13. Healthy PEG ratio of 1.0.
Trading well below 52 week high of $45, and only slightly above 50 and 200 day moving averages.
Bought back $115 million in stock through the first 9 months of 2011 and declared a small dividend. Management is clearly committed to shareholders.
Operating FCF up from $127 million to $196 million year on year.
Valuation Model
Using a sum of parts analysis and modeling out projected backflow and revenues through 2015, I have derived a share value of $55. CBI is a tough company to model. The margins between the three segments differ significantly; it is hard to predict backlog (especially new business breakdown in each segment). Currency fluctuations have proven to hit the backlog in a material way, and I am not sure where the LNG market will be in 2015. However, when we look at CBI using value investing principles, it is clear that the numbers speak for themselves.
Click to enlarge


Headwinds
CBI is NOT a counter cyclical play, and is still vulnerable to economic downturns, however I feel that their backlog, cash cushion and FCF are strong enough to weather any near term storms. Management has reiterated in the 3Q call that they have not seen any significant contract cancellations thus far, and do not anticipate any major disruptions.
CBI is very vulnerable to currency fluctuations, and saw a backlog reduction of $500 million in the third quarter due to a strengthening of the dollar against other global currencies, mainly the euro; this is something to be cognizant of.
Conclusion
CBI is a bargain in the mid to high 30s with a solid balance sheet, strong short and medium term prospects, and a rich history of coming through for shareholders.
Disclosure: I am long CBI.