In a recent article "Guns, Gold, And Whiskey: A Cowboy's Portfolio," I was challenged by an associate to come up with an income investment portfolio based upon the stereotypical cowboy lifestyle. As expected by the title of that article, one of the components of the portfolio was dealing with equities that are involved with alcohol. As a follow-up challenge the same individual wanted to see if the same thing could be done by only focusing on these types alcohol based stocks.
Needless to say, I was forced to turn that challenge down, as I could not get enough diversity or the necessary yield to make the portfolio worthwhile in the real world. From that point the discussion turned to the concept that stocks involved in the production and sale of alcohol always do well in bad economic times. This is a common concept and widely held belief in the investing world, but the question is if it is really true. So the challenge now became to test this well-established theory.
The overall arching theme is that in good times people drink, and in bad times they will drink even more. It lends itself to the idea of escapism and a way to deaden the pain of day-to-day life in a harsh economic landscape. The concept on the surface seems very plausible and would support the idea that stocks involved in alcohol always do well in bad economic times.
The current trends for the industry as a whole also lend its weight to the notion. For example, alcohol sales in 2008 expanded more than 9% when the recession first made its presence so painfully felt. Fast forward to 2010 and alcoholic beverage sales grew by another 9%, despite an alarming unemployment rate and a never-ending series of problematic economic issues coming to light. So are these types of stocks recession-proof? The answer to that is no, not in the least.
When looking the above trends, one has to remember that they are at a very high macro level. So much technical and sociological data is glossed over at that level that it is hard to get a real picture. For example, it would be helpful to know where the sales are coming from, and that is when we run into the "trading down" phenomenon. Trading down is a basic concept that all consumers practice at some point. It is when lower-priced alternatives start to take the place or preference of the higher-end products in the same category.
In the world of alcohol this is easy to see as there has been a shift away from spirits and wine towards beer. At this point, there is an interesting turn of events, though. This seems to be where the trading down theory stops working. Within this beer side of the house, customers have not been trading down to cheaper beer from mass producers. Instead, the high-end craft beer producers have continued to grow their sales, while the mass legacy producers are relatively stagnant, if not losing market share. A positive for the legacy beer makers, though, is that they still enjoy the advantage of economies of scale and the ability to control commodity costs much better than their smaller competitors.
Another aspect to consider is where the alcohol is sold. Bars and restaurants are one of the chief ways in which alcohol sales are made, and with the bad economy, business for them is down for the most part. Plus, at some point, it comes down to simple mathematics. For example, a consumer will quickly figure out that for the same price of five top-shelf rum and cokes, they can easily just by a whole bottle of rum and a case of coke at the local grocery store. Needless to say, that mentality will have an effect of the bottom line for the companies in question as well.
So by just looking a little bit deeper into some of the basic trends and issues, it should be easy to start shooting holes into the theory of stocks involved in alcohol always do well in bad economic times. On a grand scale of analyzing just alcohol sales, the argument could be made, but looking at individual equities is a whole different story, as now each company's individual characteristics and uniqueness comes into play.
Operating in an out-of-control cost structure, improper marketing, lawsuits, and lackluster product offerings can negatively affect the company's bottom line even though the business is operating in an outperforming sector of the market. To illustrate best, let's take a look at some of the best-known stocks that operate in this arena, and see how their stock price behaved over the last couple years of this bad economic environment. For fun, in each company mentioned below, I have purposely made sure to include a wide variety of the products they sell. It does prove very interesting to see exactly which company has a financial interest in some of these very well-known brands.
Diageo (NYSE:DEO) engages in producing, distilling, brewing, bottling, packaging, distributing, developing, and marketing spirits, beer, and wine products worldwide. It offers a range of brands, including Johnnie Walker Scotch whiskies, Smirnoff vodka and Smirnoff ready-to-drink products, Baileys Original Irish Cream liqueur, Crown Royal Canadian whisky, Captain Morgan rum and rum-based products, Jose Cuervo tequila, JeB Scotch whisky, Buchanans Scotch whisky, Windsor Premier Scotch whisky, Ketel One vodka, Ciroc vodka, Tanqueray gin, Bushmills Irish whiskey, and Guinness stout.
The company also provides other spirits brands that comprise Gordons gin and vodka, Old Parr scotch whisky, Bells scotch whisky, The Classic Malts Scotch whiskies, Seagrams 7 Crown whiskey and Seagrams VO whisky, Cacique rum, White Horse scotch whisky, Don Julio tequila, and Bundaberg rum. In addition, it offers beer and wine under various brands.

Click to enlarge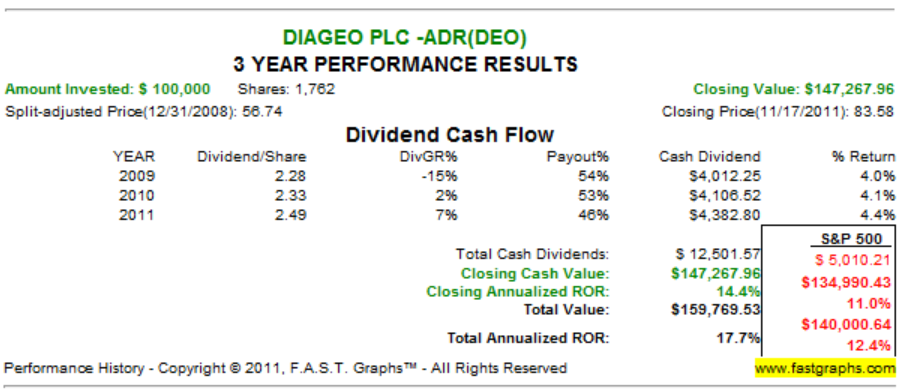 Click to enlarge
When looking at the chart, we see that DEO is definitely one of the winning stocks in this sector. With a 3.1% yield and a great-looking chart, this company seems to be doing everything right.
Constellation Brands, Inc. (NYSE:STZ) produces and markets alcoholic beverages primarily in the United States, Canada, and New Zealand. It offers wine, spirits, and imported beer. The company's Constellation Wines North America segment produces, markets, and exports wine, as well as sells various wine brands across various categories, including table wine, sparkling wine, and dessert wine.
It offers wine under various brands, which include Robert Mondavi Brands, Clos du Bois, Blackstone, Estancia, Arbor Mist, Toasted Head, Simi, Black Box, Ravenswood, Rex Goliath, Kim Crawford, Franciscan Estate, Wild Horse, Ruffino, Nobilo, Mount Veeder, Inniskillin, and Jackson-Triggs; and spirits under various brands, including SVEDKA Vodka, Black Velvet Canadian Whisky, and Paul Masson Grande Amber Brandy.
This segment also produces and markets wine kits and beverage alcohol refreshment drinks in Canada. The company's Crown Imports segment imports, markets, and sells beer under the Modelo brand, which includes Corona Extra, Corona Light, Coronita, Modelo Especial, Pacifico, Negra Modelo, and Victoria, as well as the St. Pauli Girl and Tsingtao brands in the United States.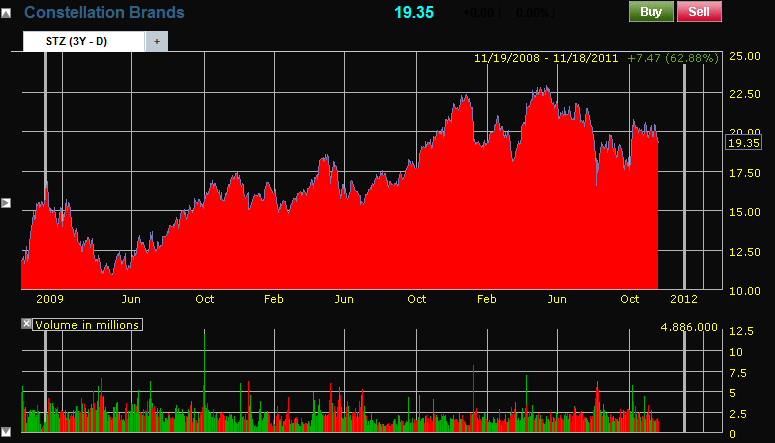 Click to enlarge

Click to enlarge
Unlike Diageo, this company has definitely had a rough time. Trading around $17 a share in early 2009, the stock has seen some volatility and today trades around $19 to $20. Needless to say, there have lots of peaks and valleys, as shown by the chart. This one shows that not all alcohol stocks are outperforming.
Companhia de Bebidas das Americas (Ambev) (ABV) engages in the production, distribution, and sale of beer, draft beer, carbonated soft drinks, malt, and other non-alcoholic and non-carbonated products in the Americas. It also sells bottled water, isotonics, and ready-to-drink teas. It has a licensing agreement with Anheuser-Busch, Inc. to produce, bottle, distribute, and sell Budweiser products in Canada and Paraguay.
ABV distributes its products through direct distribution system and third-party distributors. The company was founded in 1888 and is headquartered in Sao Paulo, Brazil. Unlike the other companies, is should be known that ABV products do contain several lines that are outside the realms of alcohol.

Click to enlarge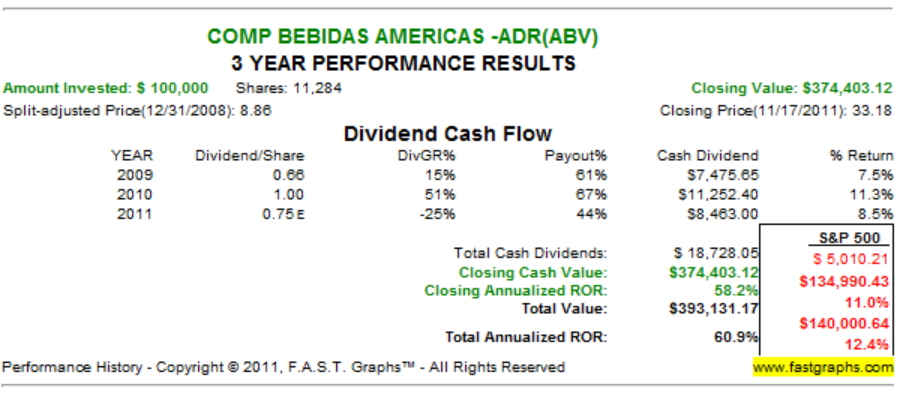 Click to enlarge
ABV is another stock that shows it can thrive in the current economic climate. With a $33 stock price and a 2.2% yield, this stock seems to shine. The chart pretty much says it all.
Anheuser-Busch InBev (NYSE:BUD), together with its subsidiaries, engages in brewing and selling beer in North America, Latin America, Europe, and the Asia Pacific. It manages a portfolio of approximately 200 brands that primarily includes Budweiser, Stella Artois, Becks, Leffe, Hoegaarden, Bud Light, Skol, Brahma, Quilmes, Michelob, Harbin, Sedrin, Klinskoye, Sibirskaya Korona, Chernigivske, and Jupiler. AB InBev, through its interest in Grupo Modelo, also offers Corona brand. In addition, the company involves in the manufacture and sale of soft drinks. AB InBev was founded in 1366 and is headquartered in Leuven, Belgium.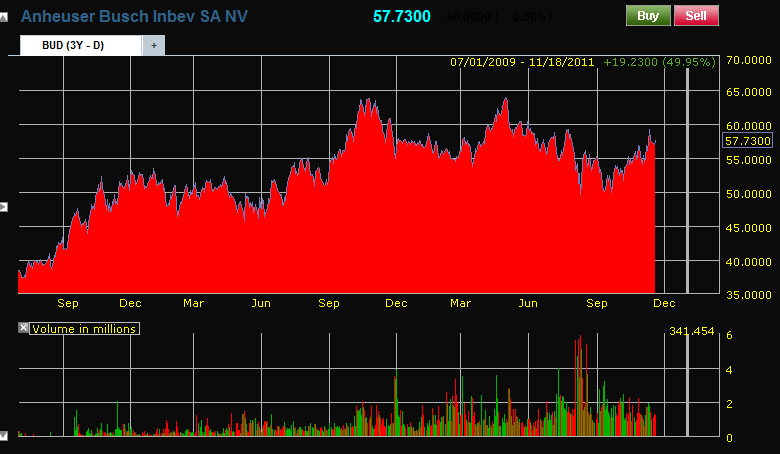 Click to enlarge
BUD is another that seems to be doing well in the bad economic climate. In 2009 the share price was approximately $50. Today the company sports a 1.7% yield and trades for roughly $58. Although an argument could be made that it should be doing better, it's facing stiff competition from the smaller craft beer producers.
Molson Coors Brewing Company (NYSE:TAP) brews, markets, sells, and distributes beer brands. It sells its products in Canada, under the Coors Light, Molson, Rickard's Red, Carling, Pilsner, Keystone Light, Creemore Springs, and Granville Island brands. The company also brews or distributes products under license from third parties, which include Heineken, Amstel Light, Murphy's, Asahi, Asahi Select, Miller Lite, Miller Genuine Draft, Miller Chill, Milwaukee's Best, Milwaukee's Best Dry, and Foster's.
In addition, it imports, distributes, and markets the Corona, Coronita, Negra Modelo, and Pacifico brands, through a joint venture agreement with Grupo Modelo. Further, the company sells various brands in the United States, which include Coors Light, Miller Lite, Coors Banquet, Miller Genuine Draft, MGD 64, Miller Chill, Sparks, Miller High Life, Miller High Life Light, Keystone Light, Icehouse, Mickey's, Milwaukee's Best, Milwaukee's Best Light, Old English 800, Blue Moon, Henry Weinhard's, George Killian's Irish Red, Leinenkugel's, Peroni Nastro Azzurro, Pilsner Urquell, Grolsch, Coors Non-Alcoholic, and Sharp's. It sells various brands in the United Kingdom.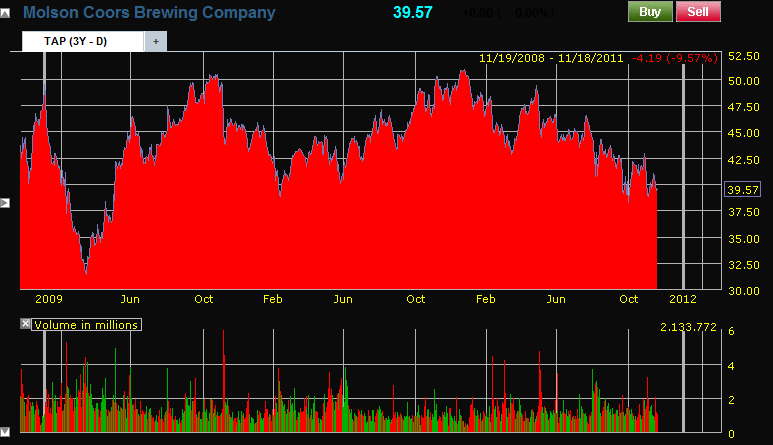 Click to enlarge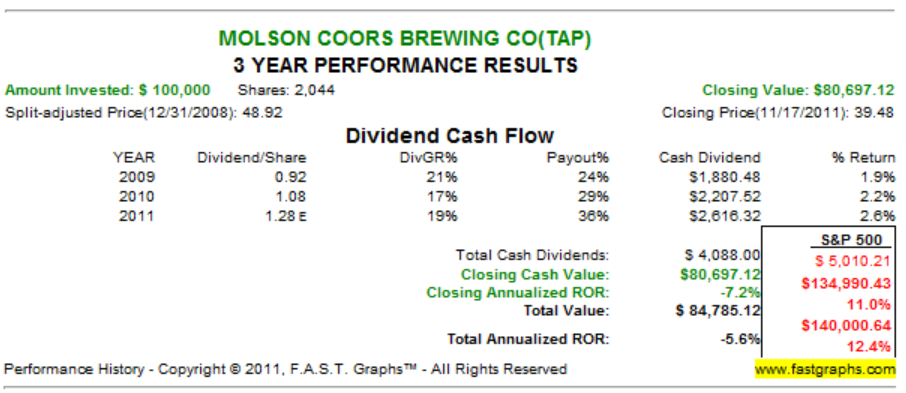 Click to enlarge
TAP is a company that flies in the face of the above mentioned theory. It does sport a 3.1% yield, but has suffered in share price. In 2009 the stock price was around $46 a share; today the share price is close to $40. Obviously this company is also facing stiff competition from the smaller crafted beer producers.
The Boston Beer Company (NYSE:SAM) produces and sells alcohol beverages primarily in the United States, Canada, Europe, Israel, the Caribbean, the Pacific Rim, and Mexico. The company sells approximately 20 beers under the Samuel Adams or the Sam Adams brand names; 8 flavored malt beverages under the Twisted Tea brand name; and 1 hard cider under the HardCore brand name. It also produces malt beverages and hard cider products under contract for third parties.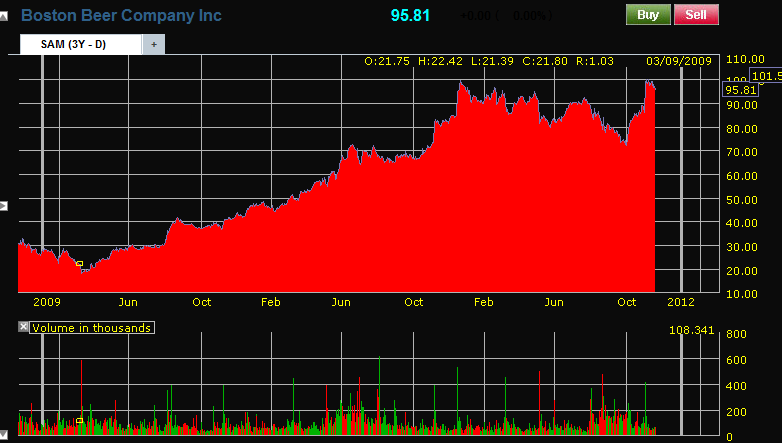 Click to enlarge
Click to enlarge
SAM, although large, falls into the smaller crafted beer producer category. A look at their chart says it all as the stock price in 2009 was roughly $40, and today it is on the verge of breaking the $100 mark.
Beam Inc. (NYSE:BEAM) engages in producing and selling premium spirits worldwide. It provides a range of spirits, including bourbon, whisky, tequila, rums, vodkas, cordials, gin, and cognac products primarily under the Jim Beam, Maker's Mark, Sauza, Canadian Club, Courvoisier, Teacher's, Laphroaig, Cruzan, Hornitos, Knob Creek, EFFEN, Pucker, Larios, DYC, DeKuyper, and Skinnygirl brands. The company was formerly known as Fortune Brands, Inc. and changed its name to Beam Inc. on October 4, 2011. Beam Inc. was founded in 1904 and is headquartered in Deerfield, Illinois.

Click to enlarge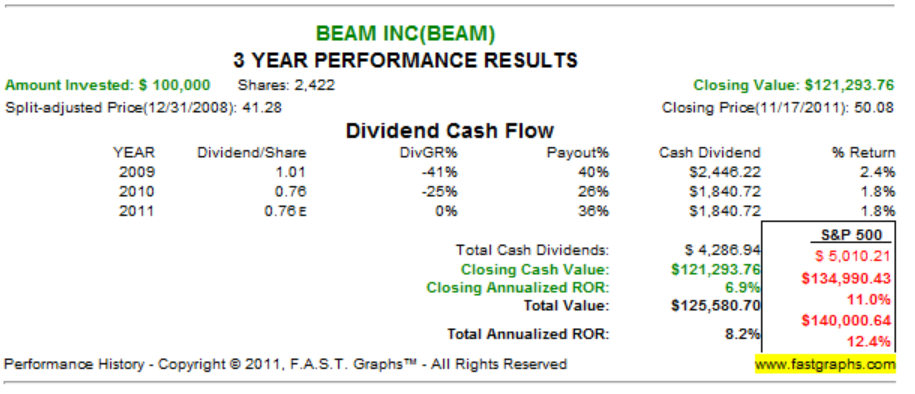 Click to enlarge
Finally, we have BEAM, whose chart also has lots of peaks and valleys. Trading in 2009 around $40 a share, we find ourselves at close $50 a share today with a 1.5% yield, but the volatility could leave some investors a bit of motion sickness.
In conclusion, it is easy to see that most of the above mentioned companies are doing quite well. The theory, though, does not hold true as we do have some companies that still seem to struggle. The end result is that if management and the company execute in this current environment, they will succeed. But the current environment itself is not enough to guarantee success.
Disclosure: I have no positions in any stocks mentioned, but may initiate a long position in DEO over the next 72 hours.