Investors should avoid stocks vulnerable to risk due to the European sovereign debt crisis. Many investors may currently have euro sovereign debt risk and not realize their indirect exposure. I daresay numerous income investors possess closed end bond funds which hold euro sovereign debt. Stocks doing business in Europe may have exposure. Some companies may possess euro sovereign debt, including the respective risk, on their balance sheets. My focus is to identify what risks may be present and potentially vulnerable investments.
Jefferies Group, Inc. (JEF)
Egan-Jones Rating Company downgraded Jefferies Group on November 3rd. Egan-Jones Rating Company is a well respected credit rating agency with a successful track record. This chart highlights the Egan-Jones success story over the years: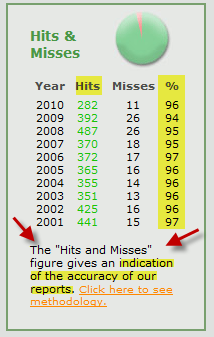 The thrust of Egan-Jones' downgrade was based upon Jefferies Group's long euro sovereign debt exposure and a 13x leverage on capital. Egan-Jones Rating Company stated Jefferies Group $2.7 billion in long euro sovereign debt exposure is a high risk. This is especially an issue to pay attention to after the recent MF Global collapse. Jefferies Group did not believe the downgrade was justified because Jefferies Group claims to have a $2.5 billion short exposure to euro sovereign debt. This would result, in the eyes of Jefferies Group management, in a net $200 million long exposure.
Jefferies Group's euro Sovereign Debt
I find it difficult to place faith in Jefferies Group's feedback to investors. Unless the $2.5 billion short position is precisely the same long exposure (i.e., same country, same bond, same maturity date), then there is inherent risk if Jefferies Group did not select a perfect short position. In theory, Jefferies Group may be short the wrong euro sovereign debt positions. The leverage only magnifies the lack of wiggle room for Jefferies Group to have an ideally positioned euro sovereign debt portfolio.
The below chart highlights the latest credit default swap movement: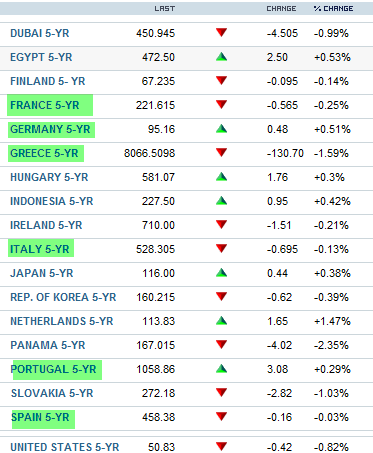 Unless Jefferies Group can see into the future, their ability to predict their net currency risk is imperfect. If a 13x leverage remains intact, then an incorrect net currency exposure could be financially painful. If Jefferies Group is correct in their net currency portfolio, then they can make a significant amount of profit. Investors have to be a little leery of this exposure, levered at 13x, just weeks after the collapse of MF Global.
Leucadia National Corp. (NYSE:LUK)
Leucadia filed, on November 14th, a SEC 13F. Leucadia has bought Jefferies Group shares after the Egan-Jones downgrade. Leucadia owns 56,506,024 voting shares in Jefferies Group. Leucadia management are known as some of the savviest on Wall Street. On the other hand, they can also be wrong.
Jefferies Group Corporate Bonds
As investors know, corporate bonds are one notch above common stock in terms of a guarantee of investor capital. Jefferies Group's corporate bonds have taken a beating since the Egan-Jones downgrade.
Jefferies Group's short term bonds have sold off, in terms of percentage, more than the common shares. Why is this the case if the bonds possess more security than the common shares? As of November 17th, Jefferies Group's 5.875% bonds (NYSE Bond- JEF14) due June 8th, 2014, sold off 7%. The bond's were selling at 85 cents on the dollar with a 13% yield. This is in contrast to a 2% drop in Jefferies Group common shares.
Other Potential Risky Stocks
Here are a few securities which may contain euro sovereign debt exposure.
iShares iBoxx Invest Grade Corporate Bond (NYSEARCA:LQD)
iShares iBoxx Investment Grade Corporate Bond holds corporate bonds. These bonds include European banks, European businesses, and U.S. based banks with potential euro debt exposure. The exchange traded fund, iShares iBoxx Investment Grade Corporate Bond, owns over 700 individual holdings. An example of one of the 700 holdings is Deutsche Bank AG Common Stock (NYSE:DB). An individual investor will need to research the holdings to determine if the euro sovereign debt net exposure is acceptable or to high for their risk tolerance.
Deutsche Bank AG Common Stock is a $32 billion market cap German bank. The stock is trading at $36.57. The 52 week high was $66.00 per share back on May 2nd, 2011.
iShares iBoxx High Yield Corporate Bond (NYSEARCA:HYG)
iShares iBoxx High Yield Corporate Bond is a sister fund to the iShares iBoxx Investment Grade Corporate Bond. iShares iBoxx High Yield Corporate Bond seeks, however, a higher return. The higher return is achieved by investing in higher yielding corporate bonds. By definition this conveys a higher risk.
CIT Group (NYSE:CIT) is the second biggest holding within iShares iBoxx High Yield Corporate Bond. This information can be found on the iShares "monthly holdings" section.
CIT Group is a bank holding company with $34 billion in financing and leasing assets. CIT Group offers financing and leasing capital to its more than one million small business and middle market clients. Small businesses, operating on a global business, possess a higher than normal risk profile than a blue chip like International Business Machines (NYSE:IBM).
Closed End Fund Holdings
PIMCO High Income Fund (NYSE:PHK) is an example of a fund which should be avoided due to numerous flaws. The fund is trading at a 68% premium to net asset value. The bond quality has 36% of its assets in "BBB" rated securities. These securities are in banking and many contain non pristine balance sheets. Closed end fund investors should avoid paying a premium to net asset value. In addition, closed end fund investors should pay attention to the holdings in the latest SEC N-Q. This report shows the portfolio holdings on a quarterly basis.
Action Plan
I personally want to mitigate risk associated with the euro debt crisis. This isn't a time to be a hero by catching the bottom on stocks. The euro sovereign debt crisis has a ways to go before all issues are resolved by the respective countries and authorities. In the meantime, I recommend sticking with proven winners and avoid the obvious investment risks.
Disclosure: I have no positions in any stocks mentioned, and no plans to initiate any positions within the next 72 hours.