Market conditions in the oil refining business have changed a lot since I wrote this article in mid-August. Let's look at what happened and see if there are some situations that an investor can take advantage of in the next few months as we go through what is sure to be an interesting winter season.
1. The Brent/WTI Spread has collapsed.
The differential between Brent and WTI was in the mid 20's per barrel until mid September when it started its plunge. It closed on November 15th at 12.53 per barrel. This spread, which had been attributed to a supposed excess in inventory in Cushing, OK, but also due to a fear premium in Europe because of the Arab Spring, was a main driver for high refining margins for companies that could use lower-priced crude oil, especially in the U.S. Midwest.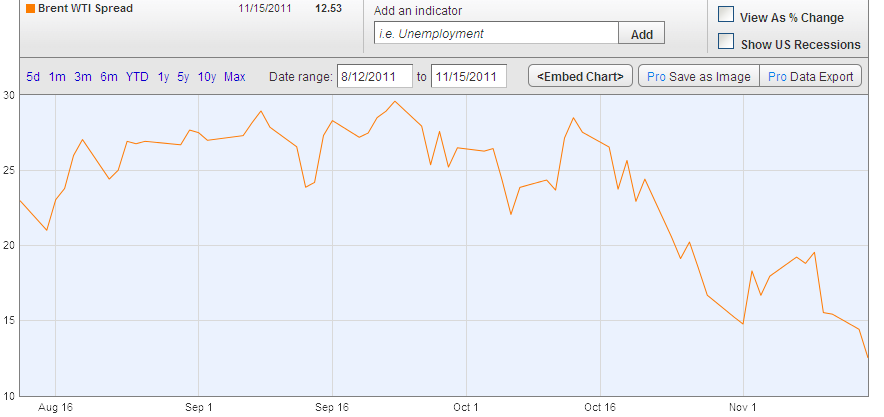 Source
2. Crack Spreads for Unleaded Gasoline have collapsed.
Here is the price chart for the 1:1 RBOB and HO crack spread since August: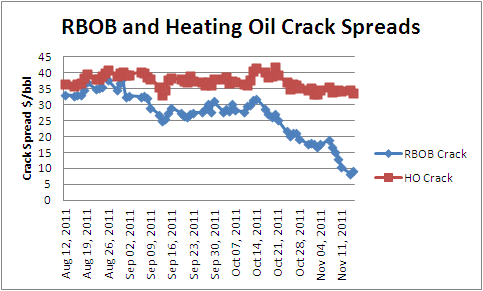 Part of what is reflected above is seasonality, since it is natural for unleaded pricing to back off at the end of the fall driving season. There was a spike in heating oil demand in response to the early-season snowstorm we had in the Northeast U.S., and also, there has been a steady increase in both distillate and finished product demand for exports: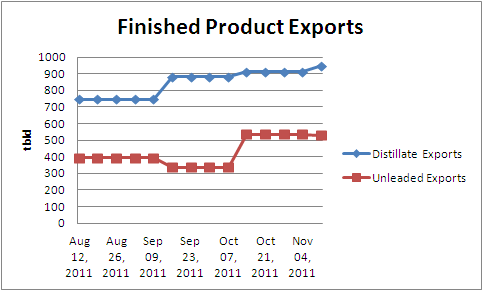 3. Higher WTI Prices
There has been a counter-seasonal fall rally in WTI partly because of the inventory draw down in the middle of the country, as we noted in this article but also partly because oil continues to be used as a storage medium for wealth, in light of the currency and sovereign debt problems in Europe.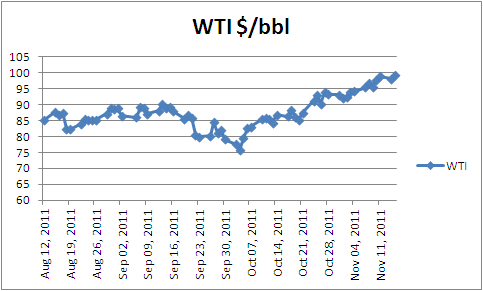 4. Stock Prices: Variable
In this climate, the 90-day stock price change for this group is roughly normally distributed around zero, some winners, a few more losers. Exxon (NYSE:XOM), the diversified benchmark is up about 10% in that time frame.

Click to enlarge
(Click to enlarge)
So, who are the potential winners in a scenario like this?
1. Diversified oil companies that have assets elsewhere besides refining.
Both Marathon Oil (NYSE:MRO) and Conoco Philips (NYSE:COP) spun off their refining groups when they did for a reason: The management knew that the situation with high refining margins despite low refining utilization that has prevailed for the last year was not permanent. One can make the argument that it is still not quite time to get on board with this group, and an investor should instead focus on the refinery-free portions of the business, or diversified oil companies such as Exxon Mobil.
2. Low cost producers.
Example: Holly Frontier Corporation (NYSE:HFC) reported their refinery operation throughput expense at $4.23 per barrel in the last quarter, which is on the low end of the industry. Valero (NYSE:VLO) reported variable refining throughput expense at $5.08 per barrel, and Western Refining (NYSE:WNR) reported operating costs of over $6 per barrel for the nine months ending September 30th.
This can vary a lot by plant. Tesoro (NYSE:TSO) has reported manufacturing costs over $7 per barrel for its California plant but is under $4 in the rest of its facilities.
Note: Some companies are more forthcoming with this information than others.
In general, lower cost producers will do better when the refining margins shrink unless they benefit from either a crude oil advantage, a marketing advantage, or both.
2. Companies that have Purchasing or Marketing Advantages
The best example of this is Calumet Specialty Products Partners (NASDAQ:CLMT) who are hedging their refining margins at $24 per barrel, roughly double some of the other independent refiners, since 98% of their profits are derived from specialty lubricants.
Western Refining continues to enjoy the benefit of Gulf Coast or West Texas feedstock prices combined with selling their products into the Arizona market which is priced higher. Tesoro's refinery in Mandan ND is capturing a geographical advantage for Bakken crude oil. Most of these companies are working to be able to accommodate lower quality and lower priced crude oil profitably.
3. Companies that can take advantage of exports.
Four of Tesoro's six refineries are located along the Pacific Rim and they are still working to reduce operating costs system-wide. They have been able to run at greatly improved efficiency over the past year as they take advantage of export markets. The market likes what they have been doing. The company's stock is the star of the group in the last 90 days.
Summary:
This is a difficult business. The participants are making multi-billion dollar engineering decisions based on assumptions about product mix and relative profitability of the products decades in advance. There are just a very few opportunities like the period in early 2007 when both prices and refinery utilization were at multi-decade highs.
As we suggested in this article the market has discounted the analysts earnings estimates, and on the basis of the performance in the last week or two, it is probably justified. However, selective companies in this group could become bargains in the coming weeks as the unusual conditions that have been prevailing in this industry unwind, and we are left with yet another "new normal."
The world is chaotic. There are no guarantees on anything.
Disclosure: I am long CLMT. I still love CLMT's high dividend, plus they are master hedgers. A substantial portion of their manufacturing volume is hedged at high refining margins.