In the past I have been an adamant supporter of Johnson & Johnson (NYSE:JNJ). First, I am shareholder. Second, their headquarters are located blocks away from my alma mater. More importantly and fundamentally, they are a relatively strong company in a in a stable industry (read: recession proof). They are extremely diversified within this industry — deriving nearly half of their revenue from medical devices, and the rest is divvied up between pharmaceuticals and consumer products.
However, there have been some recent drawbacks that have led me to reconsider my position. Johnson & Johnson is normally chosen by investors because of their dividend history. Johnson & Johnson has been increasing their annual dividend payment for 47 years. That means that their dividend has been increasing since the year after John F. Kennedy was assassinated (I mention this because the anniversary is on Tuesday). There are only a dozen companies that have been increasing their dividend longer, but as of recently Johnson & Johnson's dividend increases have not been living up to investor expectations. Below is Johnson & Johnson's dividend history for the last 17 years: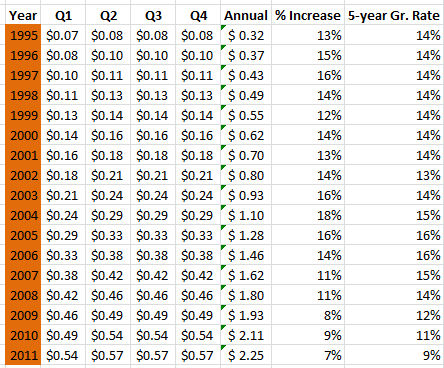 As you can see, their 5-year dividend growth rate was relatively stable from 1995 until 2008, in the 14% range. But over the last five years their annual increase has dropped to below half of its average amount. This means that these dividend worries pre-dated the recession, since 2007 and 2008 saw increases of only 11%. Certainly the recession and our stagnant economy has had a monumental impact on all companies, and it is only to be assumed that the dividend output would dry up, like it has from 2009 to 2011. However, the culmination of these facts may be enough to draw investors away from Johnson & Johnson, even if they are currently yielding 3.5%.
All of this would be less disheartening if Johnson & Johnson's share price was performing; unfortunately it is not. Prior to the recession Johnson & Johnson topped out at just over $70 and then fell to under $50. Over the last two years they have been bouncing between $58 and $65, as depicted in the graph below.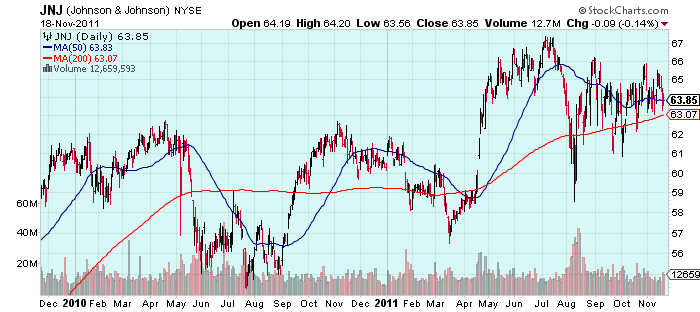 Click to enlarge
(Click to enlarge)
Even though the 200-day simple moving average has been increasing over the course of this chart, its growth does not match the rest of the market. This is mostly because Johnson & Johnson is not the sort of company that can churn out double-digit earnings growth. That is why they are a safer play than growth companies, but if the dividends are not performing then what is the draw in owning the stock?
There are a few other reasons why Johnson & Johnson is losing its appeal. First, Warren Buffett has decided that 5.2 million shares would be better allocated somewhere else. Possibly it aided in the IBM (NYSE:IBM) acquisition. The drop was roughly 12% of the entire stake, so investors can take some solace in the fact that it was not all dumped.
Second, the media has been all over Johnson & Johnson over the last few years because of the astonishing number of recalls they have faced. While some of these are simple, like recalling Tylenol, others, like malfunctioning knee replacements are much more costly to the bottom line and could involve long-term litigation. Of course, Johnson & Johnson does have an incredibly large product line of household name items so it is more likely that their recalls will garner public attention.
Third, the entire prescription pharmaceuticals industry has been preparing for the time when a number of key patents expire. What this means is that some revenue streams may be running dry unless companies can match it with new innovative and in-demand products. Sort of like the auto industry, this requires profits to constantly be recycled back into research and development; or acquisitions of smaller pharmaceutical companies. Johnson & Johnson's cash on hand reached a high last April at $22 billion, but since this has dropped to around $15.6. This is still a significant amount and could hint at some big moves in the future.
In closing I would conclude that Johnson & Johnson does not make for a great investment right now based on their future expected price appreciation and faltering dividend growth rate. We will have to wait until late next April to see how much their next dividend increase will be (I'm hoping for $0.615 a share quarterly), but until then it does not appear that the share price will climb too much.
Disclosure: I am long JNJ.