The Brown-Forman Corporation (NYSE:BF.A) is a diversified producer and marketer of high-quality consumer beverage alcohol brands. It is one of the largest American-owned wine and spirits companies, and its products include Tennessee, Canadian, and Kentucky whiskeys, Kentucky bourbon; tequila; vodka; liqueur; California sparkling wine; table wine; and ready-to-drink (RTD) and readyto-pour (RTP) products. The largest brand is the iconic whiskey Jack Daniels.
Sales, Earnings and Free Cash Flow
| Year | Revenue (in millions) |
| --- | --- |
| 2007 | $2,806 |
| 2008 | $3,282 |
| 2009 | $3,192 |
| 2010 | $3,226 |
| 2011 | $3,404 |
Over the past decade, revenue has grown by an average of 4.8% per annum. Over the last 5-year period, growth averaged 5%, and over the last year, revenue increased from $3.2 million to $3.4, a 5.5% increase.
BF-B's revenue increases, and especially its accelerating revenue growth, are at least partially attributable to its growing international presence. In 2001, sales outside of the United States accounted for 23% of total revenue. By 2011, that number was 55%. As these worlwide sales have continued to be a larger part of Brown-Forman's revenue, they have benefited from the weaker dollar and favorable exchange rates.
This is not to say that the company or its brands are not growing - even on a constant currency basis, revenue was up 7% in 2011, and globally brand volume (or depletions, as they are called) was up 3%.
Brown reported its first quarter of fiscal year 2012 on August 30, 2011, and sales were up 13% to $840 million, thanks to a weaker dollar and higher volumes for most brands, excluding Southern Comfort, el Jimador and Korbel.
(Click charts to expand)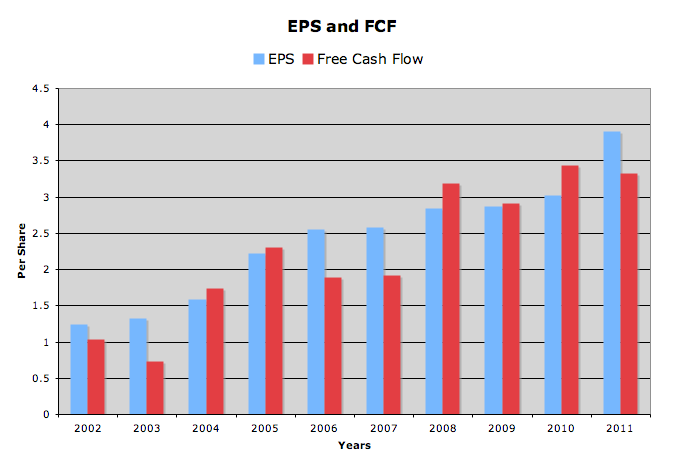 Earnings grew 29% in 2011 to $3.90, much higher than the 10-year average growth of 13.4%. If however we subtract the one time earnings from the sale of Hopland-based wines (Fetzer and Concha y Toro) and tax benefits, earnings were $3.57, which represents growth of 18%.
As of Q1 of 2012, earnings per share of $0.81 were a 7% improvement over the same quarter last year. Analysts are expecting full year earnings of $3.67, and Brown-Forman's outlook has guidance in the range of $3.45 to $3.85. Using the analysts' estimate of $3.67, this is 3% growth from 2011 earnings from continuing operations.
Free cash flow per share has also shown healthy growth, averaging 13.6% over the past 10 years. Cash from operating activity decreased slightly in 2011, from $545 million to $527 million, though with low capital expenditures free cash flow was still strong at $3.33 per share.
Both earnings and fcf have been bolstered by a strong buyback program, which has purchased about 4% of outstanding shares over the past decade, bringing shares outstanding from 171 million to 146.5 million. Thus far in 2012 it has repurchased $15 million worth of both class A and class B shares, with $130 million left under the current program.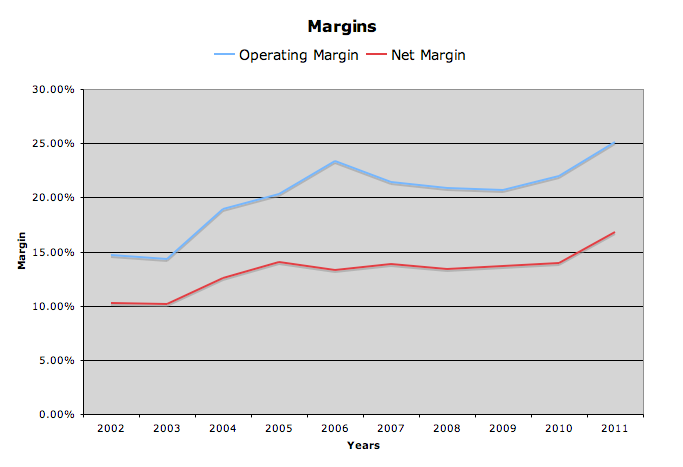 Margins have steadily been increasing over the years, from lows in the early 2000s of 14.6% operating and 10.3% net, to their present highs of 25% operating and 17% net. BF-B has tightened up and consolidated some operations, increasing cost savings, but margins have also been helped by the increasing international sales, and the currency benefits they provide.
Thus far in fiscal year 2012, operating margin dipped slightly to 22%, as did net margin, which fell to 14%.
Dividends
BF-B is a dividend champion, and has raised its payout consistently for the past 28 years. On November 17 of this year, the dividend was raised 9.4%, for a quarterly payout of $0.35, or a full-year dividend of $1.40.
Please note that these dividend calculations do not include the special $1.00 dividend paid to shareholders in Q3 of 2011, because it is not a recurring payment.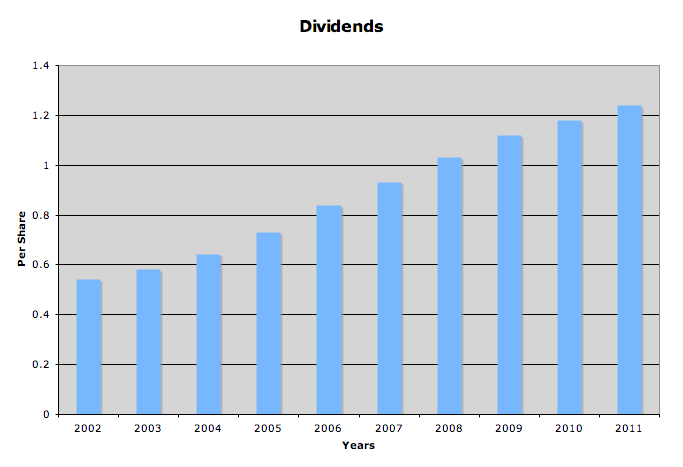 Over the past 10 years, dividend growth has averaged 9.6%, though that did slow in the last few years, and from 2009-2011 growth was 8.7%, 5.4%, and then 5.1%, respectively.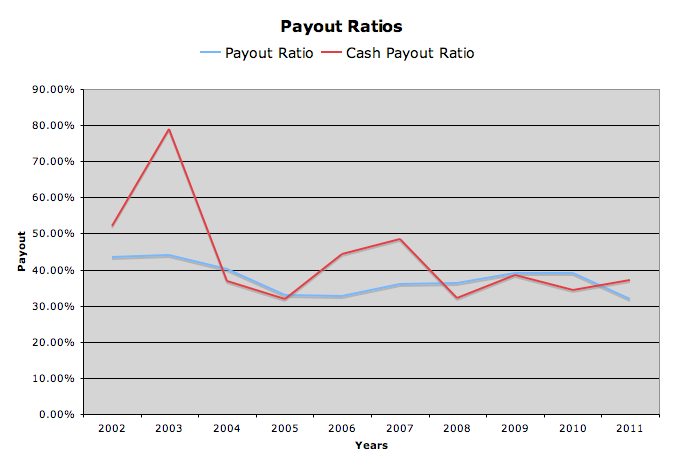 Both earnings based and cash based payout ratios have trended down over the years, thanks to earnings growing faster than dividends. Both comfortably sit below 40%, leaving plenty of room for dividend growth, even in lackluster earnings years.
Balance Sheet
BF-B has a very clean balance sheet, and very little debt. The current ratio is a very healthy 2.8, and debt-to-total capital is a low 27%. Interest payments are well covered at only 3% of operating income.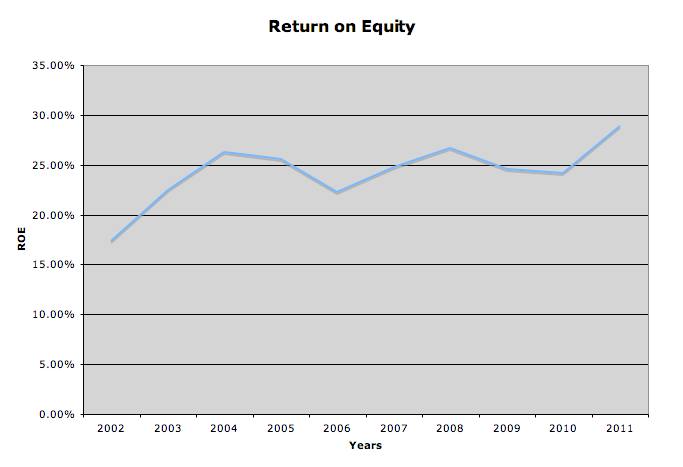 Return on average equity has held steady over the years, averaging 24%.
Stock Price Valuations
Current Price - $75.01
5-year average low p/e - 17.5
Current p/e (ttm) - 21
Forward p/e - 20.4
PEG - 2.2
5 year high dividend yield - 2.4%
Current Yield - 1.9%
Conclusion
While I find Brown-Forman to be a solid company with a great history of dividend increases, I find it difficult to purchase at these valuations.
Analysts are expecting 5-year earnings growth to average 9.75%, which is in my opinion low for a stock trading at 21x ttm earnings, and dividend growth below 10%.
If we look at the historical prices, you can see that the average price relative to earnings is trending down, while dividend yield is trending up. The company seems to be becoming valued more as a stable dividend payer than a fast grower.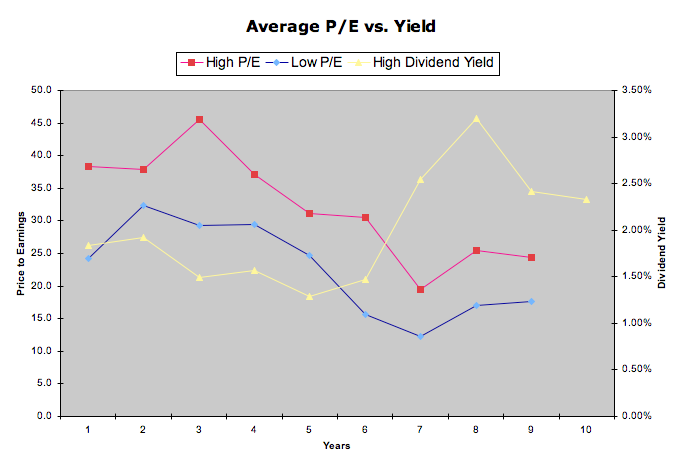 For comparison, take a look at Diageo (NYSE:DEO), a leader in the market of worldwide alcoholic beverage sales.
Sales Growth (5yr)
Earnings Growth (5 yr)
Dividend Growth (5yr)
P/E
Forward P/E
Yield
Diageo (DEO)
7.5%
8%
5.4%
17
13.7
3.8%
Brown-Forman

(BF-B)

5%
10.9%
7.5%
21
20
1.9%
By comparison, Brown-Forman is trading at a much richer valuation than Diageo, although growth rates are very similar, and it carries a much lower dividend yield. Now of course this is not an analysis of Diageo, nor do I mean to conclude DEO is a buy, or selling at a good price. What my argument is here is that at face value, does BF-B deserve its current valuation?
My belief is no. I like BF-B, especially its clean balance sheet and willingness to return value to shareholders. But I would rather see the price more in line with the earnings and dividend growth.
Disclosure: I have no positions in any stocks mentioned, and no plans to initiate any positions within the next 72 hours.
Disclaimer: This list provides general information, not individually targeted personalized advice. Investors should assess for themselves whether the advice is appropriate to their individual investment objectives, financial situation and particular needs before making any investment decision.