On the year, shares of Meritor, Inc. (NYSE:MTOR) have lost nearly 75% of their value and made a new 52 week low last Friday. The stock is down more than 34% since it released its fiscal year Q4 financial results before the bell on November 15th.
MTOR 10 Day Chart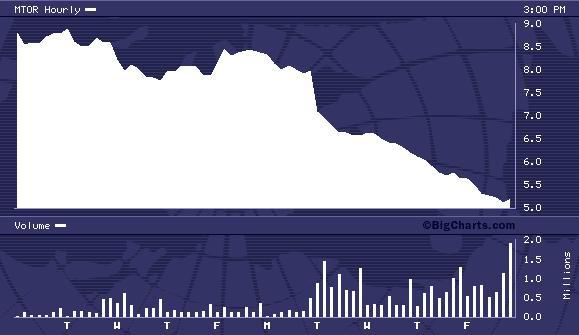 Click to enlarge
(Click to enlarge)
The company put forth some pretty impressive rear-looking data, detailing 16.75% YOY growth in total revenues while gross profits were up 40% over the same time period last year. After excluding ongoing restructuring costs and other items, the company reported a quarterly YOY 221% jump in earnings from continuing operations. It also beat analysts' EPS consensus of 25 cents per share by seven cents, or 28%, from the same time period last year.
Perhaps most impressive was the quarterly profit of $31M (32 cents per share), up from the $2M (2 cents per share) that was reported a year ago. That's a 1,500% increase! It should be noticed that this was all accomplished in spite of a 10% decrease in gross margin on a roughly 34% input cost increase.
Furthermore, in a fledgling industry, Meritor is forecast to outperform its competition by more than 90% over the next year:
Earnings Growth (2012)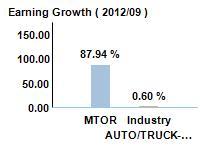 So why is the stock down 34% over the last week, in light of the above stellar-seeming data?
The simple answer is that Meritor went on to issue FY 2012 adjusted income guidance for continuing operations that was nearly 9.5%, or $500M, below analysts' expectations, while issuing the following 2012 outlook:
Revenue to be approximately $4.8 billion.
Adjusted EBITDA margin in the range of 8.2 percent to 8.6 percent.
Adjusted income from continuing operations in the range of $105 million to $135 million.
Free cash flow before restructuring payments in the range of $25 million to $75 million.
Effective tax rate of approximately 40 percent.
For fiscal year 2012, the company anticipates the following results for the entire company:
Capital expenditures in the range of $100 million to $110 million.
Interest expense in the range of $85 million to $95 million.
Cash interest in the range of $75 million to $85 million.
Cash income taxes in the range of $75 million to $95 million.
Restructuring cash of approximately $20 million. 
Jay Craig, Senior VP and CFO, expounds on Meritor's underwhelming 2012 guidance in the most recent conference call:
The demand assumptions for many of our key markets in 2012 have changed substantially over the past few months. Specifically, our global truck markets in China and China off-highway markets. We now expect fiscal year 2012 sales to be approximately $4.8B, up almost $200M from fiscal year 2011, but significantly lower than we were expecting a few months ago...I want to stress that there is significant volatility in many of these markets, especially in Europe truck, Europe aftermarket and China, but this is our best look today based upon our input of customers.

Before leaving the topic of revenue, I wanted to talk for a moment on our first fiscal quarter of 2012. While we are no longer giving quarterly guidance, I did want to take the opportunity to comment about a few items impacting us. As you may remember, the first quarter typically has the least amount of selling days out of the entire fiscal year. That holds true for next year, with five fewer selling days in Q1 of our fiscal 2012 versus the fourth quarter of 2011. This is mostly due to the customary seasonality associated with the holidays around the globe in December. In addition, we are seeing weakness in Brazil from Q4 to our fiscal 2012 Q1.

The next item I want to mention is our expectation of final payment shipments. As you recall, the program award was for a total of 1,700 units and we have fulfilled just over 80% of those orders through fiscal year 2011, therefore there will be a steep decline year-over-year as the program winds down...we expect the remaining shipments to occur late in our second fiscal quarter and mostly in our third fiscal quarter of 2012, and then the program will be completed. Finally, although FMTB shipments continue to ramp higher, we do not anticipate hitting a steady run rate until our second fiscal quarter and then we would maintain that level for the rest of the year. So the first quarter will be the weakest for FMTB shipments.

Assuming a $4.8B revenue target for the year we expect fiscal year 2012 adjusted EBITDA margin to range from 8.2%-8.6%, with the mix of sales and exact timing of our execution actions causing the need for the range. Adjusted income from continuing operations is expected to be higher than fiscal year 2011 at a $105M-$135M. Free cash flow from continuing operations before restructuring is expected to range from $25-$75M, as we expect to again to see peak investments in capital expenditures, higher cash taxes and higher pension contributions previously mentioned. Our effective tax rate for fiscal year 2012 is forecasted to be around 40% with a rate closer to fiscal 2011 at the beginning of the year and with reductions seen each quarter as we progress through 2012.
Is the recent sell-off and sharp drop in share price overdone or is it fully justified by the industry's murky and overall gloomy economic outlooks?
Though KeyBanc recently downgraded the company to hold from buy and suspended its $16 price target while citing weaker end markets in Europe, South America and China, there is some solace to be taken in the fact that 97% of the 94.5M shares out are in institutional hands, which could mean that much of the stocks recent downturn may be the result of short-sellers piling on and weak retail hands being spooked out of the name.
I am not ready to call a bottom just yet, but I find it encouraging that Director William Newlin bought 72,000 shares last week, bringing his MOTR holdings up to 123,000 shares. Needless to say, I will be monitoring this ticker closely.
Disclosure: I have no positions in any stocks mentioned, but may initiate a long position in MTOR over the next 72 hours.