Introduction
A simple truth is banks do well when the economy does well. A healthy, expanding economy demands banking institution participation. And I'm bullish on American business.
Via this foundation premise, I own shares of Wells Fargo & Company (NYSE:WFC). The shares and warrants were purchased as the economy emerged from the 2008-09 recession. Today, Wells Fargo represents the single largest position in my portfolio. I believe Wells Fargo is the best-of-breed, large U.S. bank. However, the shares trade near fair value. Therefore, I do not see tremendous near-term upside.
On the other hand, I contend Bank of America (NYSE:BAC) is clearly not best-of-breed, but the stock is undervalued. A far smaller position, I own BoA shares on valuation. Make no mistake: I see a difficult-to-manage bank and a weaker management team. I also envision a bank that despite questionable senior leadership has a stock with room to run. Bank of America management doesn't need to do much right for the shares to command a higher bid.
In this article, we will examine these views, having the benefit of both companies' recent earnings announcements and related information.
Snapshot Comparisons
First, let's do a side-by-side comparison of key banking metrics.
Note the following comps evaluate bank financial/operational performance. We will review and compare stock valuation later in this article.
Here's an overview of key categories and metrics:
Top and bottom line results (revenue and earnings)
Returns (on assets and equity)
Net interest margin/Net interest income (a banking institution's bread and butter)
Lending trajectory (loan growth)
Capitalization (Tier 1 capital ratio; Basel III, advanced approach)
Expense management (bank efficiency ratio)
Credit quality (net charge-off ratio)
Equity build (book value and tangible book value)
Capital return to shareholders (dividends and stock repurchases)
Note to Readers: Wells Fargo generally reports "clean" results. Bank of America does not. Therefore, I have utilized or added certain non-GAAP adjustments in an attempt to best reflect "apples for apples" comparisons. Data was compiled from bank earnings release statements, presentations and supplemental material.
Top and bottom line results
For several quarters, Wells Fargo has successfully ground out small revenue increases. Likewise, EPS has trended up, though the growth rate slowed to mid-single digits in 2014 and is likely to repeat in 2015. A chart illustrates slowing earnings growth, but consistent results.

Click to enlarge
Courtesy of ameritrade.com
Bank of America revenues, on an adjusted basis, have been pressured, yet have remained generally flat. Earnings have been improving (sort of, if you look hard enough). Charitably, the overall EPS trend has been up; however, huge litigation hits have crushed individual quarterly results.

Click to enlarge
As been said, "Other than that, Mrs. Lincoln, how was the show?"
Edge: Wells Fargo
Returns
Wells Fargo has best-of-breed returns on assets and shareholder equity. Bank of America is weak. Since returns are a function of earnings, BoA has been disadvantaged.
Wells' management sets specific financial targets for RoA and RoE, and has met them. Bank of America management talks about out year's future targets. Even when pressed by analysts, CEO Moynihan has not come forth with near-term, concrete markers.

Click to enlarge
It should be noted that Wells Fargo calculates RoE upon straight book value, or shareholder equity. The Bank of America figure is based upon tangible book value, thereby lowering the denominators and boosting the figure.
Wells Fargo's return-on-tangible book is ~17%.
Edge: Wells Fargo
Net Interest Margin/Net Interest Income
While banks generate considerable non-interest income, the bread is buttered with net interest income. The net interest margin, or the difference between the interest income generated and the amount of interest paid out (for example, to depositors), relative to the amount of interest-earning assets, offers insight as to how much "vig" there is between interest earned and paid out.
Over the past 4 quarters, Wells Fargo's net interest income has hugged the flatline at ~$11 billion.
Conversely, during the same period Bank of America has seen quarterly NII drift down from $10 billion to $9.5 billion.
Both banks face similar NIM compression. Wells Fargo has maintained a better margin. Nonetheless, the root problem is the lowest NIMs in 25 years. Bank of America should fare better than Wells Fargo when the spread widens.

Click to enlarge
Edge: Wells Fargo
Loan Growth
Banks make loans, and a growing loan book helps banks earn more profits. Wells Fargo is a "Main Street" bank. It focuses upon making community mortgage, consumer and business loans. Bank of America is a "Wall Street" bank. While loan origination is a core business, too, BoA also engages in far-reaching global banking, investment/trading, and wealth management operations.
Two presentation slides, one from each banks' 1Q 2015 earnings reports, highlights the facts.
First, Wells Fargo (focus upon the taupe bars):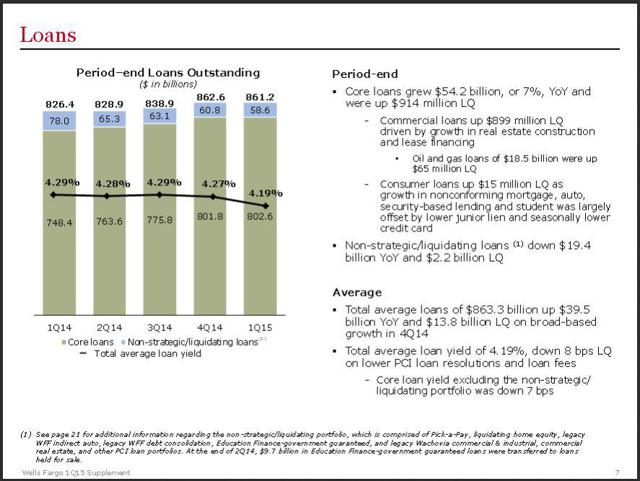 Click to enlarge
Now, Bank of America (in particular, note the top right inset chart):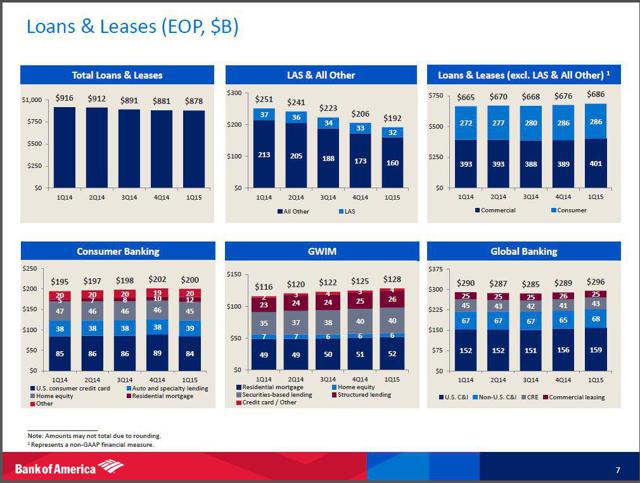 Click to enlarge
Readers may peruse the details, but here's the bottom line: Over the past year, Wells Fargo has grown core loans (ex non-strategic and run-off loans) by over 7%. Bank of America has grown its loan portfolio by half as much.
Edge: Wells Fargo
Bank Capitalization
Federal regulators have placed numerous capital requirements and constraints upon TBTF banks. I believe the one to watch is Common Equity Tier 1 Ratio, Advanced Approach under Basel III, fully phased-in. It best represents the Fed vs. TBTF bank capitalization end-game.

Click to enlarge
The CET 1 Basel III (Advanced Approach, fully phased in) hurdle rate is 10%.
On its face, it appears both companies make the cut. For Wells Fargo, Occam's Razor prevails.
However, it's not quite so straightforward for Bank of America.
In addition to having to re-submit its 2015 capital plan to address certain weaknesses in the capital planning process, there is a bigger issue. Bank of A did not do an exceptional job of communicating it. In a small footnote found on page 18 of the 1Q 2015 earnings release is the following statement:
The U.S. banking regulators have requested modifications to certain internal analytical models including the wholesale (e.g. commercial) and other credit models which would increase our risk-weighted assets and is estimated to negatively impact the CET1 ratio by approximately 100bps.
Please pay particular attention to the phrase "..negatively impact the CET 1 ratio by approximately 100 bps." Such an impact puts BoA out of tolerance, requiring the company to improve capital ratios and reducing the amount of capital that may be returned to shareholders.
Edge: Wells Fargo
Expense Management
The Efficiency Ratio measures banking expense control by dividing non-interest expenses by revenue. It's simple and straightforward.

Click to enlarge
Unsurprisingly, Wells Fargo is best-in-class. Wells' management offers investors clear Efficiency Ratio targets, speaks to these upon each earnings conference call, and has executed successfully. Bank of America management, for its part, has worked hard to reduce expenses via multiple channels, including shutting down branches and massive layoffs. The following slide provides some color: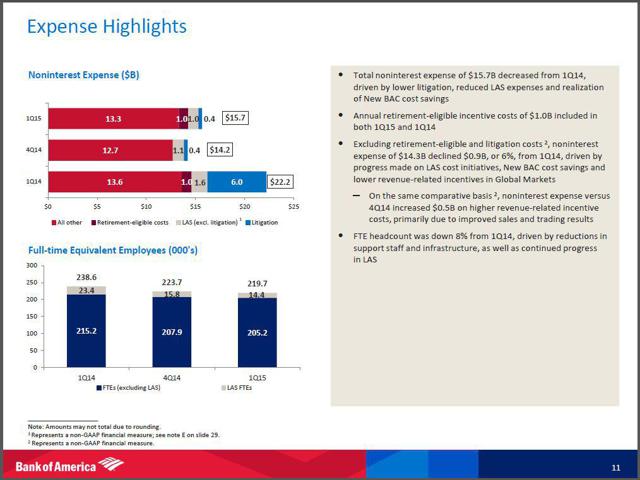 Click to enlarge
While results are improving, BoA just isn't in Wells Fargo's league.
Edge: Wells Fargo
Credit Quality
Both banks have demonstrated remarkable post-recession credit metrics. As measured by NCO rate, credit quality is comparable to pre-recession levels.

Click to enlarge The annualized NCO rate benchmark indicates both Wells Fargo and Bank of America have credit quality in check.
Edge: None. A push.
Equity Build
Equity per share may be measured by book value or tangible book value. Since Bank of America has an unusually high level of goodwill and intangible assets on its balance sheet, tangible book value is the better way to gauge management's ability to create shareholder value. The table below provides bottom-line numbers:

Click to enlarge
Since we're not using this metric for share valuation (yet), but rather to determine management effectiveness, it's instructive to understand the TBV growth rate.
For the past 4 quarters: Wells Fargo TBV up 12%. Bank of America up 7%.
Edge: Wells Fargo
Capital Return to Shareholders
Since passing the first CCAR, Wells Fargo has consistently returned increasing capital to its shareholders. The most recent Fed approval permits WFC to pay an annualized $1.50 cash dividend; good for a prospective 2.8% yield. WFC's recent share repurchase plans have permitted a modest reduction in total shares outstanding.
On the other hand, Bank of America has struggled over the last 2 CCAR exercises, though receiving contingent approval this year. The 2015 dividend was frozen at a nickel per quarter, or a current 1.3% yield. A small share buyback is included this year.
Edge: Wells Fargo
Corporate Narratives
Certainly, we have a tale of 2 banks.
Wells Fargo management has demonstrated superior performance in just about every possible financial and operational category. It's a success story: a steep recession tumble, followed by methodical, systematic improvement across all fronts until the bank is now bigger and better than it was prior to 2008. M&A activity, most notably the Wachovia acquisition (obtained right under the nose of Citibank), has helped propel Wells Fargo to powerhouse proportions. The institution is focused upon taking deposits and making community loans. It does this very well.
Bank of America has stumbled post-recession. To its credit, management has navigated endless litigation, regulatory and expense pressures; largely a result of the ill-fated Countrywide deal. It can be argued the Federal government pushed BoA to complete the CWB purchase. The Merrill Lynch acquisition has been lumpy, but better absorbed. However, all-told and all-in, Bank of America remains a challenged institution. Its management pales when compared to Wells Fargo, both in clarity of purpose and results.
Wells Fargo management provides its investors with "clean" earnings reports, offers specific financial and operational targets, and speaks clearly when asked to respond to questions. The company and its management are focused and confident.
Bank of America management often appears defensive; having few hard goals and measured business targets. Senior leadership continues to fight last year's battles. Earnings reports are full of exceptions, one-off expenses, and "adjustments." Though management has done a workman-like job of slimming down the company, the tentacles of the business remain sprawling and complex. Frankly, I believe it looks like a company run by lawyers instead of bankers.
So why bother with Bank of America?
2 reasons:
Perverse Street Perception: Wall Street has the propensity to yawn at the so-called "A" student. It becomes bored with consistently good performance, and takes it for granted. Conversely, the Street is fascinated by a "D" student that begins to bring home "C+" grades. It accepts the former, but rewards the latter.
Wells Fargo & Co. is the perennial "A" student. Bank of America gets "D" report cards.
Valuation: Wells Fargo stock has been duly recognized and run-up by investors. Since 2010, including dividends, it's more than doubled; easily besting the S&P 500. However, today it trades at approximately fair value. Bank of America stock has languished. Though fraught with challenges, results have improved and the shares are undervalued. An inferior bank to Wells Fargo, BoA stock has better prospects.
While somewhat speculative, the BAC risk/reward is compelling.
A Valuation Exercise
I believe the 2 most relevant valuation metrics for banking stocks are price-to-earnings, and price-to-book. In the specific case of these 2 banks, we will highlight price-to-tangible-book.
Price-to-Earnings Analysis
WFC stock has an historic 13.2x long-term P/E. The following 12-year FAST graph illustrates the chronology: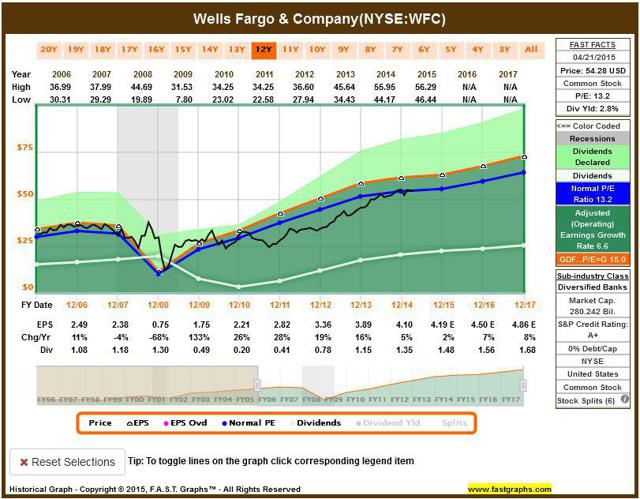 Click to enlarge Forward investment returns, sans multiple expansion, should follow EPS growth, plus a solid dividend. Wells Fargo appears to represent a safe, sound company with a stock trading at fair value.
Now, here's a FAST graph for Bank of America: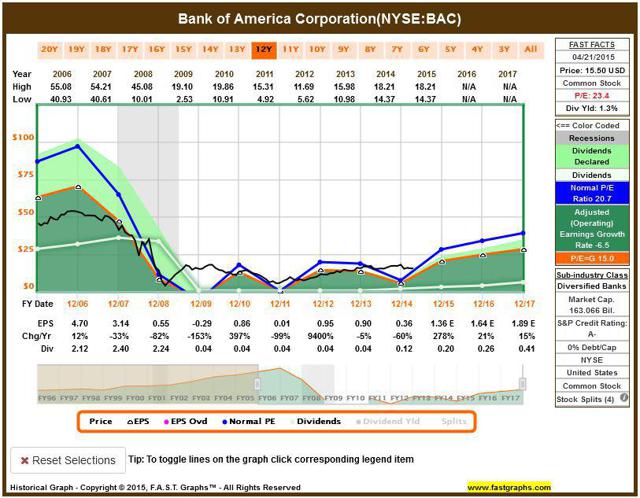 Click to enlarge
The inconsistent earnings profile reflects a roller coaster. Too much noise.
Nor do I buy the 20.7x trimmed average P/E. However, for a moment, let's assume BAC stock may command the same historic operating 13.2x earnings multiple as Wells Fargo.
Here is a Bank of America forecasting F.A.S.T. graph with a 13.2 P/E included (the pink line):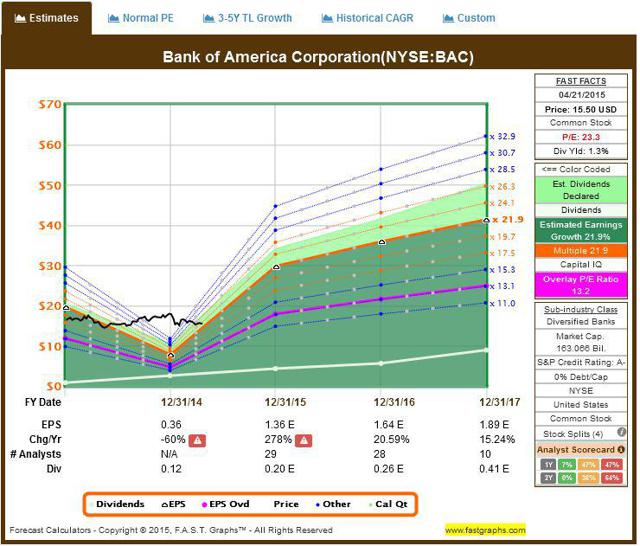 Click to enlarge
And now the same graph (with a 13.2 P/E included) for Wells Fargo: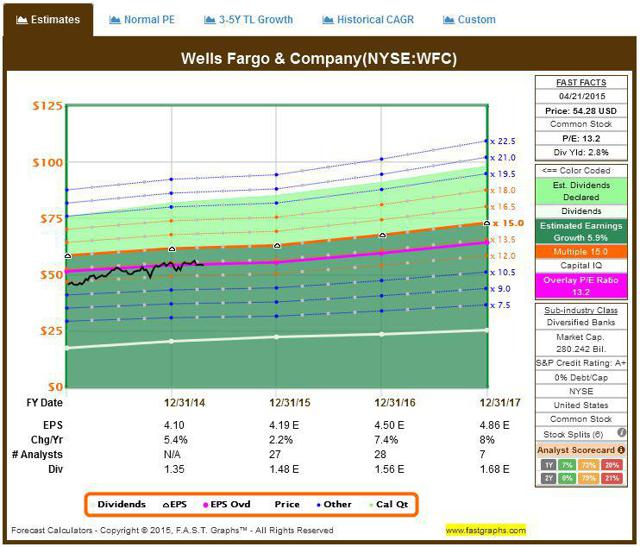 Click to enlarge
Comparing the 2 charts, several items are evident:
Street analysts have far greater forward earnings growth expectations for Bank of America versus Wells Fargo. Bank of A is forecast to grow EPS at 15%-20% in 2016 and 2017 after a tremendous earnings leap this year.
No slacker, Wells is expected to stay an "A" student: pushing out single-digit EPS returns; consistently better than the overall growth of the American economy; but no BAC earnings turbo-charge.
It is therefore reasonable to premise Bank of America's EPS growth rate should command at least a 13.2x P/E? If so, placing that multiple on 2015 projected EPS of $1.36 suggests an $18 stock, or a 16% uplift from current share prices.
On a P/E and earnings growth basis, there is a good argument BAC has significantly greater forward upside than WFC.
Hmm.....finally, a "point" on the Bank of America side of the ledger?
Price-to-Book Analysis
Price-to-book multiples are typically fair when valuing financial stocks. The table below compares the current P/TBV for the largest U.S. banking institutions:

Click to enlarge
Wells Fargo boasts a P/TBV twice that of Bank of America. A premium is justified, but double? Citigroup (NYSE:C), another complex and troubled banking institution, has a similar ~1 price-to-book to Bank of A. JPMorgan Chase (NYSE:JPM) sits somewhere in between.
For reference, here's a very long-term chart of Bank of America's P/TBV: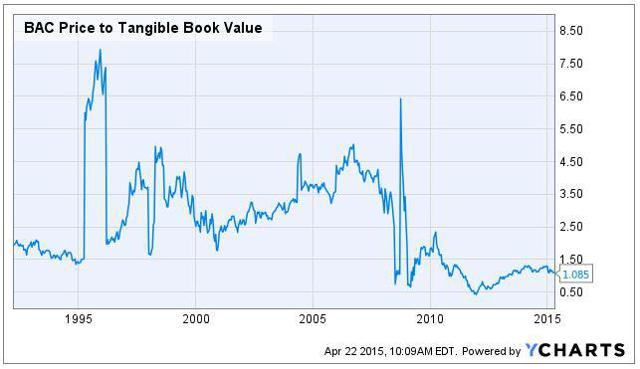 Click to enlarge
I believe the post-recession P/TBV hurdle for Bank of America has been set by JPMorgan Chase. Similar to Bank of America, it is a mammoth global banking and trading company. In contrast to BoA, it is better run. Therefore, should not a sound Bank of America command a 1.3x to 1.4x P/TBV; at least within shouting distance of peer JPMorgan Chase today? The following chart offers more perspective: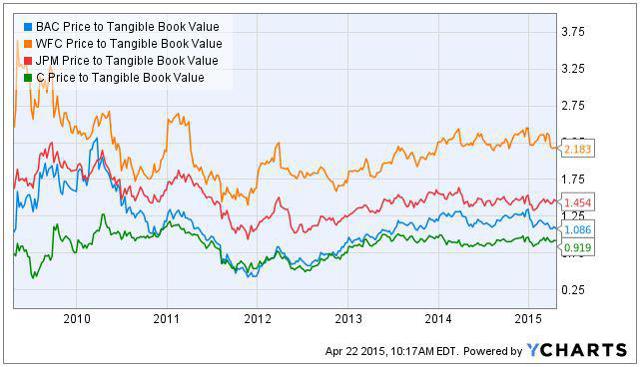 Click to enlarge
Indeed, Wells Fargo is at the top of the range and close to fair value on a recent historic price-to-book basis while Bank of America lags. I contend the bank has room to the upside; in 2010, BoA and JPM had comparable ratios. I view JPMorgan Chase as a benchmark.
A 1.3x P/TBV on Bank of America's current tangible book yields an $18 stock. However, we've seen BAC improving its tangible book value consistently, thereby providing a potential double-whammy effect.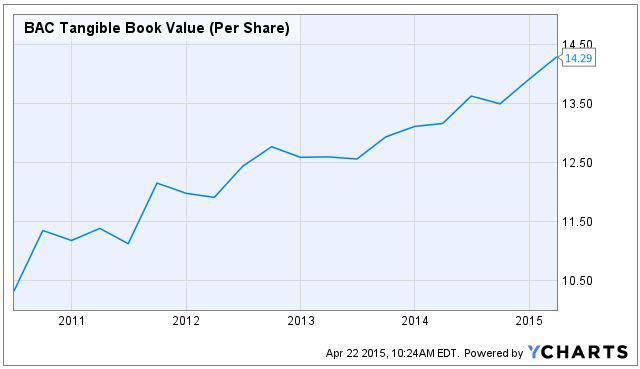 Bottom line: Bank of America appears undervalued on price-to-tangible book.
And frankly, I do not believe it will take stellar management to jump-start the shares. Just halfway-decent management.
Therein lies an investor's decision.
For the next 12 to 18 months, I choose to let the situation play out. Maybe Moynihan and company can raise their game to halfway-decent.
Long Bank of America.
Disclosure: The author is long WFC, BAC.
The author wrote this article themselves, and it expresses their own opinions. The author is not receiving compensation for it (other than from Seeking Alpha). The author has no business relationship with any company whose stock is mentioned in this article.
Additional disclosure: Author is also long WFC warrants.