Harris Corporation (NYSE:HRS) has been doing buybacks on a massive scale, with borrowed money. Debt as a percentage of total capitalization has increased, while the military contractor remains dependent on the US Government for the bulk of its revenue and earnings. This raises the question, is Harris creating shareholder value, or setting itself up for trouble somewhere down the road?
I wrote a bullish article back in March, with the shares trading in the $49 area. They closed Friday at $36.53, reflecting a TTM P/E of 8.4. In the process of updating my workbook, I noted a large decrease in share count, which prompted the following analysis of repurchase activity:
(Click chart to expand)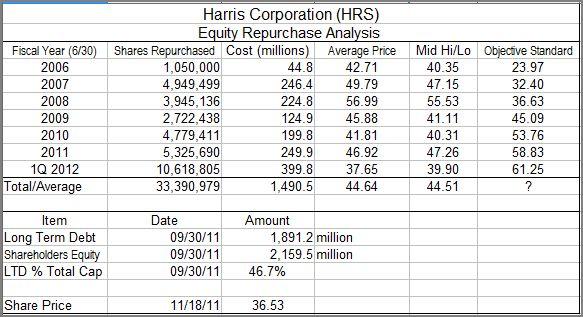 Click to enlarge
The fiscal year ends June 30th. The Mid Hi/Lo is the average of the high and low prices for the fiscal years involved. The "objective standard" is 15X the projected 5-year average EPS, a relatively conservative valuation for a stock that has shown strong growth and profitability over the years covered.
Buybacks meet the easiest test in that they were at prevailing market prices. However, the average price paid for the six years involved is substantially more than the current market price. On an objective standard basis, there was no reason for the company to be repurchasing its shares in 2006, 2007 or 2008. Noting that it was searching for and doing acquisitions during that period, it might have been better to do a secondary offering - sell shares at the attractive prices available.
For the first quarter of fiscal 2012, the money appears to be well spent, based on the objective value standard.
Valuation
When share counts change, it is often instructive to compute average EPS based on current share counts. Here's the computation, including projected earnings for fiscal 2012: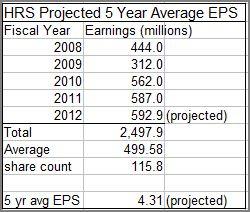 The choice of a multiple is a judgment item, I would lean toward 12X, based on apprehension about profitability going forward with the US Government likely to reduce expenditures, particularly defense. On that basis, $4.31 x 12 = $52, still well above the current share price.
Backlog
From the most recent 10-K:
Our total company-wide funded and unfunded backlog was approximately $7,786 million at July 1, 2011 compared with approximately $6,526 million at July 2, 2010 and $6,317 million at July 3, 2009. The funded portion of this backlog was approximately $3,358 million at July 1, 2011 compared with approximately $3,250 million at July 2, 2010 and $2,315 million at July 3, 2009. The determination of backlog involves substantial estimating, particularly with respect to customer requirements contracts and development and production contracts of a cost-reimbursable or incentive nature.
Looking at this information, the company has a healthy backlog, and any slowdown due to reductions in government spending would most likely start to manifest in the 2013 fiscal year. Backlog, funded and unfunded, is worth tracking for investors who hold the stock.
Dividends
The dividend yield is 3% at today's price, well-covered by both earnings and cash flow. Dividends have been increased on a regular basis since 2002. Investors vary in their preference between buybacks and dividends.
In my opinion, the buybacks with borrowed money reduce the long-term potential as a dividend growth stock.
Summary and Conclusion
I'm less enthusiastic about the long-term potential here than I was when I opened the position. Debt as a percentage of total capitalization is rising, and is above the 35% I consider optimal. Reduced margins would make the debt more difficult to repay. The stock is still undervalued with respect to my target, but my target has gone down from $62 to $52.
The market appears to have priced in an awful lot of reductions in government spending. The world is still a dangerous place, and communication is arguably an increasingly important consideration in military preparedness.
I plan to hold my position, looking for recovery, but would reduce it in the $45 area and exit at $52.
Disclosure: I am long HRS.