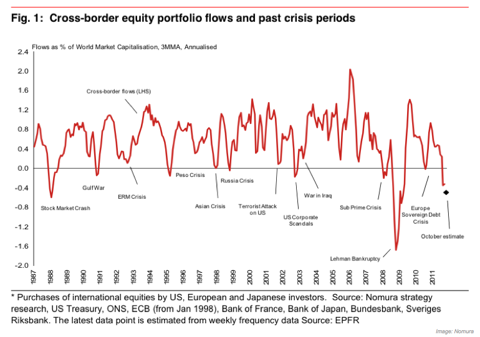 The market took another plunge on Monday as a combination of European and U.S. debt worries dominated the markets. To start, the U.S. government's super committee has failed to cut debt from the budget due to a stalemate between Democrats and Republicans. Europe bond yields continue to skyrocket, and now, Moody's is saying that France's AAA rating is at jeopardy.
On top of this, China seems to be suggesting the marketplace looks to be in prolonged recession. This news is definitely troubling because China has cash and buys a lot of our debt. If they start to pull even more money, that sends yields even higher. The market has a lot of interesting data and news to break this week that can definitely be impactful. We have GDP tomorrow, economic data Wednesday, and stats from Black Friday.

Earnings are definitely done for the most part, but we still have some interesting reports to come in the coming weeks. The only data on the day that were positive were existing homes sales coming in at 4.97M, beating the 4.85M expectations. The only major earnings report was Tyson Foods (NYSE:TSN), which was fairly neutral and would have fared better on a better day in the market. Earnings tonight are headlined by Hewlett-Packard (NYSE:HPQ) and Jack in the Box (NASDAQ:JACK) that can definitely impact the markets especially with HPQ and its weight in Nasdaq.
We are currently sitting with a number of options positions that we still think can turn around once we get out of this issue in the market. We are holding some long calls on Ralph Lauren (NYSE:RL) and Apple (NASDAQ:AAPL) that we believe can really turnaround if the market gets good Black Friday numbers and Apple looks strong on iPhone sales. We also have sold puts on Nike (NYSE:NKE) and McDonald's (NYSE:MCD). We are long Deere (NYSE:DE) into earnings as well as American Tower (NYSE:AMT). We also have a bear call spread for the week on SPY at the 124/125 level.
Moving into tomorrow, we are looking to more issues with the debt, but the market does have the GDP data tomorrow. A good tape there could do a lot for the markets. The market did bounce and show strength into the close, but it was probably not enough to get much excitement going. We will continue to be looking at the European markets for direction as well as U.S. data.
One stock we have our eye on right now is GameStop (NYSE:GME). The company is Buy rated from us. We think the stock looks great for pickup below $24. We saw the earnings as mixed overall with some positive signs and some negative signs. The stock has held $22 very well and consolidated at that level. We think that the company should continue to hold that area. Further, the company is one that can really rally on good news out of Black Friday. Signs are strong from sales of Call of Duty 3: MW3, Battlefield 3 and Skyrim. We think they have the ability to bounce and like a bull put spread at the $20 level.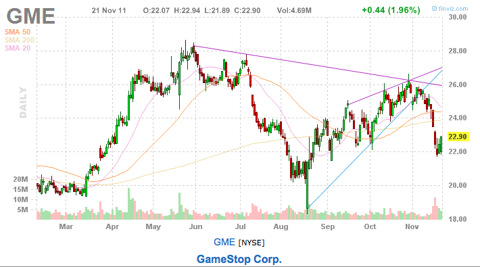 Disclosure: I am long RL, AAPL, NKE, MCD, DE, AMT.
Additional disclosure: Short SPY.