Reynolds Capital Management provides a great example of how to build a winning portfolio for a long-term investor. The company was established in 1988 and is managed by Fred Reynolds. The long-term strategy of its Blue Chip Growth Fund is seemingly simple but very effective - the fund emphasizes investing in and actively managing internationally established blue chip companies with growth potential. As such, considerations in selecting companies for the fund include revenue growth rates, product innovations, financial strength, management's knowledge and experience plus the overall economic and geopolitical environments and interest rates. Minimum market capitalization for each stock is $1 billion.
As of November 1, 2011, the fund had a 3-year average annual return of 18.06%, 5-year average annual return of 12.34%, and an average annual return for the life of the fund of 8.07%. The cumulative total return since fund inception back in 1988 is 431%.
According to the latest SEC filing on November 16, 2011, Reynolds' major holdings as of Q3 2011 were: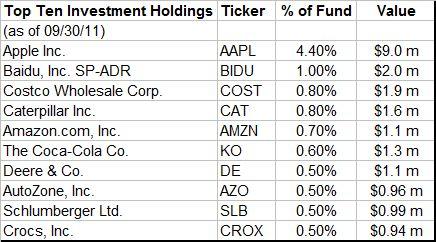 The top 10 holdings include stocks that have market dominance and strong brand-name appeal. I don't see how one can go wrong with these companies under normal economic conditions.
Diversification
As we all know, portfolio diversification is key for the buy-and-hold strategy. The fund's assets are well diversified among the following industries: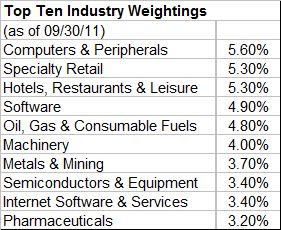 Disclosure: I have no positions in any stocks mentioned, and no plans to initiate any positions within the next 72 hours.