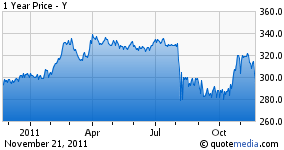 Alleghany's (NYSE:Y) agreement to buy Transatlantic (NYSE:TRH) for a nice premium is yet-another indication that, despite what everyone else may claim, we're entering a period of business normalcy.
Transatlantic is a re-insurer. It was formerly owned 59% by AIG (NYSE:AIG), and AIG stuffed some of its nastiest risks in there. It also does things like medical malpractice and workers' comp, where the results of the bets you place on mayhem can't be calculated for some time.
TRH went from poison to tasty in part due to price. It's at a 20% discount to its book value, in comparison to similar companies, because of the AIG taint. So it's a bargain.
There's a lot being made over the fact that Alleghany has brought in Joseph Brandon, once a key aid to Warren Buffett, and that's fine. But far more important is the fact that this reinsurance can be a very good business.
Insurance companies are basically bookies. You bet them that things will go wrong. The premium is based on the odds against it happening, with the odds always going to the house. What makes the game fun is that the insurers then take your bet and go play the ponies with them – they invest them.
The result is the insurance cycle, a natural rising-and-falling of insurance rates that peak when the markets are bad but naturally drop because loss ratios are often under under 50%. That is, things don't usually blow up, the customer's bet it will is usually lost, the house usually takes the premium and pockets it.
Right now we're heading for another rise in rates, thanks in part to big losses (like the Japan earthquake) and in part due to bad investment returns. Given that most customer bets are lost, this is good news for the insurers.
So Alleghany got a nice fat re-insurer at a discount to book based on its AIG taint, just as rates start heading higher (and competition declines) thanks to recent disasters and poor investment returns.
The higher rates should help keep down bond yields (bonds are considered a less-risky place to put customer money) and, with more of this money sloshing around the world's markets, and increasing risk-aversion on its use, someone should start making some good money.
That someone could be you.
Disclosure: I have no positions in any stocks mentioned, and no plans to initiate any positions within the next 72 hours.