The last several weeks have brought a steady flow of small but important improvements in the domestic economy (see summary below), but investors have shunned risk, keeping the markets spiraling downward.
Monday, the market was awash with stubborn, steady selling, which sank the S&P 500 deep into the 1120-1220 abyss where it has been trapped for three months. This is due to the steadily worsening economic issues in Europe, Asia, and even the U.S.
In Europe's worst economies, Prime Ministers have resigned or been replaced by new elections In the U.S., unfortunately, Congress will not resign and elections won't be held for nearly a year.
Our dysfunctional Congress appears to have failed, yet again, to reach any compromise agreement to increase revenue and reduce spending. Simply put, our congressional Super Committee has refused to put aside political divisions to resolve the standoff over revenue increases versus spending cuts at a time when it is clear, to any sensible person, that both will be required to tame our spiraling debt. It remains to be seen whether some sense of reason might suddenly descend upon our representatives or an executive order can be used by the Administration to bring some order to our powerless government.
Market Stats. Last week the markets fell in excess of -3%, led by Mid-cap Growth stocks that dropped over -4%, while Small-Cap Value lost a mere -2.67% for the week. Basic Materials dropped a frightening -6.15% last week and another -2% today, leading the sectors off the cliff. Finance was only slightly better, losing -2.5% today after dropping nearly -5% last week.
Of some solace is the dollar's continued strength and Mondays solid Treasury auction, which is unlike the sharply rising yields in Greece, Spain and Italy. Perhaps our improving economic reports might actually overshadow our impotent Congress and the Administration's lack of leadership.
What does the market want? LEADERSHIP! From someone. Anyone.
Of course, the problems are complex and indeed serious. But an investor has a very difficult time choosing among short-term fixed income with little or no yield. Mid- to long-term fixed income investments face huge risk from potential yield climbs.
Precious metals? They're falling from all-time highs to who knows what. Real estate? Those assets may have a bottom sometime in the next 5 to 10 years. Go all short? Sure! Most overvalued stocks are already short 15% to 25% of their float. Cash? When would we jump in?
Or maybe . . . a combination of well valued stocks with earning power and strong balance sheets and a few hedges like the VXX, which rose another 1.7% today.
It seems like the latter option is the most prudent, so here are a few ideas for long positions in this freaky market…
Economic Indicators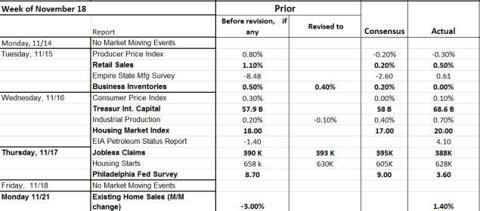 4 Stock Ideas for this Market
This week, I used the GARP (growth at a reasonable price) preset search in MyStockFinder. I also included Buys. Here are four stock ideas that look intriguing:
Jabil Circuit Inc. (NYSE:JBL) – Technology
Alliance Resource Partners LP (NASDAQ:ARLP) – Energy
Bio-Reference Laboratory, Inc. (NASDAQ:BRLI) – Healthcare
CAI International, Inc. (CAP)—Industrials