Molycorp (MCP) focuses on the production and sale of rare earth oxides. The company operates the Mountain Pass mine, a rare earth deposit located in San Bernardino County, California. Its rare earth products are used as inputs in various existing and emerging applications comprising clean energy technologies, multiple high-tech uses, defense applications, and water treatment technology.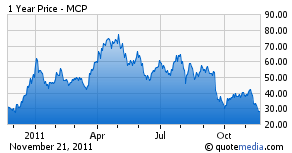 Molycorp recently reported a strong third quarter. The company recorded sales of $138.1 million, this is a 39 percent increase quarter over quarter. The company also saw operating income increase 72 percent to $72 million when compared to Q2 2011.
Molycorp has been a real popular stock with hedge funds as investors expected the company to break China's monopoly on the rare earth market. Currently, over 90 percent of rare earth production comes from China. Molycorp's dream of taking a big chunk of market share is starting to disappear as rare earth prices are starting to fall back to earth. Over the last three years some rare earth metals have risen over thirty fold. This type of sharp increase is unsustainable in the long term. International prices for some light rare earths, like cerium and lanthanum, used in the polishing of flat-screen televisions and the refining of oil, respectively, have fallen as much as two-thirds since August and are still dropping.
Don't let the company's strong earnings report fool you. Molycorp is in a very dangerous position. I believe that Molycorp is in the middle of a rare earth bubble that is quickly deflating. Prices are still above 2009 highs, but still have a lot of room to fall. China is desperately trying to maintain high valuations by lowering export quotas, China has even gone as far as banning exports of rare earth metals at prices that the country deemed to low.
I'm bearish on Molycorp and view rallies as opportunities to short. China's efforts will not be able to maintain high prices in the long term for rare earth metals. You may see some short term bounces, but the long term trend is to the downside. Many companies have started using alternative materials in products in order to minimize rare earth purchases. Automakers are finding ways to use less neodymium in the magnets of electric car motors. Oil companies are finding ways to use less lanthanum in refining, and industries like electronics and wind turbine manufacturing are finding ways to use less dysprosium.
Disclosure: I have no positions in any stocks mentioned, but may initiate a short position in MCP over the next 72 hours.