Apple Inc (AAPL) is now without Steve Jobs, of course, but moving forward just the same. If recent boardroom appointments are anything to go by, its could be more of the same for the next few years for AAPL shareholders, which won't be a bad thing: shareholders have seen the value of their shares increase four fold in the last five years.
Long time director Arthur Levinson has been appointed as Chairman, having been a co-lead director since 2005, and Bob Iger (CEO of Walt Disney) has been announced as a member of the audit committee. These appointments are unlikely to change AAPL's strategic direction, so there should be no nasty surprises for shareholders to contemplate.
On 18 October, the company released results that disappointed the market, and caused the shares to fall. JP Morgan (JPM) said at the time that it believed the fall could present an opportunity for investors to buy shares. It said that the rare numbers miss was explainable by the shortfall in iPhone sales (which constitute approximately 40% of AAPL's annual sales) as consumers put off purchases until the next generation iPhone was launched. It also cited further penetration of China as a driver of growth in the future.
With China now accounting for 12% of AAPL's business revenue, the company has recently made it even easier for Chinese customers to purchase its product by accepting the Yuan as a payment currency.
At the beginning of October, AAPL launched its iPhone 4S, which topped 4 million unit sales in the first weekend.
Now looking at the company numbers, fourth quarter figures released on 18 October showed a quarterly revenue growth over the same period a year earlier of 39%. The operating margin of 31.22% translated into a profit margin of 23.95% and gave a return on equity of 41.67%. Its balance sheet shows cash of $25.95 billion, and no debt. With earnings per share of $27.68, the shares, currently around $375, are trading on a trailing price to earnings ratio of 13.55, in line with the sector average of 13.90.
These numbers stack up well when compared to major rivals such as Dell (DELL) (Operating margin of 7.72%; profit margin of 5.92%; return on equity of 47.23%; cash of $13.84 billion; debt of $8.26 billion), Hewlett Packard (HPQ) (10.15%; 7.30%; 22.85%; $12.95 billion; $25.76 billion), and IBM (IBM) (20.21%; 14.68%; 69.84%; $11.33 billion; $30.61 billion).
Analysts have pencilled in a share price target of $505.94, a potential upside of 34.70%, with earnings rising to $38.59 per share in its next fiscal year (ending Sep 2013). This would place the shares on a forward price to earnings ratio of just 9.72.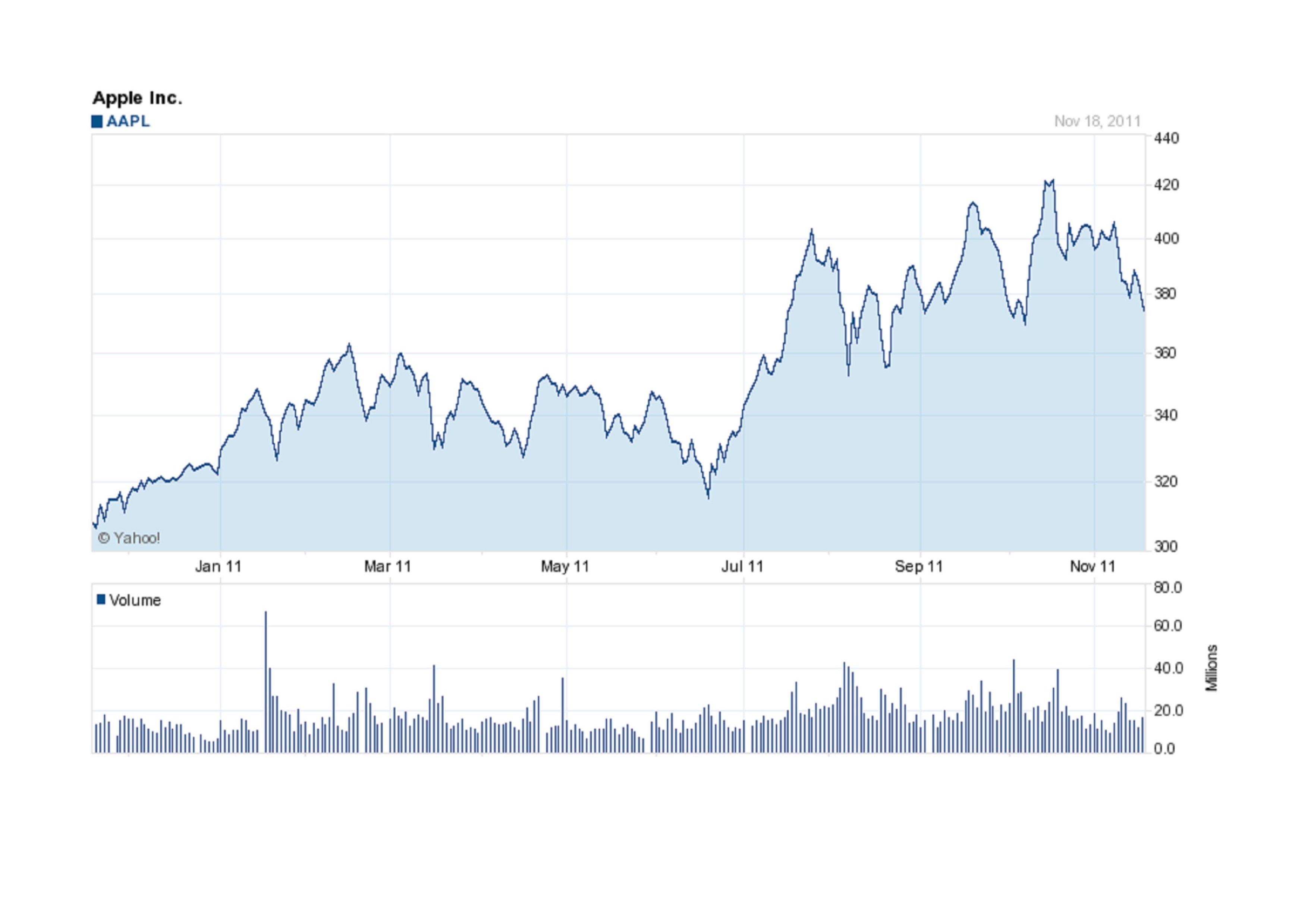 Overall, this is a company with a pile of cash, great innovative products, and a steady management. It is making strong inroads into China, potentially the world's largest consumer market. Its fundamentals are strong, its strategies are appealing, and its revenues continue to advance. Finally, a look at the chart shows there should be strong support for the shares at around $360 and potential for further advances toward the 12-month high should this level hold firm.