Transcept Pharmaceuticals, Inc. (TSPT) awaits a major Federal Drug Administration (FDA) New Drug Application (NDA) decision on November 27th. The FDA will decide the fate of Transcept's most advanced product candidate, Intermezzo. Intermezzo is intended to serve the need of sleepers who wake up in the middle of the night and can not fall back to sleep.
Background
Transcept Pharmaceuticals, Inc. is a specialty pharmaceutical company focused on the development and commercialization of proprietary products that address important therapeutic needs in the field of neuroscience.
Intermezzo
Intermezzo is a sublingual low dose formulation of zolpidem. Zolpidem is the most commonly purchased prescription for treating insomnia. Intermezzo uses approximately 25% to 33% of a single zolpidem dose in common sleep aid prescriptions. Intermezzo's purpose is to encourage rapid sublingual absorption. The user will be able to fall back to sleep and awaken with a good night's rest.
Ambien
Ambien (zolpidem tartrate) is a widely known zolpidem product. Ambien, not associated with Transcept, is now available as a generic prescription.
Sanofi (SNY) manufactures prescription Ambien CR. This product contains 12.5 mg of zolpidem tartrate extended-release. This is a competing insomnia product to Intermezzo. Intermezzo, however, is used specifically for middle of the night insomnia conditions.
Over the Counter (OTC) Substitutes
Insomnia sufferers, who do not want to take a nightly insomnia medication, may take over the counter substitutes. One example is Tylenol PM. Johnson & Johnson's (JNJ) McNeil unit manufacturers Tylenol PM. Over the counter products are used by consumers who may be best served by insomnia. This would, of course, require the advice of their personal doctor. Intermezzo may be a better fit for a consumer's insomnia condition.
Intermezzo Studies
Intermezzo has performed admirably since a FDA decision on the evening of September 14th. Transcept Pharmaceuticals has agreed to resubmit a revised Intermezzo New Drug Application. The company agreed to resubmit the NDA with the following changes:
Intermezzo will decrease the recommended Intermezzo dose for women from 3.5 mg to 1.75 mg. This represents a 50% decrease in the Intermezzo dosage for women.
Intermezzo will retain the recommended dose for men at 3.5 mg.
Transcept will amend the Intermezzo instructions to require the user, prior to taking an Intermezzo dose, to have 4 hours of bedtime sleep remaining for the night.
Transcept will amend the Intermezzo instructions to require the user to not drive until one hour after waking up, and 5 hours after taking the Intermezzo dosage.
Transcept will reformulate the Intermezzo for women and change the safety label for patients. The stock did double overnight with this news. On September 27th, Transcept resubmitted the revised New Drug Application.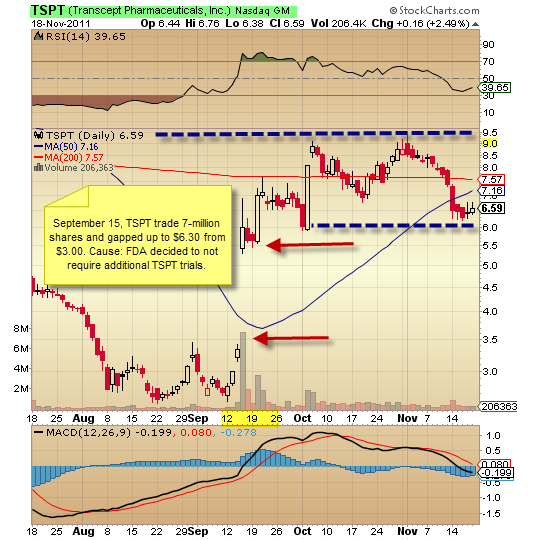 Intermezzo was initially denied its New Drug Application on October 29th, 2009. The trading was very suspicious on that day, as I watched the unusual behavior of Transcept drop from $13.77 to $11.47 the day prior to the FDA decision. This time I will be watching the trading patterns on November 25th.
If I did not know better, the trading appears to suggest a leak was announced on October 28th, 2009. The $2 drop per share in the afternoon was very curious. Fortunately, I have a robust confidence in the FDA's integrity.
Click to enlarge

Purdue and Transcept
On September 25th, 2009, I visited Transcept's value in this article. Intermezzo does provide promise to the significant number of sleepers who wake up and are unable to fall back to sleep in a timely manner.
Purdue's partnership with Transcept is vital to the success of Intermezzo. Purdue's 2010 sales were $2.4 billion, and the company has over 500 sales staff out in the field. There are multiple levels of royalties and milestone payments, based upon Intermezzo sales, between Purdue and Transcept. Purdue is a major player in the high value pain killer market. Consumers who use these products have a high correlation to also using insomnia products.
Intermezzo Insomnia Opportunities
The middle of the night awakenings are prevalent in the United States. Purdue will act as the sales agent due to its strong sales connection to the medical community. The revenue partnership will be financially beneficial for both parties.
The middle of the night (MOTN) sleep disorder is a significant opportunity in the insomnia market space. The U.S. insomnia market has a total of 78 million new and refilled prescriptions. 11 million U.S. citizens have an active insomnia prescription. Per the October 26th Transcept presentation (page 6), an additional 44 million to 66 million citizens have insomnia and are currently not taking a prescription.
An estimated 35% of Americans do incur middle of the night awakenings at least three times per week. Over 90% of this category report the conditions last for over 6 months. An amazing 50% of Americans report the conditions lasts for over 5 years.
Purdue Pharma
Purdue Pharma is a privately held pharmaceutical company. The company manufactures OxyContin, which is one of the top selling prescription pain medications.
Abbott Laboratories (ABT) is the manufacturer of trademark pain killer Vicodin. Patients who possess pain killer medications have a strong correlation to taking insomnia prescriptions.
Transcept Short Interest
Investors should note the stunning increase in Transcept shares. The short shares may be mitigated by long call options or short put options. Nevertheless, the increase is obvious to the casual observer.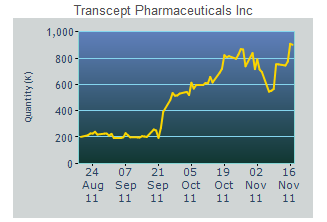 Insider Purchases
Since the September 14th decision was released, insiders have purchased over $10 million in insider purchases.
Click to enlarge

This is a fairly significant amount of insider purchases. Transcept's market value is $89 million.
Action Plan
Transcept and Purdue can likely make a promising return on investment if the FDA will agree to the September 14th conditions. As of September 30th, Transcept has zero debt on its balance sheet and $54 million in current assets.
Market Activity
The market is acting as if a FDA approval is likely. One unusual option trade was the purchase of 2,183 call options on November 17th, "TSPT Jan 2012 10.000 call (TSPT120121C00010000)".
Trade
If I see an opportunity to open a December vertical put spread for a credit (i.e., positive net cash in my brokerage account), I may take the opportunity.
Risk
For most individuals, this is a risky trade. If I do establish a position, the intent is to generate positive cash flow.