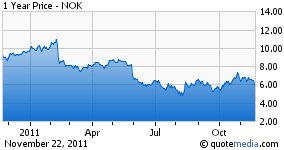 Nokia (NYSE:NOK) could bring out a tablet based on Microsoft's (NASDAQ:MSFT) Windows 8 platform by June next year, according to the head of Nokia France. [1] This would mean that Nokia will be become another competitor to Apple (NASDAQ:AAPL) and Amazon (NASDAQ:AMZN) in the already crowded tablet market.
See our complete analysis for Nokia stock here
The same report suggested that Nokia could bring out a complete portfolio of smart phones based on Microsoft's Windows Phone 7 platform next year. A few weeks back, Nokia launched two smart phone devices branded as "Lumia" based on Microsoft's Windows Phone platform (see Nokia Launched Windows Phone Extending Stock, Sentiment Rally). With new devices, Nokia hopes to challenge Apple and Google (NASDAQ:GOOG) in the smart phone market. Nokia plans to launch these devices in Europe and Asia later this year and in the U.S. early next year.
Our $7 price estimate for Nokia stock is about 5% above market price.
Notes:
Nokia hints at higher-end Lumia handset, confirms Windows 8 tablets by June 2012, WMPoweruser quoting France's LesEchos newspaper as the source, November 15th, 2011
Disclosure: No position