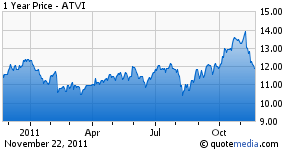 Activision Blizzard (NASDAQ:ATVI) announced that sales of Call of Duty: Modern Warfare 3 (MW3) set the entertainment record for the highest grossing first five-day period. The estimated $775 million is the largest launch of a movie, book or video game in history. Key to the launch was a multi-million dollar marketing blitz highlighted by unique corporate partnerships and cross-sells.
Limited Edition Partnerships
In conjunction with the launch of MW3, Microsoft (NASDAQ:MSFT) and Activision designed a Limited Edition Xbox 360. The new console bundle includes customized controllers, exclusive avatar items gamers can download along with a copy of the game itself. List price is $399.99. The customized wireless controllers are available individually for $59.99. Also from Microsoft is a MW3 branded wireless headset ($69.99) so players can communicate in style.
Similar to the branded Xbox, Chrysler's Jeep franchise is selling a 2012 Wrangler MW3 Special Edition. Jeep has been a mainstay of the U.S. military since 1941 and is a natural as the automotive partner for Call of Duty. The 2012 Wrangler is actually featured in-game. This is the second year running Jeep has produced a Call of Duty branded edition.
Double XP From Pepsi
Special products from PepsiCo's (NYSE:PEP) Doritos and Mountain Dew brands provide codes to earn double experience points (XP) to MW3 gamers. A basic 20 ounce Mountain Dew provides 15 minutes of double XP. Pepsi is providing high minute items exclusively to Wal-Mart (NYSE:WMT) and Target (NYSE:TGT). For example, Wal-Mart is the sole retailer of a family size Doritos bag in "Battle Black Pepper Jack" flavor that yields 90 minutes of double XP.
Wal-Mart and Target are providing prime in-store real estate to showcase both MW3 and the Pepsi products. Each retailer dedicated multiple aisle endcaps for joint selling of the game and foodstuffs. These endcaps are generally on main walkways with side or top MW3 branding. Interestingly, Target is retailing the video game on a grocery aisle endcap while in the electronics department a grocery display holds chips and sodas.
Other Tie-Ins
Thousands of GameStop (NYSE:GME) locations allowed players to receive their copies of MW3 at midnight of launch day. Opening the night before at 9 p.m., GameStop provided players an opportunity to celebrate the launch of the game. The company promoted its trade-in service and provided the patrons the chance to check out the new game prior to the midnight sale.
Best Buy (NYSE:BBY) is offering free HTC smart phones to customers who buy the Xbox 360 or PS3 console versions of MW3 (and agree to a multi-year plan). Plans are available from AT&T (NYSE:T), Sprint (NYSE:S) and Verizon (NYSE:VZ). The promotion is part of Best Buy's strategy to focus energy on mobile phones with an increasing focus on smart phones.
Conclusion
Activision can attract powerful corporate partners due to the incredible draw its Call of Duty franchise delivers. These partnerships reduce customer acquisition costs for Activision because the partners cross-promote the game when marketing their game branded items. Activision also enjoys an increase in customer loyalty by enabling the value added offerings of the partners. The partners additionally open new markets for Activision through the use of their distribution networks.
Disclosure: I am long ATVI.