Cellceutix (OTCQB:CTIX) of Beverly, Mass., believes it has found the Holy Grail in cancer research: a compound that activates a tumor suppressor protein known as p53, long regarded as possibly holding the key to future cancer therapies.
"Our Kevetrin drug reactivates p53 to its normal function of dictating whether to fix the cell or kill the cell," CEO Leo Ehrlich says in an exclusive interview with BioTuesdays.com. "This has been one of the Holy Grails in cancer research."
p53 often has been described as the "guardian angel of the human genome" because of its crucial role in regulating the cell cycle and controlling cell mutations. Pharma has spent hundreds of millions of dollars researching ways to reactivate p53, without success. A major stumbling block has been damage to DNA.
Basing his observation on studies of human solid tumors in animals, Mr. Ehrlich says that Kevetrin does not damage DNA and affects both wild type and p53. Wild type refers to the normally functioning gene product, whereas mutant refers to the mutated form of the gene product where normal function is abrogated.
By activating wild type p53, tumor regression is expected because wild type p53 acts a functional transcriptional factor for tumor suppression. Wild type p53 can also function as tumor suppressor by stabilizing the p53 protein levels. Thus wild type p53 acts in both a transcriptional dependent and independent manner for tumor suppression.
Many tumors have mutations in p53; the majority of mutant p53 are defective in suppressing tumor growth because of the defect in transcription. Therefore, drugs which activate p53 in a transcriptional dependent manner are ineffective in mutant p53 tumors. However, Kevetrin stabilizes the mutant p53, allowing mutant p53 to induce tumor suppression in non-transcriptional dependent manner.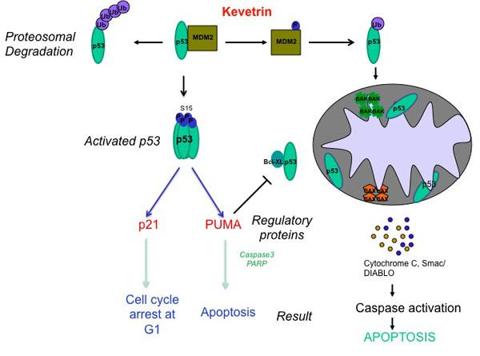 Kevetrin's proposed MOA
Kevetrin addresses one of Pharma's largest markets: drug-resistant cancers. "When we tested Kevetrin against drug resistant cancer lines on animals using human xenograft tumors, we were able to shrink the tumor," he points out. He further states, "We are not dealing with just another cancer drug. We have indications that it is effective against drug-resistant cancers, which is a multi-billion-dollar market. Most new cancer drugs are variations of existing cancer drugs, but we have a completely new and novel compound."
In 2009, the American Association of Cancer Research recognized Kevetrin as one of the "Frontiers" in cancer research because of its promising potency and low toxicity.
Extensive preclinical research on Kevetrin has resulted in a compilation of data showing a wide therapeutic index through the re-activation of p53 and no development of drug resistance. Research has shown Kevetrin to outperform current chemotherapies in testing against multiple cancer lines, including breast, lung, head and neck, colon, prostate and pancreatic cancers and leukemia, Mr. Ehrlich notes.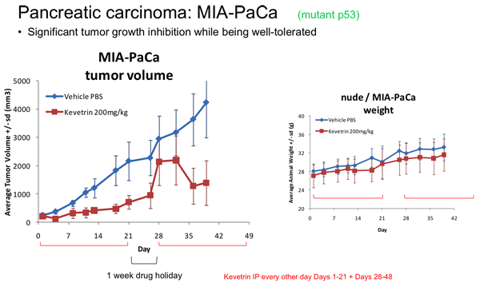 Kevetrin Efficacy
Asked why the company's preclinical data makes him optimistic that the drug will work in humans, Mr. Ehrlich says a common trait of a successful drug is that it works across the board against many different cancer types. He says, "What we've consistently found with Kevetrin is that in every human cancer line that we've tested in animals, the drug has always been effective. That gives us a very high level of confidence that this will make it through."
Cellceutix is also counting on its chief scientific officer, Dr. Krishna Menon, who developed Kevetrin. From 1995 to 2001, he was Group Leader, Cancer In Vivo Research and Clinical Development, for Eli Lilly (NYSE:LLY), where he played a key role in the selection and preclinical development of Gemzar and Alimta, two blockbuster cancer drugs. In 1999, Lilly honored Dr. Menon with the President's Recognition Award, the most prestigious award at Eli Lilly.
Earlier this month, Cellceutix filed an IND with the FDA for a Phase 1 clinical trial to test Kevetrin against a variety of different cancer types in patients with advanced-stage cancers. Primary endpoints for the study will be safety, tolerable dosing levels and establishing the dose for a future Phase 2 clinical trial. The IND also includes a provision to study the efficacy of Kevetrin in the patients.
"We've already had a lot of interest from Big Pharma," Mr. Ehrlich commented. He adds, "Even before we filed the IND, some of largest biotechs in the world contacted us, wanting to be apprised of what's happening during the clinical trial. As the Phase 1 progresses, we expect the interest to continue to escalate."
The Phase 1 trial, which should begin early in 2012, is set to take place at Dana-Farber/Harvard Cancer Institute and its partner hospitals, including Beth Israel Deaconess Medical Center. "I can't express well enough how difficult the process was to enlist Harvard and how prestigious it is to have the clinical trial done there," Mr. Ehrlich says and adds, "I think this sets us apart from even mid-size biotech companies."
If testing is successful, Mr. Ehrlich figures the market potential for Kevetrin in treating drug-resistant cancers alone would be well north of $5 billion a year. Other cancers could easily represent an additional $5 billion annually, he adds.
In more than 50% of all human cancers, he says p53 is limited in its anti-tumor activities by mutations in the protein itself. Currently, there are more than 10 million people with tumors that contain inactivated p53, while a similar number of patients have tumors where the p53 pathway has been partially silenced by inactivation of other signalling components, he notes.
In addition to Kevetrin, Cellceutix is developing two experimental drugs to treat autism and psoriasis.
Preclinical studies have shown that administration of the autism compound, KM-391, significantly decreased plasticity of the brain and increased serotonin levels in all three regions of the brain: cerebral cortex, hippocampus, and caudate nucleus, from very low levels, as seen with 5, 7-Dihydroxytryptamine (5, 7-DHT)-induced autism, to normal levels, as observed in placebo-treated control without the neurotoxin 5, 7-DHT.
"These results support KM-391 as a possible therapeutic agent in the treatment of autism in patients," Mr. Ehrlich contends. "If we can deal with the core issues of autism and not just the symptoms of the disease, it would be a major breakthrough and offer hope to families and patients who suffer from autism."

Results from a third animal study showed KM-391 was a possible therapeutic agent in the treatment of autism in patients
He says Cellceutix is working on a possible collaboration to develop the autism compound and has a memorandum of understanding with one of the largest companies in India. He says, "If we proceed—we're not sure if this is the path we want to take—the deal would require our partner to do all the preclinical work, including cGMP manufacturing, toxicology and pharmacology in compliance with U.S. IND requirements, beginning in the first quarter next year." The company expects to update shareholders shortly on this development.
Regarding psoriasis, the KM-133 compound has completed preclinical testing, showing strong activity in vitro and in vivo, and efficacy in xenograft models. "We believe the compound is ready for human clinical studies," he says.
Cellceutix is planning to arrange a meeting with the FDA for guidance to proceed with clinical testing of its KM-133 compound under 505(b)(2) regulations. "In our case, the active moiety of the compound is already an approved drug in another indication, not psoriasis," Mr. Ehrlich says. "So, we will ask the FDA if we can immediately go into Phase 2/3," he adds.
On top of that, the company has been invited by the National Institute of Dermatology of a major Asian country to conduct the Phase 2/3 study there. "It would be a less expensive way to proceed, but we haven't determined if that's the right path to take," he adds.
Bottom line: with three active projects in cancer, autism and psoriasis, Cellceutix's risk/reward opportunity may be as good as, or better than, any in the industry.
Disclosure: I have no positions in any stocks mentioned, and no plans to initiate any positions within the next 72 hours.