There's much more to Tiffany's than breakfast. Founded in 1837, holding company Tiffany & Co (NYSE:TIF) is best known for its principal subsidiary Tiffany and Company, a retailer specializing in jewelry (over 90% of sales) but also selling timepieces, sterling silverware, china, crystal, stationery, fragrances and accessories. The group is also involved in product design and manufacturing.
In his March 2011 letter to stockholders (pdf), company chairman and CEO Michael J. Kowalski observed that the company had achieved sharply higher sales and earnings in 2010, with more than half the sales occurring outside the US. It appears that the global economic downturn struck hardest at the lower end of the company's price range, which recorded only modest sales growth. However, continuing strong demand for higher-priced merchandise more than compensated for this.
In spite of Tiffany's decision to lift retail prices, worldwide sales in 2010 were $3.1 billion, up 14% on 2009, thanks in part to a 23% sales growth in Asia-Pacific and Europe. Net earnings rose by 39% to $368 million. A total of thirteen new stores were opened: five in the Americas, two in Europe and a net six in the Asia-Pacific region. This brought the total to 233 stores in 22 countries at year-end, with plans for more than 20 additional stores in 2011. E-commerce websites were launched in eight European countries, bringing the global total to thirteen countries with online purchasing facilities.
Tiffany's stock price has doubled over the last two years and has been stuck in a trading range between $57 and $84 for the last four months as shown by the graph below: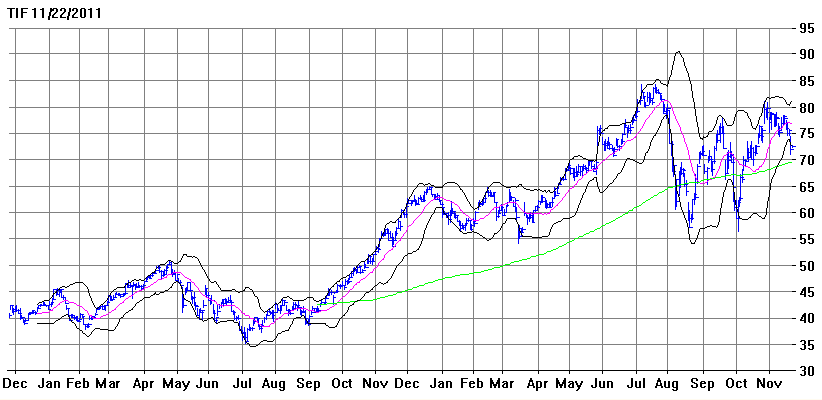 Manufacturing is mostly US-based, with a new facility planned for Lexington, Ky., in 2011. Consolidation of the current three New York administrative locations into a single headquarters in Manhattan is expected to improve efficiency as well as generating long-term cost savings. For the first six months of FY 2011 (ending July 31) sales and earnings rose 25% and 30% respectively when compared with the previous year, despite precious metal and gemstone cost increases. Earnings would have been even higher were it not for non-recurring expenses related to the relocation of the company's New York headquarters, which reduced earnings per share by $0.20.
The Asia-Pacific region was a notably high performer, recording a 46% sales increase in the first half of the year. Total stores operating increased to 236. CEO Michael Kowalski announced that, as a result of the stronger than expected sales growth, the full year earnings forecast was being revised upwards by 20 cents per share, and the 2011 forecast now stands at $3.65 - $3.75 per diluted share (excluding the non-recurring costs previously mentioned).
In the August 26, 2011, conference call to discuss second quarter earnings, Mark Aaron, vice president of investor relations, highlighted the 41% surge in sales at the New York flagship store. He indicated that roughly half of the US sales increase in the quarter came from foreign visitors, particularly those from China. Similar tourist-oriented sales growth was noted in European markets, from Russian as well as Chinese travelers. CFO Patrick McGuiness mentioned future plans to open four more stores in China and one in Taiwan.
Tiffany's competitors tend not to be so globally oriented. Signet Jewelers (NYSE:SIG) reported higher sales than Tiffany in 2010, but it operates only in the US and UK and its sales actually fell. Zale Corporation (NYSE:ZLC) has stores in the US, Canada and Puerto Rico and its focus is on a lower income bracket. Blue Nile (NASDAQ:NILE) is on online diamond retailer with websites only in the US, Canada and the UK, although it ships to 20 countries.
Tiffany's Japanese market suffered in the first quarter of 2011 from the effects of the catastrophic earthquake and tsunami. The next major challenge may be to its previously buoyant European sales, given the recent gloomy economic news from that part of the world. However, a corporation fast approaching the end of its second century in business can make some claim to resilience in the face of crises of every description, and the company appears well poised to take advantage of the Chinese tourist market while opening more stores in mainland China. Tiffany & Co expects China to become the world's largest jewelry market in the next five to ten years.
With the recent sovereign debit rumblings in Europe, Tiffany's European customers may have clamped down on their spending over the last couple of months, and the company's earnings report scheduled for release Tuesday November 29, 2011 may not be as spectacular as some investors hope.
An investor with a long position in Tiffany's might consider exiting the position, but this could result in a taxable event. Another alternative is for the investor to enter a collar for the position. A collar can be entered by selling a call option against the stock and using some of the proceeds to purchase a put option for protection. A nice feature for some collar positions is not requiring additional capital for entry.
As an example, using PowerOptions search capability, a collar is available for Tiffany's with a potential return of 3.1% and a maximum potential loss of 7.5%. The timeframe for realizing the potential return is 25 days. The specific call option to sell is the 2011 December 72.5 at $3.75 and the put option to purchase is the 2011 December 65 at $1.37. If the price of Tiffany's stock is unchanged at expiration in December, the position will return 3.1%. And, if the price of Tiffany's stock drops significantly, the maximum potential loss is 7.5%. A profit/loss graph for the collar position is shown below: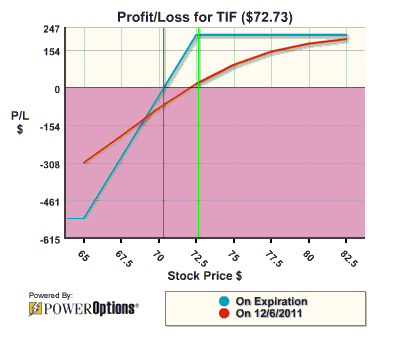 A bonus of the collar position is investors can continue to receive dividends for the stock. Tiffany's current 1.6% dividend yield is very nice, especially considering the very low interests rates available via other avenues.
Disclosure: I have no positions in any stocks mentioned, and no plans to initiate any positions within the next 72 hours.