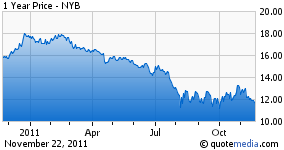 As a part of our model structure to help determine whether a sector (as a whole) is getting cheaper we use a few different companies from the corresponding sector that have stable earnings and price, predictable price action, safe and sound fundamentals, and low correlation to the overall market. One of the companies that continually sustains these vital attributes for the financial sector (NYSEARCA:XLF) is New York Community Bank (NYB).
NYB has incredibly stable earnings as it operates strictly as a Savings and Loan/Thrift bank and does not have any investment banking business. Not only does NYB have great earnings stability it also has great price stability. From 2007 to present the stock has traded below $10 only during the 2008-2009 crisis. Toward the end of 2009 the stock rose above $10 and has not fallen close to that level since. In light of the new European debt crisis that is an ongoing and fluid problem, it is possible for the stock price to depreciate below that $10 level once more. However, since NYB is not an investment bank, and we expect the euro crisis to hardly affect the NYB loan portfolio, we see a price anywhere in the $10 range is impossible.
NYB is a savings and loan bank based almost entirely out the of greater New York area. NYB has some of the best loan quality in the entire banking sector. In 2009 NYB total net charge offs was only .19% which is now an annualized .23% for 2011. This is a loan portfolio that is incredibly safe compared to the U.S. bank and thrift index which is expected to come to an annualized 2.94% for 2011.
When NYB trades around the price of $11.50 we notice solid demand for the stock. It has bounced off of these levels numerous times and when that price is broken it remains below that level for relatively short periods of time. We believe that the recent sell-off in NYB is completely detached from fundamentals and doesn't take into account the incredible $1.00 annual dividend that NYB pays. If investors can pick up this company around $11.50 or less I would highly recommend it. This is a safe company that has been drastically oversold.
As NYB and a few others play this role of "oversold indicators," we also believe the financial sector as a whole is oversold. However, due to the nature of the investment banking business, we believe investors should stay away from the financial sector as a whole. Great investment opportunities are available in the financial sector but investors need to be cautious and selective when entering into this oversold sector.
Disclosure: I am long NYB.