Many pundits have called the Super Committee an embarrassment to the American people, and "irresponsible" considering the economic challenge America finds itself in. These characterizations are true, but the fact of the matter is that the current solution is probably the best outcome for the economy in the short term. No tax increases and limited spending reduction. The fact of the matter is that over the short term the economy cannot afford to take a hit from major government austerity or major tax increases.
Some argue that this political debacle could result in a further lowering of America's credit rating. This may be the case, but investors must ask themselves, does it really matter? The U.S. treasury market does not seem to think so; the chart below shows how long term treasury bond have performed since the downgrade (NYSEARCA:TLT).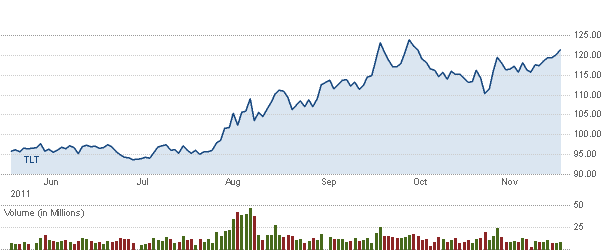 Click to enlarge (CNBC)
click to enlarge
Notice how bond prices have continued to rise even after the August 5th downgrade by S&P. This shows that bond investors are more worried about a looming economic downturn than the failure of Congress to act.
If the Super Committee had reached a major compromise with massive spending cuts along with significant tax increases, the economy would suffer in the short term. While the long term effects of such a compromise would be beneficial, the short term pain would certainly be part of the equation. Coupled with the massive austerity in Europe, austerity in America would be too much for the economy to handle at once.
Conclusion:
Investors should not be selling because the Super Committee failed to reach a deal, rather investors should be selling because Germany refuses to compromise with the rest of Europe. Germany's refusal to allow the ECB to buy unlimited amounts of sovereign debt is much more of a problem than the Democrats' refusal to cut spending or the Republicans refusal to raise revenue.
Disclosure: I have no positions in any stocks mentioned, and no plans to initiate any positions within the next 72 hours.