Tata Motors Ltd. (NYSE: TTM), engages in the manufacture and sales of commercial and passenger vehicles primarily in India. In addition, it also holds British Jaguar Land Rover (JLR), which includes the Daimler and Lanchester brand names.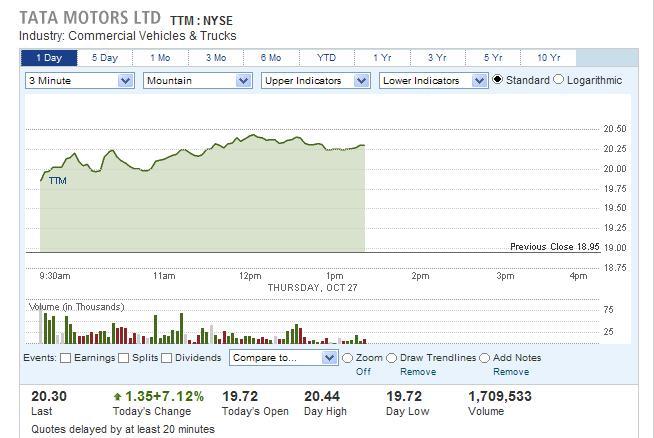 Click to enlarge
The market cap on the company currently stands at 12.93B with 634.61M outstanding shares and a float of 242.40M. Tata has been heavily hit with the global economy concerns, dropping from a 52 week high of 37.65 to recent lows of 14.33, due to concerns of expected production capacity and overall disappointment at the quarterly earnings growth of 0.50%. Although unknown in the US, Tata has a strong presence in overseas markets and has strong roots in India since its inception in 1945, one of the world's largest emerging consumer markets. It has also recently started rolling out the highly publicized Tata Nano in India with plans to enter developed western markets in near future. The company has also been heavily investing in alternative fuel technologies, guarding itself from a trend away from petroleum based fuel sources.
One fact that sets this company apart from other automotive giants is that the Tata Group includes subsidiaries that can lend support to the complete product cycle of automobile production and development. These include Tata Steel, Tata Consultancy Services, Tata Chemicals and Tata Technologies, giving TATA Motors the basis for stable sustained growth in the long term. Considering its infancy in Developed World markets, the company is highly undervalued and is a perfect candidate for a retirement or long-term portfolio.
TTM presents a great entry opportunity at the current price of about $16.00 and also offers a dividend with an average yield of 2.20%. You can confidently add this stock to your portfolio at any price under $24 and look for a very conservative 5 year target of $35.
Ishares Msci Brazil Index Fund (NYSE: EWZ), at all times invests at least 80% of its holdings in the securities of the index or in DRs representing securities in the index. The index consists of stocks traded primarily on the BM&FBOVESPA (the Brazilian exchange).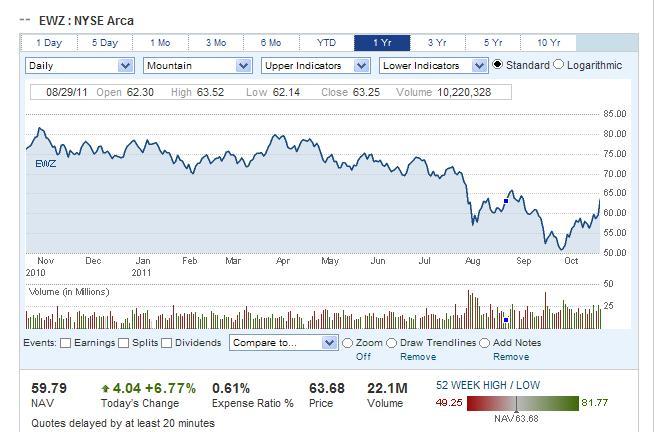 Click to enlarge
Brazil and Mexico represent the majority of the Latin American asset class and the regions equities are down sharply amid fears of exports being impacted by US and Global economy slowdowns. Nonetheless, Brazil, the region's largest economy, is forecasted to grow 4 to 3.5 percent a year. Gradual improvement in the global economic growth and resulting upswing in stock markets will add an additional value to equities centered on this region.
EWZ, centered in this high-potential sector has been generating a distribution yield of 6.92 (TTM), and is currently trading at the mid-range of 63.72, between the 52 week high of 81.765 and 52 week low of 49.25.
This makes an excellent long-term entry point on this fund and provides a balanced approach to investing in Brazil equities, while minimizing risks associated with an emerging market investment.
Arcos Dorados Holdings Inc. (NYSE: ARCO) is a McDonald's franchisee representing 1,755 McDonald's branded restaurants in Brazil, which accounts for 6.7% of McDonald's total franchised restaurants worldwide.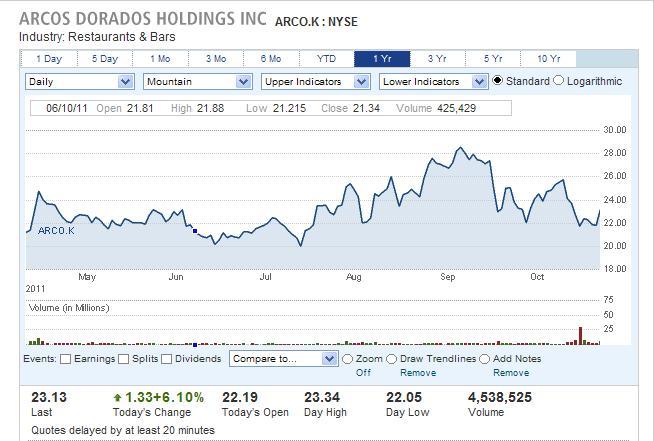 Click to enlarge
The company has been trading at the mid-range point of 23.11, its 52 week high of 29.43 and 52 week low of 19.70 after it lowered its guidance of expected net income for third quarter of 2011.
Buying into ARCO is like investing in the future of McDonald's (NYSE: MCD), with the noticeable difference in the fact that ARCO operates solely in the Brazil market with huge upside potential demographics. Having over 66 percent of population in the target fast food demographics of age 15-64 in Brazil, ARCO is well positioned to steadily add to its annual earnings of over 3.0B.
ARCO makes a great addition to a long-term portfolio under $25.00 and look for sustained climb in the coming years to a 5 year target of $40.00. And to think, all this comes with a side of fries, in the form of a dividend.
Disclosure: I have no positions in any stocks mentioned, and no plans to initiate any positions within the next 72 hours.