We recently published our updated Royalty Company Report for 2011 and one of the initial observations we made was that at the current price Silver Wheaton (NYSE:SLW) appears to offer superior value compared to its major royalty peers, Royal Gold (RLGD) and Franco-Nevada (NYSE:FNV). This has not always been the case and it is a bit surprising because higher multiples are typically attached to silver versus gold producers. Indeed, it can sometimes be hard to find good value in the silver space because of this "silver premium". However, the current negative market sentiment has created opportunities such as the pairs trade we present today and we intend to highlight more of them in an updated Silver Producers Report along with a new list of our favorites for subscribers.
Today we're simply going to look at the pairs trade strategy of going long Silver Wheaton and short Royal Gold. The basis and reasoning for the trade are as follows:
Having modeled an extensive discounted cash flow analysis of Silver Wheaton's 19 producing and development royalties and Royal Gold's 42 royalties we've determined that Silver Wheaton offers better relative value at the current price.
Companies with predominantly silver exposure tend to trade at higher multiples to companies with predominantly gold exposure and therefore we expect relative outperformance by Silver Wheaton as positive sentiment eventually returns to the market (which we expect will happen after a final washout early next year).
The strategy is essentially bullish on precious metals because silver prices tend to rise faster than gold (but also to drop further). Significant ongoing weakness in precious metal prices, however, would suggest waiting for an even more opportune time to execute this pairs trade, or better yet, to leg into it by making purchases over several weeks.
Both companies own royalties on Barrick Gold's (NYSE:ABX) Pascua-Lama and Goldcorp's (NYSE:GG) Penasquito project which together account for a significant component (greater than 25%) of their overall valuation and future growth profile; having royalties on the same projects increases correlation and therefore reduces the risk of further aberrant divergence on the pairs trade.
Overall Valuation
This first chart looks at a range of valuation targets for Royal Gold and Silver Wheaton using different metal price assumptions, based on an discounted cash flow valuation of each project using a flat 3% discount rate:
[click to enlarge charts]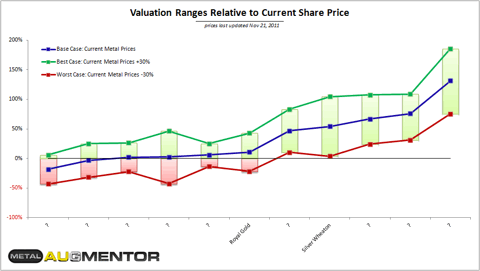 It's clear that Silver Wheaton appears to offer considerably more upside at current price levels compared to Royal Gold, at least according to our detailed net present value modeling. The question marks are simply placeholders for the names of other mining royalty companies, all of which are discussed in our most recent
Royalty Report
available to subscribers.
Project Comparison

Streamer extraordinaire, Silver Wheaton is undoubtedly the king of the royalty space. Just take a look at the relative size of its royalty portfolio versus Royal Gold: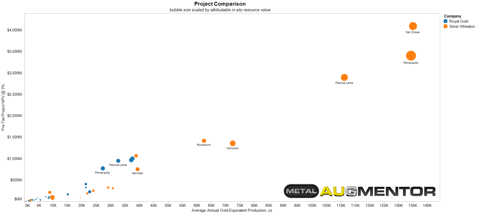 Although Royal Gold's portfolio has more projects, many of the royalties are small with attributable production of less than 5,000 gold-equivalent ounces per year. Meanwhile Silver Wheaton boasts a much more concentrated portfolio of substantial royalties, several of which are valued in the billions of dollars by our model. Of course, the cherry on top is that Silver Wheaton pays virtually no income tax. Since the charts in this presentation are based on pre-tax net present value (NYSE:NPV), Silver Wheaton's royalties look even more impressive in real life.
Global Distribution of Projects

Not all projects are created equal, and neither are all royalties. A company can have a great royalty on a world-class project but if the location is in a risky jurisdiction then it would behoove the royalty investor to take the risk of expropriation, changes in mining regulation or loss of tenure into account. The following chart looks at the global distribution of royalties scaled by their contribution to each company's respective valuation: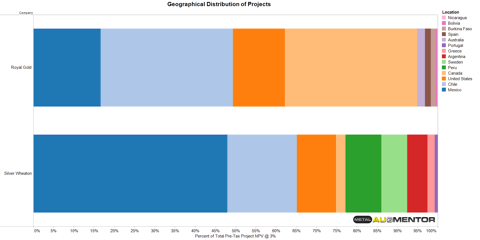 As you can see both companies have significant exposure to the United States, Mexico and Chile. One could certainly argue that Royal Gold's overall exposure is preferable given its heavy weighting towards Canada, but generally both companies enjoy favorable geopolitical profiles for their royalties.
Production Profile
Looking next at the production profile of each company, we find it unsurprising that Silver Wheaton is almost exclusively exposed to silver whereas Royal Gold holds a much more diverse mix of royalty interests that are heavily skewed toward gold and other precious metals but with a significant exposure to base metals (about 20%).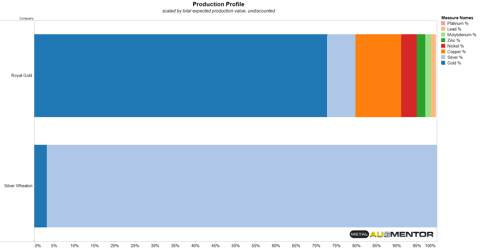 Perhaps some investors prefer Royal Gold's commodity mix focused on gold with a bonus in silver and base metals, but considering that companies with significant exposure to base metals typically trade at lower multiples compared precious metal companies, it's difficult to argue that the gold-base metals mix deserves a market premium. Moreover, investors will typically pay a premium for silver exposure because of silver's tendency to make leveraged moves to the upside (thereby hypothetically returning more on a silver royalty than a gold royalty all things considered) and this would again argue for Silver Wheaton to sport a premium over Royal Gold.
Production Growth
Both Silver Wheaton and Royalty Gold are expected to grow significantly over the next several years as is illustrated below using 2011 as the base year: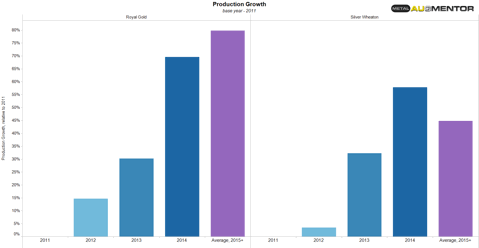 While the above chart conveys a much stronger growth profile for Royal Gold, if we go ahead and scale expected production revenue against enterprise value (market cap less net liquid assets plus debt) we see that both companies compare very similarly.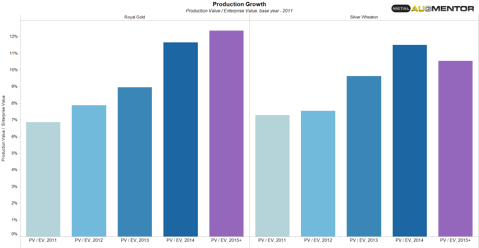 But again we note that Silver Wheaton pays virtually no taxes and therefore its full earnings and cash flow potential is not being reflected in pre-tax measurements.
Project Overlap
As mentioned at the beginning, it is interesting that the valuation (and growth profiles) of both Royal Gold and Silver Wheaton are dependent to some extent on two projects, Pascua-Lama and Penasquito, in which they both hold substantial royalties. We include the following chart to demonstrate the significance of the project overlap: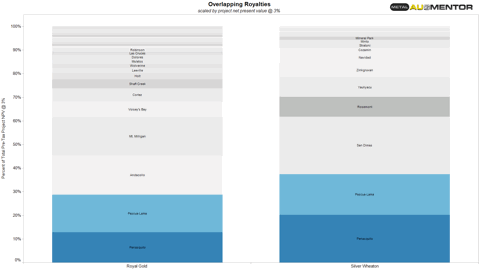 The project overlap means that should any problems arise at either of these two massive mining operations we would expect both Royal Gold and Silver Wheaton to be impacted to a similar degree, thereby improving correlation and lowering the overall risk profile of the pairs trade.
Pairs Trade Price Parameters
The table below plots the differential between fair value pricing of Royal Gold and Silver Wheaton under various gold and silver price scenarios. This sensitivity table can be used to determine when it would be an opportune time to enter or exit the pairs trade.

Please note that the actual share price difference between Royal Gold and Silver Wheaton is currently around $43 with silver at $31.50 and gold at $1680. Using extrapolation or simply rounding down to the nearest price point at $30 silver and $1,600 gold, we find that the share price difference we would expect -- based on both companies trading at fair value according to our model -- is around $33 to $34. In other words, the gap between Silver Wheaton and Royal Gold needs to shrink by about $10 in order for the two companies to trade at equivalent fair values according to our model. The sensitivity table can be used as a rough guide for moving in and out of the pairs trade as the gap between the actual and expected price differential waxes and wanes. We will periodically update the expected price differential indicated by our model if subscribers are interested in following this strategy.
Using the November 21 closing prices of $31.47 and $74.22 for Silver Wheaton and Royal Gold respectively, an equal-weighted pairs trade would require roughly 2.4 shares of Silver Wheaton per share of Royal Gold. The following chart looks at the expected returns of the trade assuming reversion to fair valuation as indicated by our model -- in the proportion of long ~2.4 shares Silver Wheaton per 1 share of Royal Gold held short -- at various gold and silver price assumptions.

*Ignores costs associated with maintaining a short position (e.g. margin requirements and broker interest).
Assuming that reversion to relative fair values occurs at no change in metal prices, we would expect a return of 35% on the trade. A particularly-attractive scenario -- and one perhaps that isn't too unrealistic -- might be silver at some point rallying to $40 as gold challenges its all-time high at $1900, in which case the pairs trade could generate a return of 64% if the respective share prices revert to the fair values indicated by our model. On the other hand, an unlikely drop in silver to $20 while gold falls to $1400 would hypothetically generate a loss on the pairs trade of only 4% assuming fair value reversion (although the actual loss could certainly be much larger).
Of course the above charts are hypothetical and there is no reason that the share prices must return to their relative fair values anytime soon. The market might continue to prefer Royal Gold over Silver Wheaton for any number of reasons and therefore the valuation price gap may never close. It could in fact widen moderately should we get a major precious metals sell-off. Given that possibility we would not look to enter the trade too aggressively at the moment but would instead look to scale into a position. In any case, this pairs trade would only be appropriate for deploying speculative capital during a period of uncertainty. If you are convinced that silver and gold prices are only headed up, up and away, then having simple long exposure to any of the royalty companies would be preferable (the highest quality and most undervalued royalty companies would be ideal).
Of course straightforward strategies other than a pairs trade can also be created using the relative valuations that our model spits out such as simply being long Silver Wheaton while it trades below its base case in the model (as it does now) and selling when it trades significantly above the base case (as it has done at times in the past). We are currently experimenting with dynamic charting tools so that Metal Augmentor subscribers can have live, interactive access to our proprietary model for direct use in trading strategies like this.
Disclosure: I have no positions in any stocks mentioned, but may initiate a long position in SLW over the next 72 hours.
Additional disclosure: We may also initiate a short position in RGLD over the next 72 hours according to the pairs trade discussed.