The time to buy Bank of America stock is when it breaks the trend of making lower lows and lower highs. A reversal in trend would be signaled if BAC could break above its October highs of $7.43. Buying BAC into weakness is simply too dangerous, while the bulls make a strong case based on valuation (see analyist Dick Bove's article here), they have been making this case from the time when BAC was triple its current price. Some argue that the risk is low because BAC is trading at only $5.50, but this is wrong. Investors in BAC could end up losing everything if troubles in Europe continue. The chart below shows shares of BAC year to date.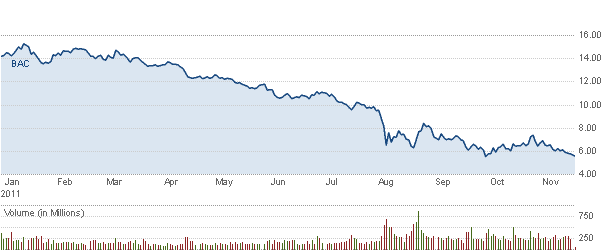 (CNBC)
The argument for buying BAC has essentially been the same since the time it was trading $15. How is this argument any better now that BAC has continued to go down? If the bulls are right, and BAC is to rocket higher, then buying at $7.50 instead of $5.50 will make little difference. However, if the bulls are wrong then it will save investors from a slaughtering.
Disclosure: I have no positions in any stocks mentioned, and no plans to initiate any positions within the next 72 hours.