Greenlight Capital is run by well-known value investor David Einhorn (and author of "Fooling all of the People some of the Time"). The firm began in 1996 with $900k under management and has grown to over $4 billion dollars compounding at over 22% annually. Einhorn has most recently been in the news for publicly announcing at last month's Value Investing Conference that he was massively shorting Green Mountain Coffee Roasters (NASDAQ:GMCR) at $80 a share. We all know how that turned out… On November 9, 2011, the Q3 reports had missed analyst expectations by a small margin and its stock price plunged over 35% to $44.10 in the aftermarkets.
That said, over the years, Einhorn has had his share of successes on the long side which is why his 13F filings are worth following:
(only top 20 positions shown over 7 quarters – full report available upon request)
There were several notable increases and additions to the portfolio this quarter including: a 22% increase in shares of Apple (NASDAQ:AAPL),a doubling in the position in the Gold Miners ETF (NYSEARCA:GDX) and increasing the number of shares of General Motors by over 3 times to name the top few.
New positions include Marvell Technology Group (NASDAQ:MRVL) (which was among Goldman Sach's 'Hedge Fund VIP List' awhile back) as a 5% position and CBS Corp (NYSE:CBS) as a 2% position.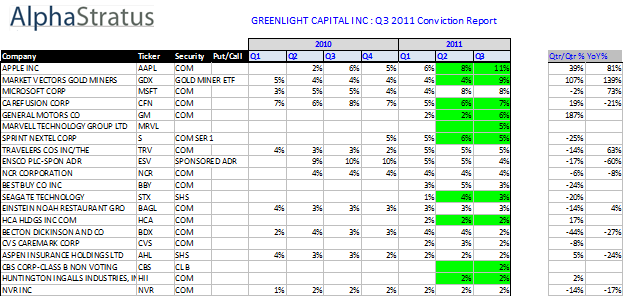 The top 5 positions represent 40% of all reported long positions and over last quarter, Einhorn has increased his conviction in 4 of them. And the 3rd largest position, MSFT, has doubled since 2010. Carefusion has consistently been about a 7% position in the portfolio and it looks like Einhorn used the Q3 selloff to double down on this position: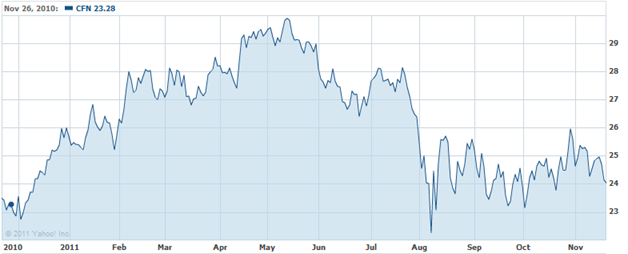 Two big positions were dropped from the portfolio this quarter- Pfizer Inc (PFE) which was a whopping 10% of the reported longs last quarter and BP PLC (BP) which was 2%:


After being a 10% position in since the beginning of 2010, PFE was entirely eliminated from the portfolio last quarter (as did David Tepper's Appaloosa Management):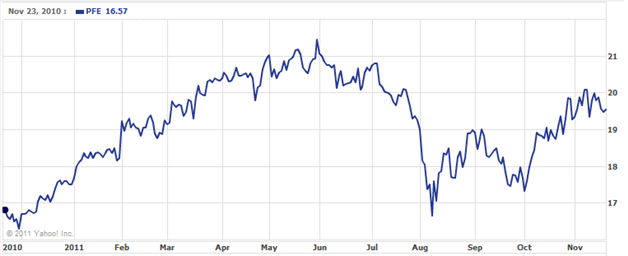 Greenlight had a busy quarter upping stakes in high conviction names and entirely dropping others. It will be interesting to see how this portfolio continues to evolve.
Disclosure: I have no positions in any stocks mentioned, and no plans to initiate any positions within the next 72 hours.