The market has been heading downward for the last two weeks or so as the bond yields of both Spain and Italy have exploded upward. This has brought the specter of a default in a major economy into play. Oil prices have moved down. Even the high dividend paying, "safe haven", major US oil stocks have moved downward. Still, Chevron (NYSE:CVX) has plummeted dramatically by comparison to the others as it was the operator of the well in question.
The charts below show the recent behavior of Chevron Corp., Exxon Mobil Corp. (NYSE:XOM), and ConocoPhillips (NYSE:COP).
The three month chart of CVX is below.
click to enlarge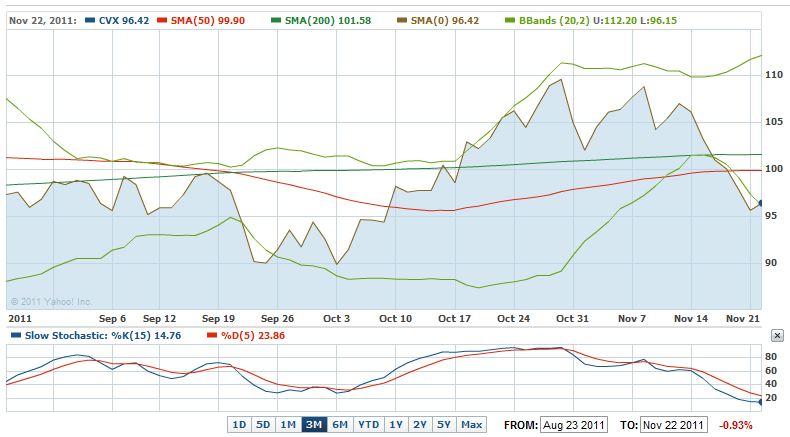 The three month chart of XOM is below.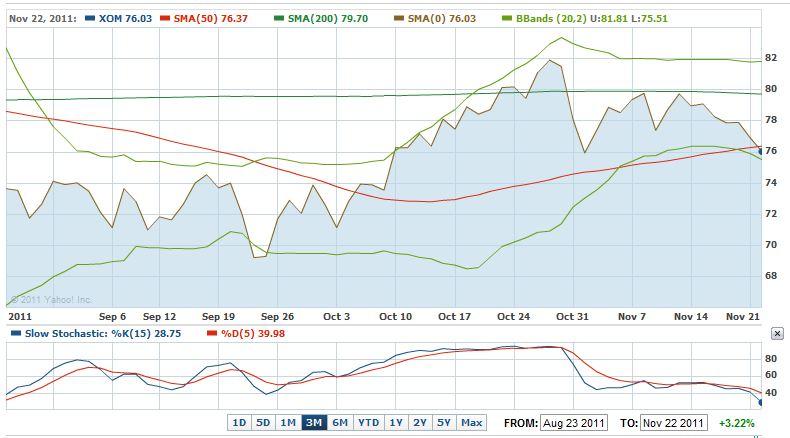 The three month chart of COP is below.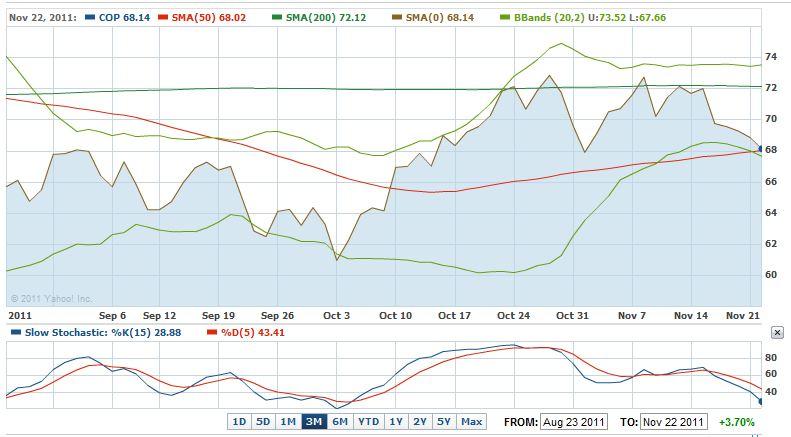 The charts show that from Nov. 8, 2011 to Nov. 22, 2011 CVX fell -11.43%. COP fell -6.32%. XOM fell -4.68%. CVX fell roughly twice as far as the average of the other two. Yet, CVX has been perhaps the strongest of the three over the last two years. The abnormal price behavior by CVX is almost certainly due to CVX being the operator of the well that leaked off the coast of Brazil. The psychological fear of another Macondo spill gripped investors. The stock price plummeted.
On Tuesday, the Brazilian National Petroleum Agency said the spill was more than 80% smaller than it had been four days earlier. They believe the leak has been stopped. The Macondo specter has effectively been lifted. Brazil's environmental agency said it will fine CVX $27.8 million (50 million reias), the maximum allowed under Brazilian law. The Brazilian Environmental Minister Izabella Teixeira said CVX could face five or six other fines of the same amount if more infractions are found.
To me this means that CVX has a maximum liability of approximately $200 million and a minimum liability of $27.8 million. Such expenses are tax deductible business expenses (costs). Figuring an approximate 25% Brazilian federal corporate tax rate (.pdf), you can take at least 25% off the top of these latter figures. If you figure local taxes and repatriation US taxes, the amount subtracted could be much more. As a ballpark estimate this means CVX will lose at most $21 million to $150 million from profits.
CVX current earnings estimates are for $13.72 per share for FY2011 (Yahoo Finance). With 2B shares outstanding, this amounts to $27.44B. $21 million is 0.077% of CVX's earnings. $150 million is 0.55% of CVX's earnings for FY2011. Neither of these figures justify an approximately 6% greater fall in CVX's stock price compared to the average of XOM's and COP's recent drops. This means CVX is likely to bounce in the near term. Alternatively it means that CVX's stock price may hold up better in an overall down trending market. If you are looking for a good port in the storm this may mean CVX is a good one.
CVX trades at an FPE of 7.50. It has a mean analyst's recommendation of 1.9. It pays a dividend of $3.24 (3.36%). This is better than the 2.87% yield paid on a 30 year US Treasury bond, and the stock price of CVX should appreciate over the next two years. This could be a good opportunity to go long CVX. The market could be headed down further, but there are still many predicting a Christmas rally. A combination of these two should see CVX's stock price higher by the end of the year.
Transocean LTD. (NYSE:RIG) was the oil services provider for the leaky Brazilian well. It and other deep sea oil services companies have been hit by the news of the above spill. This article isn't specifically about oil services companies, but investors might want to look into possible near term rebounds in some of the major deep sea oil services companies such as Transocean Ltd., Atwood Oceanics Inc. (NYSE:ATW), Diamond Offshore Drilling Inc. (NYSE:DO), and Noble Corp. (NYSE:NE).
I would probably avoid RIG for the moment though. It was involved in the Macondo spill. There is still talk that RIG may be banned from operating in Brazil.
Good Luck Trading.
Disclosure: I have no positions in any stocks mentioned, but may initiate a long position in CVX over the next 72 hours.