Lennar (NYSE: LEN) is the third-largest home builder in the United States. The company was founded in 1954 by Leonard Miller and is today run by his son, President & CEO Stuart Miller. The company has three divisions:
Home Building, which focuses on the construction and sale of single family homes and the acquisition and sale of vacant land.
Financial Services, which provides mortgage financing, title insurance, and closing services.
Rialto Investments, which invests in distressed debt and real estate and was set up to profit from the current market downturn.
There are several factors which I believe make Lennar a strong long-term investment at the moment.
Macro Factors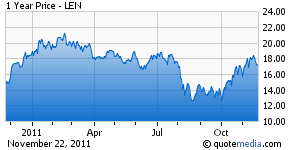 Housing starts in the United States have been at historic lows for multiple years. In the past 40 years, annual housing starts have ranged anywhere from about 1-2 million, with an average of around 1.5 million. In both 2009 and 2010, they were below 600,000. This is clearly a side effect of the recent housing bust and the financial crisis, but it is still extremely low considering that housing starts prior to the downturn were high but not unreasonably so.
Furthermore, it is interesting to note that the U.S. population continues to grow at the same steady 1% annual rate it has for most of the past four decades. This means the U.S. is adding about 3 million people per year, and all those people have to live somewhere. In the 38 years prior to 2008, the ratio of people living in the United States to new housing starts averages 164 and the ratio of new people to housing starts averaged 1.75. In 2009 and 2010, these ratios averaged 541 and 5.12, respectively. This deviation from historical averages will not last forever.
In addition to the disconnect between population growth and housing starts, there are other factors which point towards a favorable macro environment. Monthly foreclosure figures have dropped from their peaks around 350,000 between in 2009 and 2010 to a still high but more manageable level of 220,000-230,000 in the past 6 months. Housing prices, as measured by the Case-Shiller Index, have fallen back to 2003 levels, which can generally be considered pre-bubble. Mortgage rates are near all-time lows, with the average 30-year fixed mortgage at around 4%, and rents are higher than comparable mortgage payments in just about all major markets. All these factors currently combine to make housing incredibly affordable at the moment.
All the above factors lead me to believe that, barring a complete financial meltdown due to the debt crisis, the housing recovery will come, and it will probably come sooner and stronger than most analysts currently expect. In order to get back to a normalized level of about 1.4-1.5 million housing starts by 2015 (4 years from now), housing starts would have to grow by an annualized 25%. Even if prices were to essentially stay flat over the next years, this would be quite a bit of growth.
The Case for Lennar
I believe Lennar will be the best way to profit from the eventual housing recovery. More than that, however, Lennar will also be well positioned if the current downturn persists longer than I expect, which gives it a limited downside compared to many of its peers.
Lennar stands out for several reasons. The company was one of the first home builders to anticipate the coming downturn back in 2006 and 2007. This helped them reduce risk exposure and right-size their operations aggressively earlier than most of their competitors. Divisions were reduced from 124 to 24, headcount was reduced from 14,000 to 4,000, and quarterly SG&A expenses were cut by about 80% between 2006 and 2011. Average cost per square foot was reduced from about $60 to $40 through simpler and more efficient building techniques. All of this combined to help Lennar return to profitability sooner than most of its competitors, and Lennar has now strung together almost two years of growing profitability despite persistent weak demand and challenging market conditions.
Lennar has other aspects which are generally desirable, such as a long-tenured management team and a high degree of insider ownership/control (Stuart Miller and his family control about 46% of the voting shares), but the key differentiator between Lennar and its competitors is its new division, Rialto.
Rialto – Downside Hedge & Growth Accelerator
Rialto was set up by Lennar's senior management in 2007 in order to capitalize on the opportunities presented by the looming downturn. It became fully operational in 2009 and has been profitable almost since day one. The division invests in distressed debt and real estate, and is led by Jeff Krasnoff, an industry veteran who has been with Lennar for 24 years and previously led LNR Property, a major player in the loan servicing and distressed debt investing world. LNR also used to be a division of Lennar, then went public in 1997 and was acquired by Cerberus Capital in 2004 for a reported $4.2 billion.
Rialto primarily invests in distressed loans and real estate in bulk at wholesale prices, then works out the assets individually to sell them at retail prices. While this approach takes time, the returns so far have been nothing short of spectacular. While most assets are acquired at 40 cents to the dollar or below, resolution rates have so far averaged about 80 cents to the dollar.
Lennar has so far invested $500 million of its own capital in Rialto, and the company has partnered with other investors and the federal government to set up further investments. Some highlights include a $3.05bn loan portfolio (unpaid balance) acquired in partnership with the FDIC for $1.22bn, of which Rialto not only owns 20% but also gets paid a 0.5% management fee on the UPB, a $600 million real estate fund which will generate management and performance fees, and a sub-advisory role in one of the eight approved US Treasury Public-Private Investment Programs (PPIP).
As Lennar's 2010 annual report shows, Rialto's business model is successful. In its first year of operations, Rialto contributed net profits of $57 million to Lennar's income, achieving gross operating margins of almost 50%. Compare that to the 4% margins on home building and 11% margins on financial services, and you know why I am such a big fan of Rialto!
In summary, I believe that Rialto's structure, its experienced management team, and the aggressive investments in has been making throughout the downturn will continue to drive a significant share of Lennar's profits in the years to come. If the housing market recovers quickly, Rialto will make outsized gains through appreciation on its balance sheet and improved loan workouts. If the downturn persists, Rialto is Lennar's best weapon to earn significant profits regardless of the market conditions. Rialto is a win-win, no matter what happens.
Summary
Lennar is operating profitably in what may be the most difficult macro environment home builders have faced in several decades. It has right-sized itself to achieve strong results even in the most difficult of markets and its committed management team has positioned the company well to benefit from an eventual recovery. In addition, Lennar's Rialto division gives it a strong competitive advantage over its rivals and provides it with significant profits even during the ongoing crisis. If you believe in the concept of reversal to the mean, even if it takes some time, Lennar is certainly worth a look.
It is hard to predict the future, but even if the U.S. housing markets takes a few years to get back to normalized levels, the numbers could look quite attractive. Assuming a conservative 1.2m housing starts in 2014, Lennar's historical average market share would give the company about 25,000 new homes sold. Further assuming an average new home price of $260,000 (vs. $243,000 today) would yield home building revenues of $6.5bn.
Add to that $500m each for Financial Services and Rialto, apply Lennar's historical margins for each division, subtract SG&A expenses, and you're left with about $545m of $2.92/share in EBITDA. Lennar will most certainly be able to carry forward prior years' tax losses (2007, 2008, 2009), but even if we apply a 35% tax rate to these earnings, after-tax EPS would stand at $1.89/share. Using a conservative P/E ratio of 15x would then yield a share price of $28.35, representing a total gain of 69% over 3 years, or 19% annualized, including its current 0.9% dividend yield.
Disclosure: I have no positions in any stocks mentioned, but may initiate a long position in LEN over the next 72 hours.