As shown below, the Internet HOLDRs Trust (NYSE:HHH) that is made up of Internet stocks has moved into extreme oversold territory. It is currently trading more than two standard deviations below its 50-day moving average, which is a level it has only traded at one other time over the last year. Back in August it got this oversold and quickly bounced back.
click to enlarge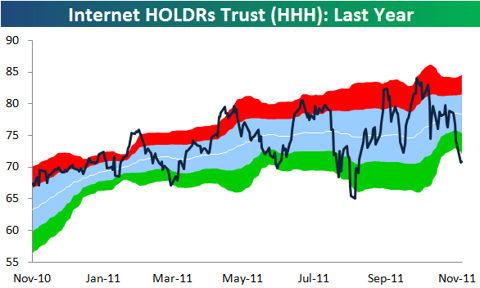 From our ETF Trends report, below is a list of the equity group ETFs that we regularly track. As shown, HHH is currently trading the farthest below its 50-day moving average out of all the ETFs listed at -9.49%. Clearly the Internet group has been dragging the overall market.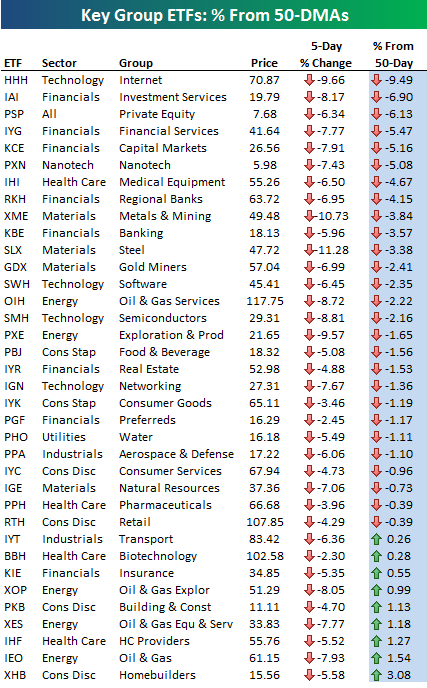 Below are the current stocks that make up HHH. For each stock, we provide its year-to-date change as well as its change since the market made its most recent high on 11/11/11. As shown, Amazon.com (NASDAQ:AMZN) has led the ETF lower since 11/11 with a decline of 11.52%. Priceline.com (NASDAQ:PCLN) ranks second with a decline of 9.80%, followed closely by Earthlink (NASDAQ:ELNK) at -9.74%. AOL, E*Trade (NASDAQ:ETFC), TD Ameritrade (NASDAQ:AMTD), and eBay (NASDAQ:EBAY) are all down more than 8% as well.