Below we provide our one-year trading range charts for the S&P 500 and its ten sectors. In each chart, the blue shading represents the sector's "normal" trading range, which is between one standard deviation above and below the 50-day moving average (the white line). The red zone represents between one and two standard deviations above the 50-day, while the green zone represents between one and two standard deviations below the 50-day. Moves into or above the red zone are considered overbought, while moves into or below the green zone are considered oversold.
While the S&P 500 has pulled back more than 8% since its intraday high on October 27th, it's still trading within its "normal" trading range. To get to oversold, the index needs to fall another 2.11%. For bears that are hoping for farther declines, there is still quite a bit of downside room to run before an oversold bounce would be expected.
click to enlarge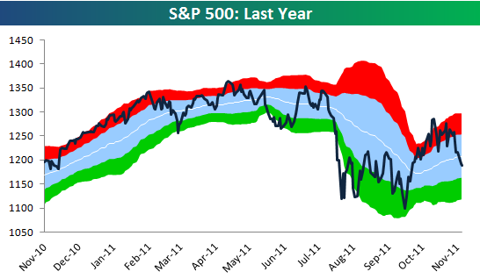 The Financial sector continues to look the worst from a technical perspective. The sector remains in a long-term downtrend, and it has once again moved to the bottom of its normal trading range. A few more days of declines and the sector will be right back to its lows for the year. Most sectors are trading in either sideways or downtrend patterns. The Utilities sector is the only one that is trading in a long-term uptrend, but it has gotten hit especially hard in recent weeks.