With Black Friday and the official start of the holiday shopping season only two weeks away I had the idea to analyze how companies have performed over the past five holiday seasons. I downloaded the performance from mid-November through the last trading day in December for the past five years to see if there were any apparent trends.
This is not intended to be a detailed analysis but it does provide insights into the companies' overall performance. If a retailer underperforms during the holiday season then this is possibly a symptom of a deeper underlying problem with the company that can cause the stock to underperform. For example, did the company fail to match competitors' advertising campaigns or have stores that were poorly equipped to handle the increased customer base? If so, these could be signals that management is not performing adequately.
Click to enlarge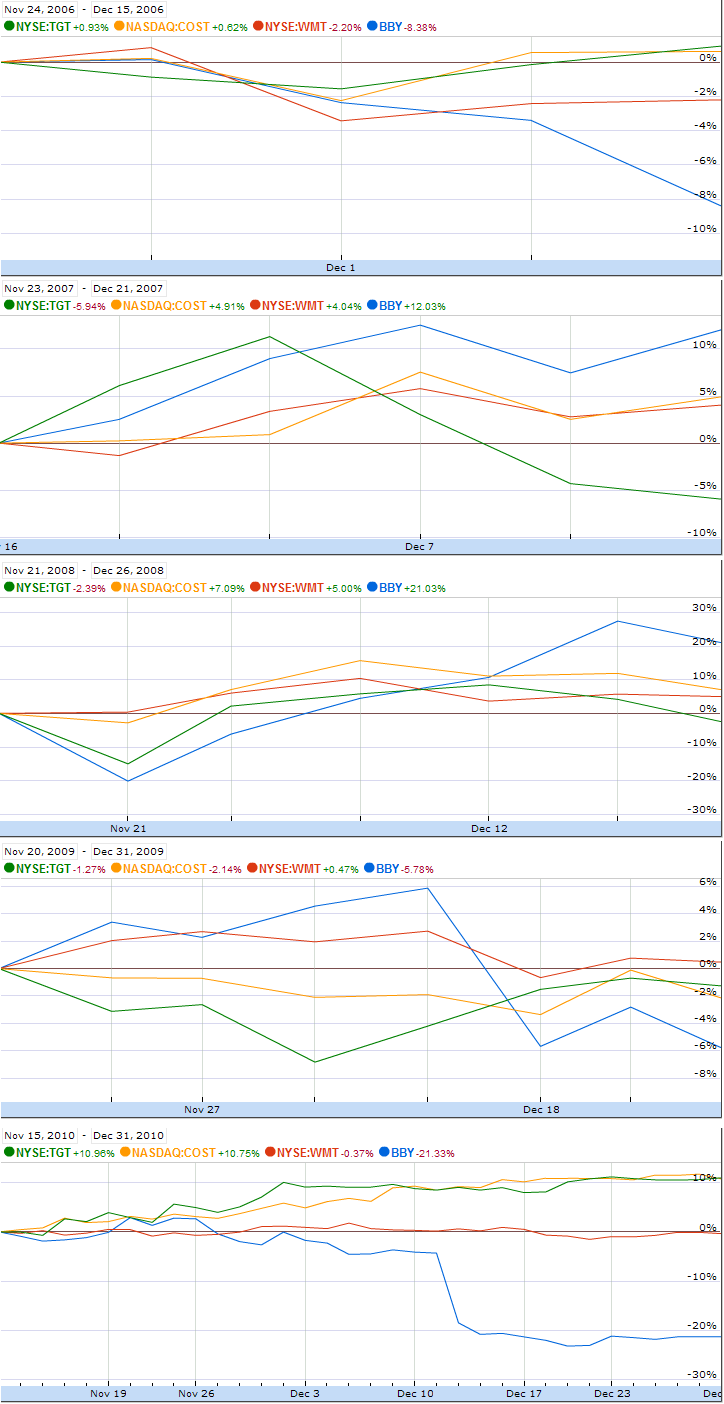 Click to enlarge
I selected four brick-and-mortar retailers that focus on slightly different market segments in an attempt to paint a broad picture.
Out of the four companies reviewed Best Buy appears to be the riskiest bet as it has been negative the past two years and negative overall. Additionally the range of 40% in only a two-year period is disconcerting to potential investors. Best Buy should offer the most attractive risk/return profile but I personally think the risk is too great. The sales advertised thus far have been aggressive and competitive as it appears that management is serious about having a strong holiday season.
Wal-Mart is the most stable of the four by a notable margin with the lowest standard deviation and range. Many investors shy away from Wal-Mart because it has been relatively flat for the past 10 years but with its strong dividend the stock is always worth a look. Wal-Mart is following the Toys R' Us lead in starting sales on Thanksgiving, a signal that the company hopes to be a sales winner this year.
Costco has been the best risk/return trade off as it averaged the greatest returns with only one down year. A head-to-head comparison with Target reveals that Costco outperformed significantly for two periods and essentially tracked Target in the other three seasons. I prefer not to invest in Target because it seems like a company with an identity crisis: are they are trying to appeal to the lower- or middle-market? In such a poor economic climate this indecision will not serve investors well.
Click to enlarge

Click to enlarge
Disclosure: I am long BBY, WMT.