This article is one of a series of occasional white papers from the Daily Capitalist taking a detailed look at specific issues affecting the economy. In this paper I analyze current economic events and give my forecast for the economy. It goes into detail about how I think the economy should be evaluated.
Part I The Crossroad
The economy is at one of those crossroads where something is going to happen. Whether that will be a positive or a negative is often difficult to tell because at any time one of those "Black Swans" could land in our midst and change everything. Plans are fluid and and forecasting can be quixotic. That said I believe that we are at a critical point and the U.S. economy is heading for a fall.
In order to understand what "tomorrow" might be we need to look at today and try to tie those threads together. Here is my analysis step by step and you can decide if you agree with my conclusions.
Today
There have been a lot of data reports that I have been looking at in terms of an overall view of the economy. I apologize for all of the charts and data, but they offer some insight into trends.
Price Indices[1]
Both the Producer Price Index and the Consumer Price Index have shown modest price increases, but may be trending negative.
The Producer Price Index: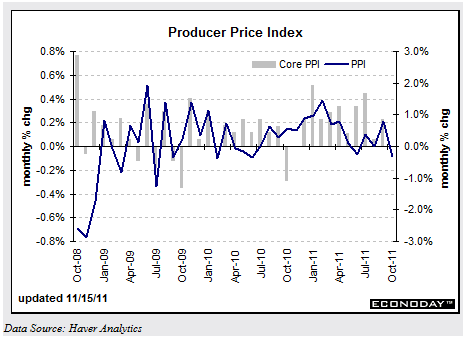 (Click to enlarge)
On a twelve-month basis, finished goods have gone up 5.9%, intermediate goods up 8.3%, and crude goods up 12.6%. However the recent trend is down, as the above chart shows.
The Consumer Price Index:
Consumer prices declined 0.1%, and core (less energy and food) went up 0.1%. On a year-over-year basis, prices have increased 3.5%, but that is down from 3.9% the prior month, mainly due to energy costs.
Industrial Production
Industrial production as measured by shipments showed a 0.7% gain in October, and the 12-month index was up 3.9%.
Manufacturing
The important factory sector output was up 0.5% in October and up 4.1% for the 12-months. The only negative here, and it is a significant one, is that new orders are flat, but may not be declining: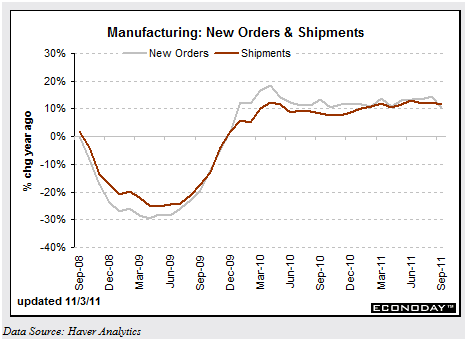 (Click to enlarge)
The more telling ISM's manufacturing index shows some weakness: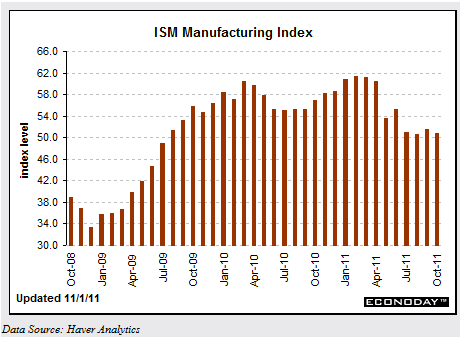 (Click to enlarge)
The capital goods sector has been showing strong growth:
Business sales
Business sales and inventories are also steady:
Businesses are carefully managing their inventories, keeping them lean as sales move incrementally forward. Business inventories are unchanged in the September report with sales up 0.6 percent [11.06% YoY], a combination that keeps the inventory-to-sales ratio at 1.27. This ratio has been pretty steady for the last two years after spiking as high as 1.49 during the recession when sales of course plunged.
But note that these numbers are nominal, not adjusted for inflation.
Retail sales
Retail sales and food services were up 0.5% for October, and 7.2% YoY. Again, these numbers are not adjusted for inflation. They are steady but have been flat (±) since August, 2010.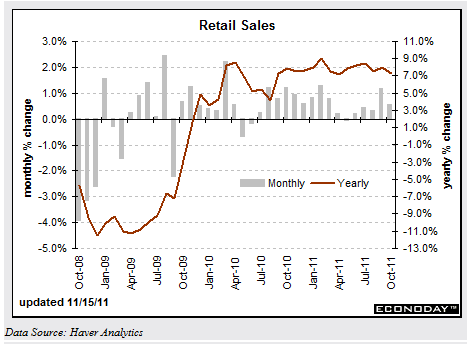 (Click to enlarge)
Wages and Earnings
Real wages continue to be weak. While real wages increased 0.3% in October, that was after a CPI adjustment ((earnings +0.2)+(CPI -0.1%)). On a YoY basis, real earnings are down 1.6%. "An unchanged average workweek combined with the decline in real average hourly earnings resulted in a 1.7 percent decrease in real average weekly earnings during the same period."
Bank Credit
Bank credit conditions are still sluggish.
Consumer credit:
Consumer credit increased at an annual rate of 1.5% in the third quarter. Revolving credit decreased at an annual rate of 3.25%, while nonrevolving credit increased 3.75%. In September consumer credit increased at an annual rate of 3.5%. Revolving credit is credit card debt; nonrevolving debt is mostly auto loans and student loans. Generally, consumer credit has been rather flat except for auto loans which have been up and down, but mostly up:
Business credit:
What has changed is that commercial and industrial loans have grown, especially at small domestic banks. Look at the Fed's H.8 commercial bank commercial and industrial (C&I) loans in 2011 (note: I modified this chart to fit):
(Note that "Other consumer loans" are mostly auto loans. This consumer credit data is slightly different than the Fed's G.19 data on consumer credit, above.)
What we see is that C&I loans took off starting in Q1 2011. While the data for large domestic banks shows steady C&I loan growth since Q4 2009, small domestic bank C&I lending shot up in Q1 2011, from zero base to $20 billion:
Even more surprising is that average loan size for small banks increased from about $100,000 to almost $650,000. One might conclude from this that the credit freeze is over and small banks are lending and small to medium business enterprises (SMEs) are borrowing, thus indicating a recovery.
What is happening?
The main reason for this sudden increase in loan activity is competition. Ever since Dodd-Frank, banks have been scrambling to figure out how to make more money as many credit card and other account fees were prohibited in an attempt to protect consumers. One way to offset that loss is to gain more business customers, and there has been a scramble by both large and small banks for SME customers. Small banks have the most to gain or lose in this competition because SMEs are their territory. So they are pursuing customers. Many also believe that there is a window of opportunity with favorable spreads and thus the timing is critical to expand business before that window closes. The initial beneficiaries seem to be the banks in the $5 to $10 billion asset range, which are classified as small banks. Keefe, Bruyette & Woods, an investment bank specializing in services to the banking sector said:
[Damon DelMonte, an analyst with KBW Inc.'s Keefe, Bruyette & Woods Inc.] said banks reporting loan growth are taking a bigger slice of the pie, but the pie isn't getting much bigger. "We're not of the belief that the demand for new loans is really ramping up," he said. "It seems like it's more of a shifting of market share. Smaller banks are going to benefit at the expense of larger banks."
This was also confirmed by the Fed's October 2011 Senior Loan Officer Opinion Survey on Bank Lending Practices where they reported increased competition, but that loan demand was weak:
I will explain the significance of this data further on in this paper.
International trade
On the international scene, imports were actually down slightly which was seen as a positive by most analysts (I see it as a negative):
The U.S. trade deficit unexpectedly improved in September but a significant part of it appears to have been related to flight to safety to gold during September's weak financial markets. The September trade gap shrank to $43.1 billion from $44.9 billion in August. The latest shortfall was narrower than analysts' expectations for a $46.3 billion deficit. Exports gained 1.4 percent after edging up 0.1 percent in August. Imports rose 0.3 percent in September, following a 0.2 percent decline the prior month.
Exports have been a substantial driver of the economy ($2.117 trillion):
International capital flows
The TIC Report (Treasury International Capital) shows U.S. that money continues to flow into the U.S. seeking refuge mainly in Treasurys:
Volatility in international financial markets made for a second straight month of increasing inflow into long-term U.S. securities, at $68.6 billion in September following August's revised $58.0 billion. These follow inflows of only $9.1 billion and $4.1 billion in the two prior months. U.S. investors, repatriating their funds, were small net sellers of foreign securities in September. But increasing demand for U.S. securities is narrowly based into Treasuries in contrast to outflows for corporate bonds and especially U.S. equities which is no surprise given the general move into safety and away from risk. Net outflows from equities were a very steep $19.2 billion in September following August's $6.5 billion outflow.
Summary
Here is a summary the above data:
Industrial production (manufacturing and services) is continuing a flat to declining trend that has been going on since Q2 2010. Manufacturing has shown recent growth but it mirrors the negative to flat trend. Capital goods orders have improved, reflecting technological upgrades (which is also mirrored in software sales).

Prices are starting to decline both at the producer and consumer level. Oil prices are likely to decline as worldwide economic activity slows. But, as we know, political shocks from producers can alter this forecast dramatically.

Retail sales, adjusted for price inflation continue to be flat to declining.

Credit conditions are still tight at the consumer level, and business credit still suffers from lack of demand.

Exports have been a primary driver of the economy and have rebounded substantially post-Crash as a result of a devalued dollar.

European economic problems have caused a significant influx of money into the U.S. and that has been parked in Treasurys.
Here is a summary of other data I feel is important and which I have recently discussed:
Unemployment is high. At 9% there are 13.9 million unemployed, while the broader measure of unemployed (U-6) is 25 million. While unemployment has been dropping at a snail's pace, jobs are not being created at a sufficient rate to substantially reduce unemployment. New jobless claims have been hovering around the 400,000 per week for the entire year.

Real disposable income is falling.

Personal savings have fallen from a post-Crash high of 5.8% in June, 2010, to 3.6% as of Sept., 2011 because consumers are using savings to fund consumption.

GDP is static rather than growing and the latest Q3 boost will likely not continue. It is likely that the Q3 report will be revised downward.

Auto sales are related to pent-up demand and are not likely to be sustained.

The top 5% of earners account for 37% of all consumer spending and it they who are supporting consumer spending. I call this a "bifurcated economy." There is no broad based consumer spending rally.

Household debt ($13.9 trillion) is still historically very high and has not been substantially reduced.

U.S. sovereign debt is 100% of GDP ($15 trillion and growing).

All government spending (federal, state, and local) comprises 45.6% of GDP.

The euro crisis will have a substantial impact on the rest of the world, including the U.S. That is difficult to predict, but we'll know very soon. According to recent data, the world is heading into recession in almost all economies.

The federal government is currently running a $1.3 trillion annual deficit.

Unfunded liabilities for Social Security, Medicare, and prescription drug (Part D) are $116.4 trillion and growing. This does not include the pending problem with student loans (Sallie Mae) or obligations to GSEs.

The MF Global problem is indicative of a declining economy. It is likely that in a growing economy they would have been able to ride out their crisis. In a declining economy, company weaknesses tend to be revealed, as with Lehman. That creates market uncertainty.

Oil price have risen from $40 bbl post Crash to $110 bbl in April, 2011, and presently are at $97 bbl. Such oil price increases are associated with and often presage recessions.

Bank balance sheets are still weak because they do not book asset values at market, they seems to not properly book troubled loans, and they are encumbered by a substantial amount of malinvested assets that have not been liquidated.

47 million Americans (15%) are on Food Stamps. 48.5% of the population lived in a household that received some type of government benefit in the first quarter of 2010.

Americans' are pessimistic about their future and the future of America according to almost all recent polls.

An angry and disaffected population in America is potentially politically dangerous.
What is important when looking at the data is to spot trends rather than specific numbers. I have what I believe is a healthy skepticism about the reports from the multitude of federal agencies that I follow on a regular basis. They are often revised and probably understate the negatives. That is especially so with price inflation. Many of reports are in nominal numbers rather than adjusted for official price inflation. If they are adjusted for inflation (chained) their baseline is a recent year. Many analysts put great emphasis on specific numbers, but quantifiable data is ephemeral and probably "gamed." Look at the trend.
Disclosure: I have no positions in any stocks mentioned, and no plans to initiate any positions within the next 72 hours.