Russell Investments recently launched a variety of ETFs based on specific investment disciplines and performance factors. One we find particularly interesting is Russell U.S. Large-Cap Growth at a Reasonable Price (NYSEARCA:GRPC).
GRPC invests within the Russell 1000.
This chart compares the one-year, three-year, five-year and 10-year total return of the GRPC index (as of October 31) versus the Russell 1000 index, the Russell 1000 Growth index, and the Russell 1000 Value index. It clobbered all three (the returns are rounded to one decimal place).
Click image to enlarge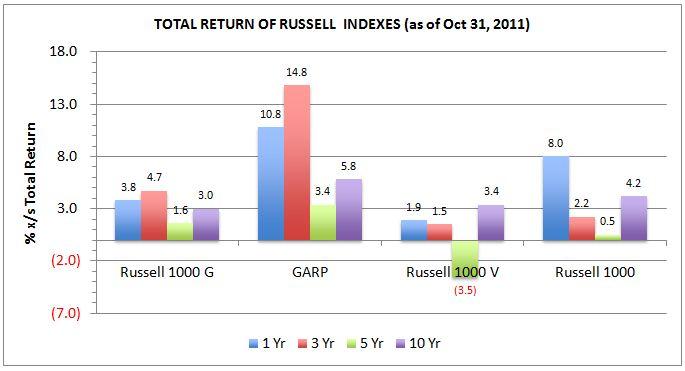 The proxy ETFs for the four Russell indexes are:
IWB: Russell 1000
IWD: Russell 1000 Value
IWF: Russell 1000 Growth
GRPC: Russell 1000 Growth at a Reasonable Price
The ETF is new and trading volume is light, but we would expect this fund to pick up adherents in substantial numbers based on the combination of the logical appeal of the growth-at-a-reasonable price method, its superior performance, and its dependable strict adherence to the methodology versus active management funds with the same objective, which may or may not strictly adhere to the method.
This is how Russell describes the methodology:
GRPC (Russell U.S. Large Cap Growth at a Reasonable Price)

Fund Objective

The Russell Growth at a Reasonable Price ETF (an index-based exchange traded fund) seeks investment results that closely correspond to the total return of the Russell U.S. Large Cap Growth at a Reasonable Price Index.

Index Description

The Russell U.S. Large Cap Growth at a Reasonable Price Index is designed to select securities intended to produce performance that is similar to professional investment managers using a growth at a reasonable price investment discipline. This discipline focuses on stable companies that are moderately priced based on their long-term forecasted earnings growth relative to their price-to-earnings ratio.

Starting with the Russell 1000 Index, the Russell U.S. Large Cap Growth at a Reasonable Price Index:

Includes stocks: (1) with consistent earnings as measured by average to low earnings per share volatility over the past five years; (2) that are profitable as demonstrated by an average to high return on equity over the past five years; and (3) are of high quality as measured by an S&P Quality Rank of B or above or a low debt to equity ratio.

Excludes stocks having a high price based on high current P/E ratio and on price to consensus one year forecasted earnings ratio divided by its consensus five year forecasted earnings growth rate.
We do not currently have a position in the fund, as we are waiting for the markets in general to resolve a few issues relating to sovereign debt and budget before committing more capital to risk assets. However, when we do add to risk assets, this ETF is probably something we will purchase.
Disclosure: QVM does not have positions in any mentioned security as of the creation date of this article (November 23, 2011).
Disclaimer: This article provides opinions and information, but does not contain recommendations or personal investment advice to any specific person for any particular purpose. Do your own research or obtain suitable personal advice. You are responsible for your own investment decisions. This article is presented subject to our full disclaimer found on the QVM site available here.